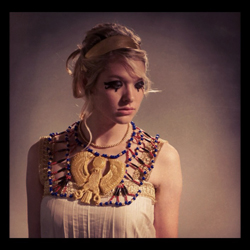 September 13–15
Thursday, Friday, Saturday, 8:00 pm
Philly Fringe Event
Underground Shakespeare Company Presents: "Antony & Cleopatra: Infinite Lives"

The Underground Shakespeare Company, Penn's only all-Shakespeare performance group, takes on the famous tragedy Antony and Cleopatra in this Philly Fringe production. Shakespeare's play is adapted by award-winning playwrights Pete Barry & J. Michael DeAngelis of The Porch Room, as they consider the tumultuous situation of contemporary Egypt, drawing parallels from Shakespeare's text to today's current events. The majestic backdrop of the Museum's Egypt (Sphinx) Gallery adds another layer to the performance. The event is sponsored by Penn's Rodin College House. Admission: $20, general public; $15, students with ID (non-Penn); $10, PennCard holders. General admission tickets are available online at www.livearts-fringe.org; student and PennCard holder tickets are available at the door. For more information, call 215.898.7402.
Saturday's (9/15) performance is SOLD-OUT!