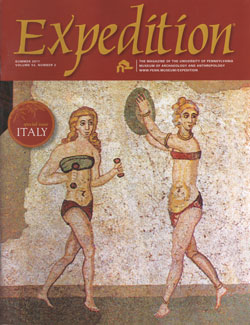 Cover: The "Bikini Girls" mosaic, thought to represent an athletic competition, dates to the 4th century AD. Two of the ten athletes are portrayed here: a young woman with hand weights and another woman about to throw a discus. The complete mosaic from Piazza Armerina is on page 34.
Features
Excavating the Roman Peasant
By Kim Bowes, Mariaelena Ghisleni, Cam Grey, and Emanuele Vaccaro
Wine, Slaves, and the Emperor at Villa Magna
By Elizabeth Fentress, Caroline Goodson, and Marco Maiuro
Rediscovering the Heel: Archaeology and History in Northern Apulia
By Giuliano Volpe
The Villa del Casale of Piazza Armerina
By Patrizio Pensabene and Enrico Gallocchio
The Silver Rush in Tuscany's Wild West: Medieval Archaeology in the Metal Hills
By Giovanna Bianchi
Departments
From the Director—Penn Museum and Italy
Richard Hodges
From the Guest Editor—Reimaging Ancient Italy
Kim Bowes
Museum Mosaic—People, Places, Projects
---
Subscribe
To subscribe to Expedition magazine and receive three issues per year delivered to your home in April, August, and December, simply fill out the subscription form below, then mail or fax it to the address/fax number on the form.
One-year subscription: $35
International subscriptions for one year: $50