The Penn Museum's Mediterranean galleries highlight more than one thousand artifacts including marble and bronze sculptures, jewelry, metalwork, mosaics, glass vessels, gold and silver coins, and pottery from the Museum's outstanding Mediterranean collection of more than 30,000 objects, which date from 3000 BCE to the 5th century CE.
The Greeks were the pre-eminent merchants of the Mediterranean world. Even in the Bronze Age their commercial contacts reached to Egypt and the Near East. During the height of Greek civilization their city-states dominated the economy of the entire Mediterranean region. The Greeks were also energetic colonizers. From as early as the 8th century BCE Greek emigrants founded new settlements in Italy, North Africa, southern France, Asia Minor, and the Black Sea region. Alexander the Great (d. 323 BCE) conquered the east as far as India. His successors brought about an unparalleled expansion of Greek civilization in which Greek language and culture became the koine, the most common and acceptable way of life.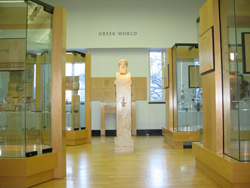 Ancient Greek society is illuminated through exquisite painted vases with depictions of ancient gods and myths, bronze armor, marble sculptures and coinage. The 400-plus objects displayed in this gallery come from the Greek homeland, the early colony foundations of the Greeks, Etruscan tombs and outposts of the empire of Alexander the Great. The Greek World is organized into thematic sections, including religion, daily life, commerce and trade, and death and burial.
Visit the Ancient Greek World Gallery website
Visit the Ancient Greek World Gallery website in Greek
Visit The Real Story of the Olympic Games Website
A comprehensive resource about the ancient Olympic Games and reveals how similar our games are today
Visit the Glassmaking in Roman Times Website
An exploration of several aspects of the history of glassworking throughout the six centuries of Roman domination of the Mediterranean world