Focusing on healthy, vegetarian and sustainable food options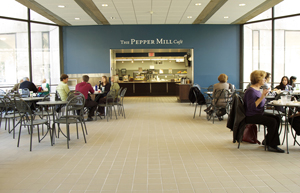 The Pepper Mill Café, offering affordable international cuisine and a fresh variety of healthy, vegetarian, and sustainable food options for breakfast, lunch, and lighter fare, opens for business at the University of Pennsylvania Museum of Archaeology and Anthropology today, Tuesday, September 14, 2010. Restaurant Associates (RA) takes over the newly remodeled and newly named cafe, at the site of the former Museum Café, with wall-to-wall windows overlooking the Museum's inner gardens. RA is also the exclusive caterer of the University of Pennsylvania Museum of Archaeology and Anthropology, having started in July of this year.
Diners—both Museum visitors and those just coming in for the café—can experience a wide variety of offerings including soup, a daily vegetarian option, and changing main course items, from sustainable seafood choices such as arctic char with mango papaya slaw as well as comfort food items, and a daily pasta. Hot and cold sandwiches and specialty salads, including a signature mezze plate with hummus, stuffed grape leaves, feta salad, marinated olives, cucumber tomato salad and pita chips, are available. The Shaker Salad station offers more than 26 ingredients for guests to create their own salad. The café atmosphere is casual and contemporary, with most entrees under $7, beer and wine available, and student value meals featured daily.
Executive Chef Will Brown is focusing on creating healthful dishes using the finest ingredients possible with a concerted effort to capitalize on the beautiful produce grown in our region. "I don't believe in trendy food," he says. "I believe in food that tastes and looks great while being beneficial to overall health and well-being." According to Chef Brown, a major aspect of his cooking and preparation celebrates sustainable seafood. "I feel that we need to focus as citizens of this planet on not depleting our natural food resources, it is important to all of us."
Penn Museum staff helped to select the name of the new Pepper Mill Café, which has an obvious allusion to fresh cooking, and a less obvious connection with the Museum: William Pepper (1843-1898), an early Provost of the University of Pennsylvania, was the principal founder of the Museum, and an avid early supporter.

The Pepper Mill Café is open to the public Monday from 11:00 am-1:00 pm, Tuesday, Thursday, and Friday from 8:30 am-4:30 pm, and Saturday and Sunday from 10:00 am-4:30 pm. On Wednesdays, the Café stays open until 7:30 pm, with light supper options, food and wine pairings, or a specially selected dish prepared by the Chef.
Founded in 1955, the New York based Restaurant Associates operates in over 100 locations, including at such prestigious venues as the Metropolitan Museum of Art in New York City, the Kimmel Center in Philadelphia, and the National Museum of the American Indian in Washington, D.C. Restaurant Associates provides premium food services to museums, performing arts centers, aquariums, corporate dining, educational facilities and off-premise catering events in New York City, Boston, Hartford, Atlanta, Washington D.C., Toronto and Philadelphia. Restaurant Associates is a subsidiary of Compass Group North America, the world's leading foodservice organization.
The University of Pennsylvania Museum of Archaeology and Anthropology is dedicated to the study and understanding of human history and diversity. Founded in 1887, the Museum has sent more than 400 archaeological and anthropological expeditions to all the inhabited continents of the world. With an active exhibition schedule and educational programming for children and adults, the Museum offers the public an opportunity to share in the ongoing discovery of humankind's collective heritage.
Penn Museum is located at 3260 South Street, Philadelphia, PA 19104 (on Penn's campus, across from Franklin Field). Public transportation to the museum is available via SEPTA's Regional Rail Line at University City Station; the Market-Frankford Subway Line at 34th Street Station; trolley routes 11, 13, 34 and 36; and bus routes 12, 21, 30, 40 and 42. Museum hours are Tuesday and Thursday through Sunday, 10:00 am to 5:00 pm, and Wednesday, 10:00 am to 8:00 pm, with evening programs. Closed Mondays and holidays. Admission donation is $10 for adults; $7 for senior citizens (65 and above); $6 children (6 to 17) and full-time students with ID; free to Members, PennCard holders, and children 5 and younger; "pay-what-you-want" the last hour before closing. Penn Museum can be found on the web at www.penn.museum. For general information call (215) 898-4000. For group tour information call (215) 746-8183.