Penn Museum is pleased to be a core collaborator with the city's first-ever science festival!
The Philadelphia Science Festival is a citywide collaboration April 15-28 showcasing the impact of science and technology past, present and future. Part of a national movement to inspire the next generation of scientists and engineers, the Festival builds on Philadelphia's own rich history of innovation with dozens of free lectures, debates, hands-on activities, special exhibits and other informal learning experiences at museums, libraries and even street corners and concert halls. More than 55 institutions led by The Franklin Institute support the inaugural Festival, funded in part by the National Science Foundation and presented by The Dow Chemical Company.
Programs offered by the Penn Museum: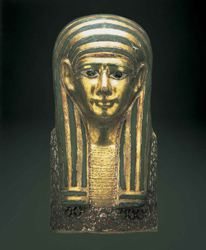 Saturday, April 16, 10:00 am to 5:00 pm
Science Carnival Booth
Outdoor Event on the Parkway
The Science Festival kicks off with a science carnival on the Parkway, and Penn Museum joins in with a look at the science of mummification. Visitors can learn about Penn Museum's ancient Egyptian mummies, witness interactive displays, and participate in a related science project.
Sunday, April 17, 2:00 pm
Where East Meets West: Genetic Perspectives on the Tarim Basin Mummies
Dr. Spencer Wells, Explorer-in-Residence and Director of the Genographic Project at the National Geographic Society in Washington, DC., offers this lecture. Dr. Wells considers the first DNA evidence taken from exceptionally well-preserved mummies of the Tarim Basin; two such mummies were featured in Secrets of the Silk Road, through March 15 (the exhibition continues through June 5, in a modified presentation, with models of the mummies and made-to-scale photographs, April 2 through June 5). Admission: $5; free for full-time college students with ID. Tickets: www.penn.museum/calendar, (215) 898-4890.
Wednesday, April 20, 1:05 pm
Phillies Science Day at the Ballpark!
Baseball lovers can check out the Penn Museum's Mummy Booth at Citizens Bank Park when the Phillies are hosting Science Day at the Ballpark on April 20 at 1:05 pm. Come see what happens to a hot dog when you mummify it!
Wednesday, April 20, 5:00 to 8:00 pm
Teachers' Workshop: Infusing Global Education into Math and Science Curricula
Participants can receive three professional development credit hours at this free, teacher-only event. This Workshop will promote the idea that "global education" isn't only taught in world history class. Seasoned educators will give tips and lesson plans for infusing global education into math and science curricula. This program is sponsored by Penn Museum, Center for East Asian Studies, Center for Middle East Studies, South Asia Center, and African Studies Center. Free; dinner provided. Advance registrations required, contact: Jennifer Reifsteck, This email address is being protected from spambots. You need JavaScript enabled to view it. , (215) 898-4016.
April 18 - 22 and 25 - 29, 9:00 am to 3:00 pm
Spring Break Day Camp for Children
Silk Road Spring Break Adventure Camp
School is out, but adventure is on at the Penn Museum! Children, ages 7 to 13, can sign up for one day, several days or the whole week! Campers visit Secrets of the Silk Road and explore the Silk Road through interactive lectures and activities such as science experiments, cooking, art-making, storytelling, and more. Fee: One-Day,$55; Household-Level members $50. There is a $5 discount for multiple-day registration. Registration is required by April 8. Contact: Jennifer Reifsteck, This email address is being protected from spambots. You need JavaScript enabled to view it. , (215 898-4016.
Science Comes to You: Neighborhood Science Activities
Penn Museum joins in the Science Festival's extensive neighborhood programming with CSI: Ancient Egypt, Forensic Anthropology 101
In an effort to learn more about the physical aspects of humankind, both past and present, anthropologists developed methods and techniques to evaluate human skeletal remains, techniques that apply in modern forensic (criminal) investigations. Stephen R. Phillips, Ph.D., RPA, Research Assistant to the Curator-in-Charge of the Egyptian Section of the University of Pennsylvania Museum of Archaeology and Anthropology, presents.
Using cases from his own archaeological research, this Philadelphia Science Festival lecture introduces the audience to those scientific methods and techniques through digital images of actual ancient Egyptian human remains-some nearly as old as the pyramids themselves. The program is co-sponsored by the Commonwealth of Pennsylvania Lecture Program of the Penn Museum.
Thursday, April 21 at 4:00 pm,
Paschalville Branch Library, 6942 Woodland Avenue, Philadelphia, Pa 19142-1823
Tuesday, April 26 at 4:00 pm
Bushrod Library, 6304 Castor Avenue, Philadelphia, Pa 19149
Wednesday, April 27 at 4:00 pm
Kingsessing Library, 1201 South 51st Street, Philadelphia, Pa 19143
The University of Pennsylvania, a silver sponsor of the festival, is partnering with a host of additional programs.
To learn more about all the programs in the Philadelphia Science Festival, visit PhilaScienceFestival.org or call (215) 448-1128.