We Knew Him When...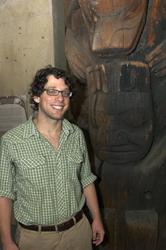 Working towards a Ph.D. in Anthropology may not make you an instant millionaire, but it just might make you smart enough to win a million dollars!
At least, that's what Noam Osband is hoping. A Ph.D. Candidate in Anthropology at the University of Pennsylvania, Noam will be a contestant on "Who Wants To Be A Millionaire," airing TUESDAY, OCTOBER 4 and WEDNESDAY, OCTOBER 5. Hosted by the Emmy Award-winning Meredith Vieira, "Who Wants to be a Millionaire" can be seen locally in the Philadelphia area on WPVI (ABC6), weekdays at 12:30 pm.
Last year, Noam was one of several Penn students with a summer field research grant from the Penn Museum. He used the grant money to study Mexican guest workers in Arkansas.
His strategy for winning? "As a kid, I used to always read the encyclopedia," he said, adding, "Wikipedia is your best friend."
Go, Noam, we may not be your official "lifeline" but we'll be watching and cheering you on!
UPDATE: We have a winner! Noam didn't win the grand prize, but he did walk away with an astonishing $250,000! Congratulations, Noam!