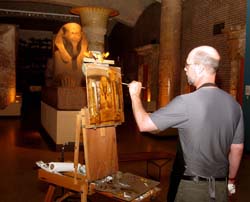 On Tuesday, July 5, Bucks County artist Robert Beck visited the Penn Museum with easel, brushes, panel, and a general plan—find the one inspirational "spot" where he could set up and do what he does best and create a representational painting that depicts his own unique "moment of discovery." After a tour of some of the highlights of the Museum, he returned to the first place he encountered, the Egypt (Sphinx) Gallery with its architectural columns from the Palace of Merenptah, and the famous sphinx, all from about 1200 BCE. For the rest of the afternoon, he painted.
At 3:20 pm, nearly finished, he was visited by a group of Penn Museum's "Anthropologists in the Making" campers, who had plenty of questions about his work. One girl was quick to point out that his painting had some mistakes—he had missed some elements in the room.
"That's interesting," he noted, "you think I should paint exactly what I see." Mr. Beck surprised the child, and others, when he said, "I'm not actually painting a picture of the sphinx; I'm painting my reaction to the sphinx."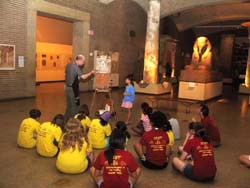 Mr. Beck's new painting will be exhibited this October at the Rosenfeld Gallery, part of a new body of work titled "Philadelphia Heartbeat." The new collection includes two dozen of Mr. Beck's responses to a number of special places in the city, including the Italian Market, a community garden, and the Philadelphia Zoo.
Packing up from his Penn Museum encounter, Mr. Beck had one more extraordinary spot to work that day: he was on his way to paint an image of Pat's Steaks at night.
You can see samples of Robert Beck's work online at www.robertbeck.net. "Philadelphia Heartbeat" opens at the Rosenfeld Gallery, 113 Arch Street, with a public reception on October 9.