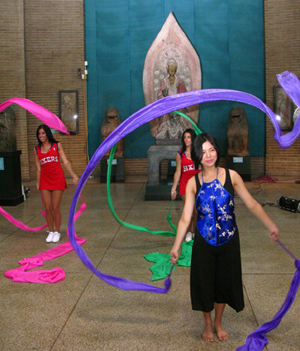 Tuesday, June 7, 2011-In preparation for an upcoming 11-day, NBA-sponsored trip to China, two of the Sixers Dancers came to the Penn Museum for a "crash course" in Chinese culture.
The Philadelphia 76ers are sending six of the 2010-11 Sixers Dancers to China for two NBA-sponsored appearances in Chongqing and Hangzhou, China, from Thursday, June 9 through Monday, June 20. It is the second time Sixers Dancers have traveled to China.
Erica and Danielle arrived in the Museum's Chinese Rotunda Tuesday afternoon, June 7, ready to learn. They were greeted by the perfect tutors-University of Pennsylvania students.
Rebecca Fu, graduate student in classical Chinese literature and history, spoke a bit about Chinese art and culture-and taught the dancers how to write their names in Chinese.
Three dancers from the Penn Pan-Asian Dance Troupe, teachers Melinda Wang and Joanna Wu and coordinator Kevin Lou, were ready to give the Sixers Dancers a Chinese dance lesson and workout. The troupe performs on campus and throughout the Philadelphia community, with a repertoire that has grown to encompass dances representing a multitude of ethnicities, including Chinese, Filipino, Japanese and Thai. For this crash course, they introduced Erica and Danielle to the colorful Ribbon Dance.
At first, handling the long ribbons and new choreography was challenging to the dancers. It wasn't long, however, before they were ready to put it all to music and dance like they'd been doing it for years. Who knows? Maybe we'll see a Ribbon Dance at an upcoming 76ers game!