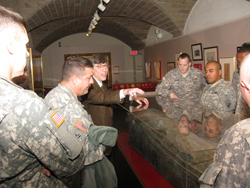 Sixty-two U.S. soldiers from Fort Dix, New Jersey, among the last Civil Affairs troops soon to deploy to Iraq for an assist and advisory mission, visited the Penn Museum on Tuesday, November 16, 2010, as part of the 14 unit pre-deployment training-training that emphasizes cultural heritage awareness.
They were greeted by Dr. C. Brian Rose, Deputy Director, Penn Museum, and President of the Archaeological Institute of America. Dr. Rose has been offering American troops headed to Iraq and Afghanistan cultural heritage training since 2004.
Soldiers were divided up in to four groups, and taken on tours of the Museum, with stops at the exhibition Archaeologists and Travelers in Ottoman Lands (featuring artifacts from, and the story of, Penn Museum's first expedition to Iraq in the 1880s and 90s) and the ancient Near East storage (where Keeper Katy Blanchard and senior conservator Lynn Grant showed materials from the 1920s-early 30s excavation to Ur in Iraq).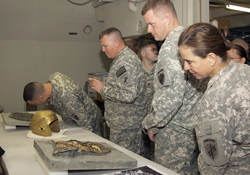 Dr. Jennifer Wegner, Associate Curator, Egyptian section, gave a tour of the Museum's Lower Egyptian Gallery, and Dr. Clark Erickson, Associate Curator, American Section, rounded out the experience with a behind-the-scenes look at ancient artifacts from Central America, in the Museum's Mainwaring storage wing.
The visit to the Penn Museum was the culmination of a two day program that started at Fort Dix on Monday, November 15, when Dr. Rose, and two other instructors-Barbara Roberts, art conservator in private practice and Fellow, American Institute for the Conservation of Historic and Artistic Works, and Corine Wegener, Associate Curator, Minneapolis Institute of Arts and President and founder, U.S. Committee of the Blue Shield-offered a day of cultural heritage education and training. Troops learned about the historical background of ancient Mesopotamia, Iraq's cultural and archaeological heritage, archaeological resources, site recognition, issues around storage, emergency salvage, and looting of sites and museums-and why it matters.
The Penn Museum visit, featuring a wealth of ancient artifacts that soldiers could see and experts they could speak to, helped bring the classroom-style learning of Monday's Fort Dix program more vividly to life. Colonel Lavore L. Richmond, Jr., summed it up this way: "Our civil affairs units are like ambassadors, and the more knowledge we can obtain on the nation and people of Iraq, the better we can be as visitors and world partners. Our visit to the museum today culminates both classroom and on site learning experiences that we need to improve upon our roles and responsibilities during our assignment in Iraq."
During an interview by local FOX 29 news reporter Claudia Gomez, Dr. Rose remembered emails he has received from soldiers following their training and subsequent deployment to Iraq and Afghanistan-emails that show him how this training has made a positive difference. "Some of the soldiers have mentioned that they were able to stop looting at an archaeological site, or they noticed a change in the soil during construction and stopped the process because they realized that might be getting close to an ancient settlement."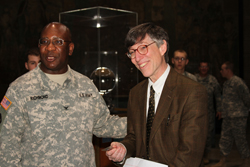 After the guided tours and storage visits, Colonel Richmond surprised Dr. Rose with the presentation of a Civil Affairs coin in appreciation of his efforts to help prepare U.S. troops for their mission.