What really happened to the Irish immigrants 175 years ago?
Dr. Janet Monge, Keeper of the Skeletal Collections at the Penn Museum, was interviewed by CNN in the Museum's Anthropology wing, where she is analyzing human remains from an active excavation site at Malvern: Duffy's Cut.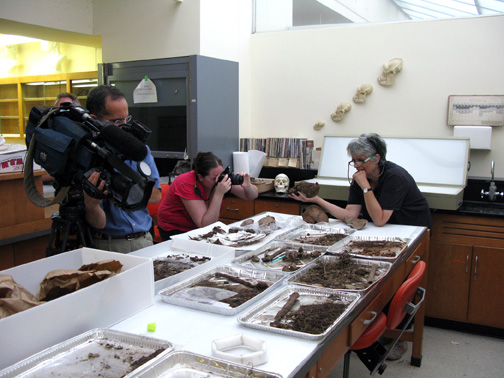 The segment ran on "The Situation Room" with Wolf Blitzer, Friday, August 20. Watch the video
CNN photojournalist Joe Capolarello moves in for the close ups,including a look at what appears to be a bullet hole. Also on hand were Meghan Rafferty, CNN Producer (in pink shirt) and Mary Snow, CNN correspondent.
New discoveries at Duffy's Cut are telling a remarkable tale about the lives--and once mysterious deaths--of a group of 57 Irish immigrant railroad workers, once thought to have died of cholera.
The Duffy's Cut Project, named for that area of the railroad, is exploring early-19th-century attitudes about industry, disease and immigration through the excavation and analysis of the laborers' skeletons. The group is led by Immaculata University's Dr. William E. Watson, who received his MA and Ph.D. from Penn.