TODAY Show at the Penn Museum: Priceless!
Scheduled Air Time: Saturday, July 10 (check local listings for TODAY Show times)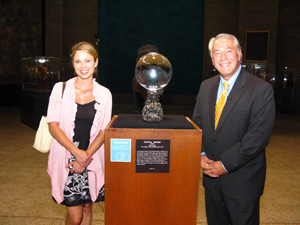 Over the years, Robert K. Wittman, Undercover Agent and Founder, FBI Art Crime Team, has worked with a number of archaeologists and staff members at the Penn Museum, on everything from getting help identifying "real" verses "fake," to coordinating training sessions with fledgling art crime team members in the FBI.
On June 1, 2010, with the publication of Priceless: How I Went Undercover to Rescue the World's Stolen Treasures, Mr. Wittman's career as an undercover agent (interviewed in numerous stories, never photographed) came to an end-and media have been eager to interview the man that the London Times once dubbed "the most famous art detective in the world."
Saturday anchor and national correspondent Amy Robach of NBC's national TODAY Show visited the Penn
Museum for a segment with Mr. Wittman. He was interviewed in the Lower Egyptian Gallery, and by the Museum's famous crystal ball, which was part of the story. In 1988, the crystal ball was stolen—to be recovered, several years later, by Mr. Wittman, then a fairly new agent with the FBI.
The NBC television team went behind-the-scenes and into collections storage to chat with Dr. Clark Erickson, Associate Curator, American Section, who assisted Mr. Wittman when he worked on a famous case—the recovery of a golden "backflap" from the ancient Moche culture of Peru.
The segment is scheduled to air nationwide on Saturday, July 10! Tune in!
Be on the lookout, though, for more—Priceless is soon to be a major motion picture!
Photos, top to bottom:  NBC's TODAY Show Saturday anchor Amy Robach stands with Robert Wittman in the Chinese Rotunda by the Museum's famous crystal ball. Center: Producer Mollie Pierro, left, with the camera. Bottom: At the end of the day, left to right, TODAY Show producer Mollie Pierro, cameraman Alex Presha, Dr. Clark Erickson, Penn Museum; Amy Robach, TODAY Show, and Robert Wittman, look over some ancient Moche materials from the Museum's collection. Photos: Penn Museum.