Penn Museum, and Ban Chiang Project, Honored by Thailand's Princess at Formal Opening of New National Museum at Ban Chiang, Thailand
Ban Chiang Project Continues Study of, Debate about, this Technologically Advanced Ancient Southeast Asia Community
PHILADELPHIA, PA—The University of Pennsylvania Museum and Dr. Joyce White, Associate Curator of the Museum's Asian section, were honored by Her Royal Highness of Thailand, Crown Princess Maha Chakri Sirindhorn, on February 9, 2010, at the opening of the new National Museum at Ban Chiang, Thailand, a UNESCO World Heritage Site since 1992.
"It was a real honor and a privilege for me to be at the opening of this important new national museum, and a joy to be back in the wonderful, and rather extraordinary village of Ban Chiang," noted Dr. White, Director of the Penn Museum's Ban Chiang Project since 1982.
In the mid 1970s, the University of Pennsylvania Museum, working with the Fine Arts Department of Thailand, conducted archaeological excavations at the village of Ban Chiang. The excavations, led by Penn Museum's Dr. Chester Gorman with co-director Pisit Charoenwongsa of Thailand's Fine Arts Department, surprised archaeologists and scholars of ancient world history, revealing a technologically precocious but non-urban society thriving in northeast Thailand from more than 4000 years ago. Though Dr. Gorman died tragically in 1981, Joyce White has continued the research and publications as Director of the Ban Chiang Project. In 1981, she curated a Smithsonian traveling exhibition, "Ban Chiang: Discovery of a Lost Bronze Age," which began at the Penn Museum and traveled to 12 sites nationally and internationally.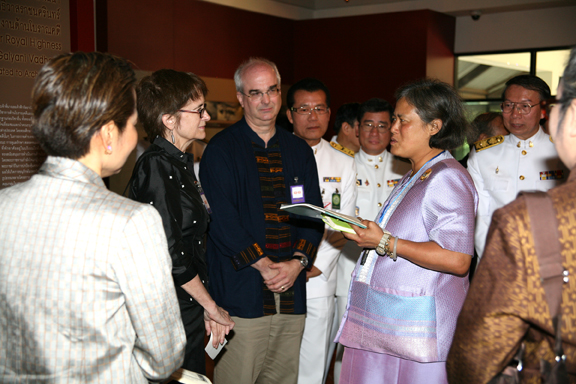 At the new Thailand museum, the full story of the Ban Chiang discovery, research, and transformation from prehistoric village to thriving modern town is told in several galleries, including life-size reconstructions of the excavations, dioramas illustrating lifeways 4,000 years ago, and hundreds of artifacts and human remains excavated from the site. A new detailed presentation of the physical anthropology (human skeletons) of the site, exploring issues of health, diet and longevity in ancient times, is one of the highlights of the new displays.
Research from Dr. White's ongoing work with Ban Chiang is featured in several galleries- termed "Pennsylvania rooms" by one villager. The 1981 Smithsonian exhibition is refurbished and reinstalled. Visitors can see some of the most famous early bronze artifacts in Southeast Asia, including a bronze spear point excavated from a burial of a young man, an object that remains the subject of heated scholarly debate.
Among archaeologists and ancient historians, the debate about how such technologically sophisticated bronze metallurgy could be present so early in Southeast Asia has been intense, and has been a major focus of the Ban Chiang Project's ongoing research. In November 2009, Dr. White published a paper in the scholarly Journal of World Prehistory providing a new theory, supported by both chronological and technological evidence, that points to interaction, including sharing of technology, with far-off Eurasian forest-steppe peoples in the late 3rd millennium BCE. The paper, "The Transmission of Early Bronze Technology to Thailand: New Perspectives," co-written with Dr. Elizabeth Hamilton, promises to open new doors of research in this important, but little studied area, of the world.
Penn Museum recently upgraded its Ban Chiang Project website to provide increased access for the public and scholars in America, in Thailand, and indeed around the world.
The University of Pennsylvania Museum of Archaeology and Anthropology is dedicated to the study and understanding of human history and diversity. Founded in 1887, the Museum has sent more than 400 archaeological and anthropological expeditions to all the inhabited continents of the world. With an active exhibition schedule and educational programming for children and adults, the Museum offers the public an opportunity to share in the ongoing discovery of humankind's collective heritage.
Penn Museum is located at 3260 South Street, Philadelphia, PA 19104. The Museum can be found on the web at www.penn.museum. For general information call (215) 898-4000.
Photos, top and bottom:
Her Royal Highness, Crown Princess Sirindhorn of Thailand, gives Dr. Joyce White an honorary pin in recognition of her scholarly contribution to understanding the Ban Chiang archaeological site and prehistoric culture.

Dr. Joyce White (second from left) presented a copy of the Museum's annual report and Ban Chiang newsletters to Princess Sirindhorn (second from right) in the galleries of the new Ban Chiang National Museum.