New Exhibitions
February through March 2010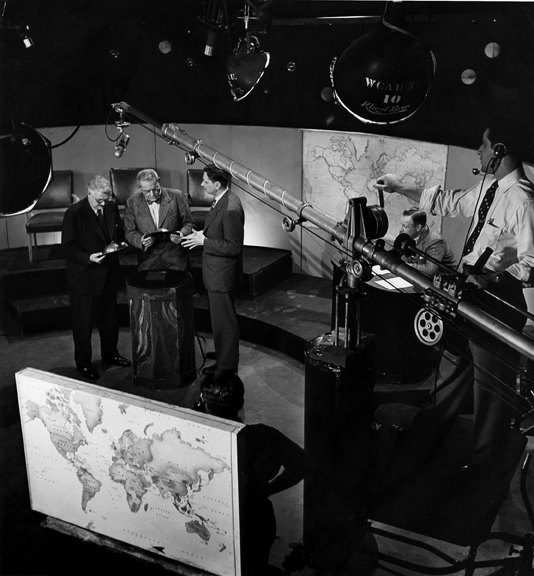 What in the World
A Philagrafika 2010 "Out of Print" Installation
January 29 through April 11, 2010
Penn Museum is one of five "Out of Print" cultural partners participating in the city's Philagrafika 2010 international festival. Artist and museum educator Pablo Helguera presents an installation at the Penn Museum inspired by its history. Entitled What in the World after a popular 1950s TV program of the same name created by the then-Museum Director Froelich Rainey, the installation includes a display of Museum artifacts, a recreated set from that famous program, and a series of videos that provide an "unauthorized biography" of the Museum. Third floor. Read more
Opening reception of the What in the World installation and reception to meet the artist is January 28, 5 to 7 pm (pay-what-you-like, cash bar). A special live event is set for Sunday, February 28 at 2 pm, when artist Pablo Helguera, Museum Director Richard Hodges, and a panel of experts, including artist Mark Dion, participate in a program that recreates the spirit of the original What in the World television show (free with Museum admission donation).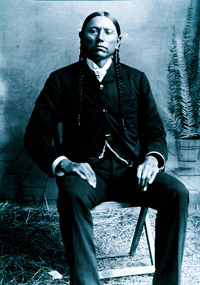 In Citizen's Garb: Southern Plains Native Americans, 1889-1891
March 26, 2010 through June 20, 2010
The 1880s and 1890s were decades of tremendous upheaval for many Native American nations. Numerous Indian reservations were opened in the Oklahoma and Indian Territories during this time and large-scale efforts were made to "civilize" the native peoples by forcing them to adopt Euro-American ways. This photographic exhibition explores how dress-and life-changed for the Kiowa and Comanche nations as they gradually habituated themselves to the new life forced upon them by the United States government. The 53 photographs that comprise this exhibition, modern restrikes made from original glass negatives, were taken from 1889 to 1891 by the enterprising team of William J. Lenny and William L. Sawyers. Images of Native Americans in both citizen and native dress reflect the transition occurring between the tribes' past and their radically different future. In Citizen's Garb is curated by John Hernandez, Director of the Museum of the Great Plains in Lawton, Oklahoma, and toured by ExhibitsUSA, a national division of Mid-America Arts Alliance, a private, nonprofit organization. Plains Indian clothing from the period, selected from the Museum's collection, complements the photographs. Merle-Smith Gallery West, 1st floor.
---
Ongoing Special Exhibitions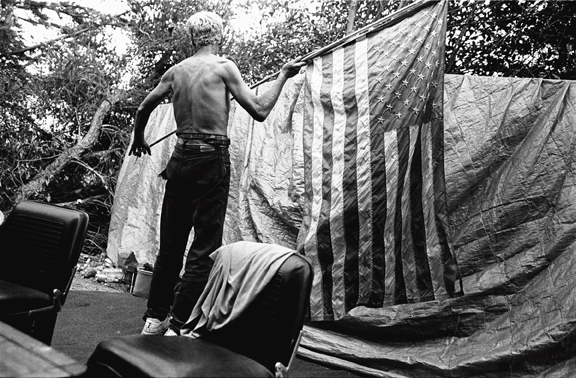 Righteous Dopefiend: Homelessness, Addiction and Poverty in Urban America
December 5, 2009 through May 2010
In this new exhibition, anthropologist Philippe Bourgois and photographer-ethnographer Jeff Schonberg document the daily lives of homeless drug users, drawing upon more than a decade of fieldwork they conducted among a community of heroin injectors and crack smokers who survive on the streets of San Francisco's former industrial neighborhoods. About 40 black and white photographs are interwoven with edited transcriptions of tape recorded conversations, fieldwork notes, and critical analysis to explore the intimate experience of homelessness and addiction. Revealing the social survival mechanisms and perspectives of this marginalized "community of addicted bodies," the exhibition also sheds light on the often unintended consequences of public policies that can exacerbate the suffering faced by street-based drug users in America. The Penn Center for Public Health Initiatives co-sponsors the exhibition as part of their 2009/2010 series: Creative Action: The Arts in Public Health, and Penn's Arts and the City programming initiative. (Research funded by the National Institutes of Health.) Merle-Smith Gallery East, 1st floor.
Beginning in February 2010, the Penn Museum offers a monthly series of related community round table discussions, exploring issues around addiction and recovery, public health, social services and law enforcement, and art and anthropology.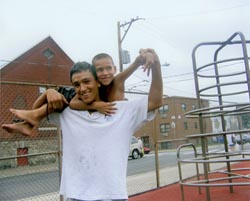 The Goodlands: Young Photographers Inspiring Hope in North Philadelphia
December 10, 2009 through May 2010
North Philadelphia has been stigmatized for years as the "Badlands"-a region ridden by drugs, crime, and poverty. The Goodlands®, a community-based after school and summer arts program run by Centro Nueva Creacion, was created in 2000 to counter negative perceptions, inspire hope, and build artistic talent in young people. Since 2000, more than 800 children from the Fairhill and West Kensington neighborhoods of North Philadelphia have participated in The Goodlands program. The exhibition features a selection of more than 40 color photographs of people and places in the community, taken between 2000 and 2009 by neighborhood children aged 5 to 13. Kress Gallery 1st floor.
Fulfilling a Prophecy: The Past and Present of the Lenape of Pennsylvania
Extended through July 11, 2010
Conventional histories of Pennsylvania declare that all but a few elderly Lenape people left the state by the opening of the 19th century. Yet, many remained in secret. Children of the little known Lenape-European marriages of the 1700s stayed on the Lenape homelands, practicing their traditions covertly. Hiding their heritage, they avoided discovery by both the government and their neighbors for more than two hundred years. Now, the descendants of these people have come forward to tell their story. Fulfilling a Prophecy, organized by the Penn Museum together with the Lenape Nation of Pennsylvania,* features never before displayed objects from the private collections of Lenape people in Pennsylvania, in addition to historic and contemporary photographs and archaeological objects from the collections of the Penn Museum. The exhibition is made possible by Diane vS. and Robert Levy, University Scholars at the University of Pennsylvania Center for Undergraduate Research and Fellowships, the Penn Center for Native American Studies, the National Science Foundation's Research Experience for Undergraduates "Native Voices" program, University of Pennsylvania Graduate School of Education, the Pennsylvania Humanities Council, and the National Endowment for the Humanities' "We the People" initiative on American History. The Jacqueline W. and John C. Hover II Gallery, 2nd floor.
*Like half of all Native American groups in the United States, the Lenape Nation of Pennsylvania is not recognized by the federal or state authorities. Though there are many privileges to be gained through recognition, the process of gaining recognition remains both complex and expensive for many Native American groups.
---
Long-term Exhibitions and Galleries
Penn Museum has three floors of galleries with cultural materials from around the world. Exhibitions include: Iraq's Ancient Past: Rediscovering Ur's Royal Cemetery, Worlds Intertwined: Etruscans, Greeks, and Romans, the Upper and Lower Egyptian galleries, Amarna: Ancient Egypt's Place in the Sun, The Egyptian Mummy: Secrets and Science, the Chinese Rotunda, Buddhism: History and Diversity of a Great Tradition, Canaan and Ancient Israel, Living in Balance: The Universe of the Hopi, Zuni, Navajo and Apache, and galleries with materials from the Islamic World, Mesoamerica, Africa, and Polynesia.
Penn Museum is located at 3260 South Street, Philadelphia, PA 19104 (on Penn's campus, across from Franklin Field and adjacent to SEPTA's University City Regional Rail station serving the R1, R2, and R3 lines). Museum hours are Tuesday through Saturday, 10:00 am to 4:30 pm, Sunday 1:00 to 5:00 pm. Closed Mondays and holidays. Admission donation is $10 for adults; $7 for senior citizens (65 and above); $6 children (6 to 17) and full-time students with ID; free to Members, Penncard holders, and children 5 and younger; "pay-what-you-want" after 3:30 pm Tuesday through Saturday, and after 4:00 pm Sunday. Penn Museum can be found on the web at www.penn.museum. For general information call (215) 898-4000.