Saturday Afternoon, August 21 at the Penn Museum
Event Features Music, Dance, Shared Feasting and Ceremonial Passing of the Wampum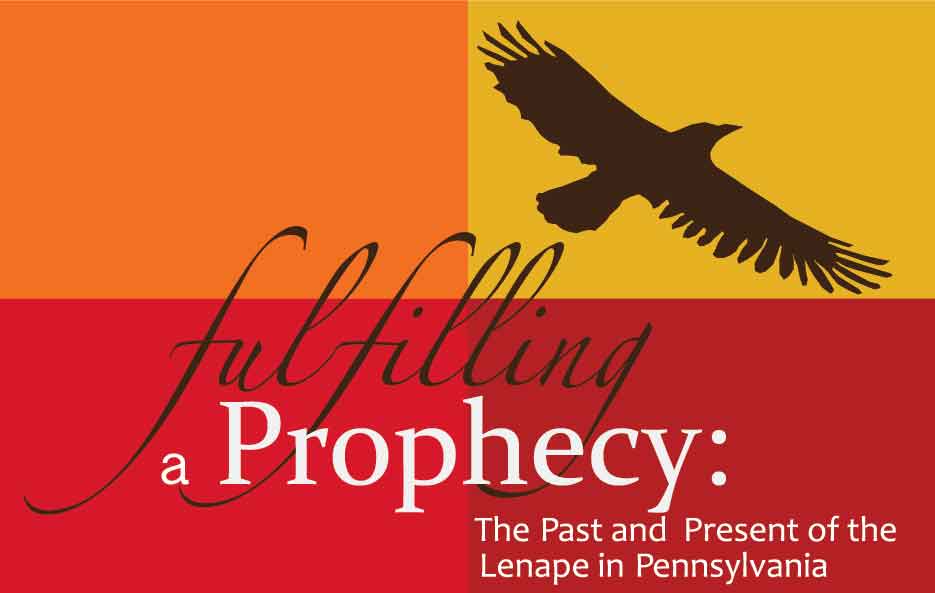 PHILADELPHIA, PA--Long before the first Swedish settlers, before William Penn's arrival, before there was a Declaration of Independence and then a United States of America, the Lenape people lived and thrived in Philadelphia and a wide region that included what is now eastern Pennsylvania, New Jersey, Delaware and southern New York.  The history and culture of the Lenape Indians is an integral part of this region.
On Saturday, August 21, from noon gathering to 4:30 pm, the Lenape Nation of Pennsylvania invites neighbors, friends, organizations, and families to participate at the signing of the Treaty of Renewed Friendship at the University of Pennsylvania Museum of Archaeology and Anthropology.  All who choose to sign indicate their wish to support the Lenape Nation of Pennsylvania and to partner with them as caretakers of their sacred homeland.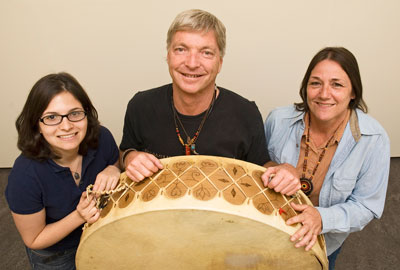 The treaty signing program--a once-every-four-years tradition that began in 2002--starts with drumming by Seven Cedars Drum group at 12:30 pm, followed by the formal program, beginning at 1:00 pm. There will be an opening prayer and the traditional passing of the wampum to the Penn Museum, before the official treaty signing at 2:30 pm. Everyone is invited to join in a potluck feast (bring something to share!) at 3:30 pm, when there will be traditional Native American music and dancing. The program is free, and optional admission to the Museum is with Museum admission donation ($10 adults; $7 seniors (65+); $6 full-time students with ID and children (6 to 17); and free for children under 6, Museum members and Penncard holders).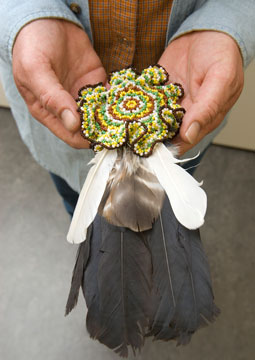 Chief Robert Red Hawk Ruth of the Lenape Nation of Pennsylvania, Assistant Chief Shelley DePaul, and then-University of Pennsylvania anthropology student Abigail Sheldin, curated the Penn Museum exhibition Fulfilling a Prophecy: The Past and Present of the Lenape in Pennsylvania.  Opened in September 2008, the popular exhibition has been extended through July 10, 2011.  At the end of the exhibition, visitors can see the 2002 Treaty of Renewed Brotherhood. Over the years, thousands of Museum visitors, moved by the story of the region's Lenape people, wrote post-it notes to the curators.  Those notes now fill the walls of the last section of the exhibition, and more than 1,400 individuals filled out postcards indicating their interest in signing the 2010 Treaty.
A highlight of the event is the traditional passing of the wampum, an Eastern Woodlands tribe ritual that seals bonds of trust and responsibility. Wampum are traditional, sacred beads made from shells of local waters. Woven belts of wampum have been created to commemorate treaties or historical events.
"It has been a real honor and an education to be able to work with the Lenape Nation of Pennsylvania to tell their story in Fulfilling a Prophecy, and with programming here at the Penn Museum" noted Dr. Robert Preucel, Penn Museum American section curator, who will accept the wampum at the ceremony on behalf of the Museum.
Shelley DePaul will conduct the wampum ceremony, reading a letter from Chief Robert Red Hawk, who noted of its importance: "The Elders have always said that a piece of paper is only meaningful when it returns to dust and is blown about on the wind.  It is the words that come from the heart that last forever.  These tiny wampum beads speak more than any written script could ever try to explain.  These small beads are a symbol of lasting friendship and just as they abide together on a thin cord so we abide side by side."
The wampum, and the 2010 Treaty of Friendship, will be installed in the exhibition Fulfilling a Prophecy at a later time.
Individuals interested in reading and signing the Lenape Nation of Pennsylvania's Treaty of Renewed Friendship can download a copy of the treaty at the Museum's exhibition website, or at the Lenape Nation of Pennsylvania website, as well as at the August 21 event.
The University of Pennsylvania Museum of Archaeology and Anthropology is dedicated to the study and understanding of human history and diversity. Founded in 1887, the Museum has sent more than 400 archaeological and anthropological expeditions to all the inhabited continents of the world. With an active exhibition schedule and educational programming for children and adults, the Museum offers the public an opportunity to share in the ongoing discovery of humankind's collective heritage.
Penn Museum is located at 3260 South Street, Philadelphia, PA 19104 (on Penn's campus, across from Franklin Field). Public transportation is available by SEPTA's University City Regional Rail station serving the R1, R2, and R3 lines; the Market-Frankfort Subway Line at Market and 34th Streets; the Surface Trolley Lines 11, 13, 34 and 36; and buses 12, 21, 30, 40 and 42. Museum hours are Tuesday through Saturday, 10:00 am to 4:30 pm, Sunday 1:00 to 5:00 pm. Closed Mondays and holidays. Admission donation is $10 for adults; $7 for senior citizens (65 and above); $6 children (6 to 17) and full-time students with ID; free to Members, Penncard holders, and children 5 and younger; "pay-what-you-want" after 3:30 pm Tuesday through Saturday, and after 4:00 pm Sunday. Penn Museum can be found on the web at www.penn.museum. For general information call (215) 898-4000.
Photo captions: (Top photo) Fulfilling a Prophecy co-curators (L-R) Abigail Seldin, University of Pennsylvania; Chief Robert Red Hawk Ruth, Lenape Nation of PA; and Shelley DePaul, Lenape Nation of PA, stand with a painted Lenape drum. (Bottom photo) In the hands of Lenape co-curator Shelley DePaul is her Lenape fan made of beads, leather, and feathers.