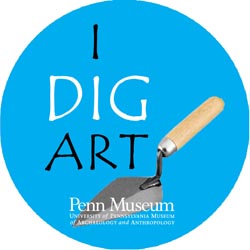 PHILADELPHIA, PA 2012—Kids and families can dig right in to art, culture, and adventure, as the Penn Museum offers Family Second Sunday Workshops, 1:00 to 4:00 pm from September 2012 through May 2013. Geared to families with children ages 5 and up, each Family Second Sunday Workshop features a craft, touchable artifacts, and gallery activities. Attendees may drop in anytime between 1:00 and 4:00 pm to participate.
Attendees to a Family Second Sunday Workshop automatically become members of Penn Museum's Art Excavators Club. Club members who attend three Family Second Sunday workshops receive a free surprise!
Family Second Sunday Workshops and the Arts Excavators Club are free with Museum admission ($12 adults; $10 seniors, $8 children 6-17, free for children 5 and under, and free for Penn Museum members). Pre-registration not required. For more information, call 215.898.4016.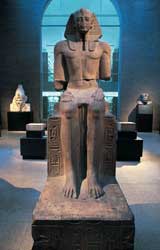 Sunday, September 9
Pharaoh Fantasies
Ramesses II and Tutankhamun are among the many pharaohs represented in the Egyptian galleries. Everyone in the family can become an instant pharaoh at this workshop—and create a personalized ancient Egyptian crown to wear. Free with Museum admission.
Sunday, October 14
Spooky Sarcophagi
Clay sarcophagi (coffins) from the Canaan and Israel Gallery come in two distinct styles, and offer inspiration for a pre-Halloween craft activity: molding a mini-sarcophagus to take home.
Sunday, November 11, 2012
Catch a Dream
Native American dreamcatchers, objects created to protect owners against nightmares, originated with the Ojibwa Nation. Families learn about dreamcatchers, and other Native American objects and crafts, before fashioning a dreamcatcher to take home.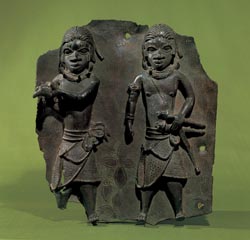 Sunday, December 9, 2012
Benin Bronze
Renowned Nigerian Benin bronzes in the African Gallery provide the artistic and cultural inspiration for this workshop, where guests can imagine themselves as Oba or Iyoba, the king or queen mother of the Benin court, and create self-portraits in the manner of a Benin bronze plaque.
Sunday, January 13, 2013
Special Squares
Mandarin squares, or rank badges, large and colorful embroidered badges featuring animal insignias, were once sewn onto the coats of officials in Imperial China. In this workshop, guests design their own Mandarin square through collage.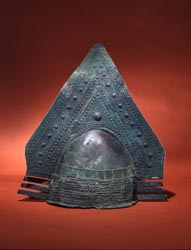 Sunday, February 10, 2013
Etruscan Escapade
A commander's bronze crested Helmet, circa 800 BCE, holds pride of place in the Etruscan gallery. Workshop participants can design their own crested helmets inspired by the one on display.
Sunday, March 10, 2013
Marvelous Mosaics
The remarkable Lod Mosaic from Israel, on special display through May 12, complements the Roman mosaics from the Museum's permanent collections.  Workshop guests draw inspiration from artwork of the ancients to piece together their own mosaic.
Sunday, April 14, 2013
Roman Rituals
Workshop participants do like the ancient Romans, who molded votive offerings and statuettes to place in altars to achieve wishes or to thank the gods.  What would you mold to make your wishes come true?
Sunday, May 12, 2013
Mummies' Day
What better way to celebrate Mothers Day than with Penn Museum's mummies? Families can follow the work underway in the Museum's open conservation laboratory, and design and wrap a mummy!


Penn Museum (the University of Pennsylvania Museum of Archaeology and Anthropology), celebrating its 125th anniversary in 2012, is dedicated to the study and understanding of human history and diversity. Founded in 1887, the Museum has sent more than 400 archaeological and anthropological expeditions to all the inhabited continents of the world. With an active exhibition schedule and educational programming for children and adults, the Museum offers the public an opportunity to share in the ongoing discovery of humankind's collective heritage.
Penn Museum is located at 3260 South Street, Philadelphia, PA 19104 (on Penn's campus, across from Franklin Field). Public transportation to the Museum is available via SEPTA's Regional Rail Line at University City Station; the Market-Frankford Subway Line at 34th Street Station; trolley routes 11, 13, 34, and 36; and bus routes 12, 21, 30, 40, and 42. Museum hours are Tuesday and Thursday through Sunday, 10:00 am to 5:00 pm, and Wednesday, 10:00 am to 8:00 pm, with P.M. @ PENN MUSEUM evening programs offered select Wednesdays. Closed Mondays and holidays. Admission donation is $12 for adults; $10 for senior citizens (65 and above); $8 for U.S. Military; $8 for children (6 to 17) and full-time students with ID; free to Members, PennCard holders, and children 5 and younger; "pay-what-you-want" the last hour before closing. Hot and cold meals and light refreshments are offered to visitors with or without Museum admission in The Pepper Mill Café; the Museum Shop and Pyramid Shop for Children offer a wide selection of gifts, books, games, clothing and jewelry. Penn Museum can be found on the web at www.penn.museum. For general information call 215.898.4000. For group tour information call 215.746.8183.
Photo captions (top to bottom): 1:  Everyone in the family can become an instant Pharaoh like Ramesses II, pictured here, at "Pharaoh Fantasies." Guests can create their own Egyptian crown to take home at this Family Second Sunday Workshop at Penn Museum on September 9, 1:00 to 4:00 pm. 2: African bronze plaques like this one provide the inspiration for "Benin Bronze," a Family Second Sunday Workshop at Penn Museum on December 9, 1:00 to 4:00 pm. 3: During "Etruscan Escapades," a Family Second Sunday Workshop, visitors can create their own crested helmet like this one. The workshop takes place February 10, 1:00 to 4:00 at the Penn Museum. All photos: Penn Museum.