From Monsters to Shakespeare with a Twist: Penn Museum Joins
The Philly Fringe with Two Programs September 13–16, 2012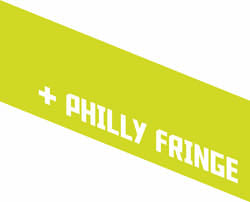 PHILADELPHIA, PA—Expect some strange situations and unlikely happenings at the Penn Museum September 13 through 16, 2012, when the Museum opens its Chinese and ancient Egyptian galleries for two Philly Fringe events.
Renowned New York artist and teacher Douglas Irving Repetto brings his Monsters: A Workshop and Happening to the Chinese Rotunda and the Warden Garden for a memorable afternoon open to all audiences on Sunday, September 16. Thursday through Saturday, the University of Pennsylvania's own Underground Shakespeare Company uses the Museum's iconic Egypt (Sphinx) Gallery as the backdrop to a reimagining of the bard's famous tragedy Antony and Cleopatra.
Program details, and ticket information, below: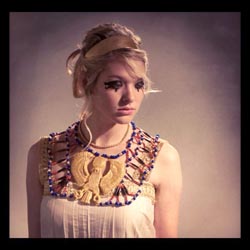 September 13–15
Thursday, Friday, Saturday, 8:00 pm
Philly Fringe Event
Underground Shakespeare Company Presents:
"Antony & Cleopatra: Infinite Lives"
The Underground Shakespeare Company, Penn's only all-Shakespeare performance group, takes on the famous tragedy Antony and Cleopatra in this Philly Fringe production. Shakespeare's play is adapted by award-winning playwrights Pete Barry & J. Michael DeAngelis of The Porch Room, as they consider the tumultuous situation of contemporary Egypt, drawing parallels from Shakespeare's text to today's current events. The majestic backdrop of the Museum's Egypt (Sphinx) Gallery adds another layer to the performance. The event is sponsored by Penn's Rodin College House. Admission: $20, general public; $15, students with I.D. (non-Penn); $10, PennCard holders. General admission tickets are available online at www.livearts-fringe.org; student and PennCard holder tickets are available at the door. For more information, call 215.898.7402.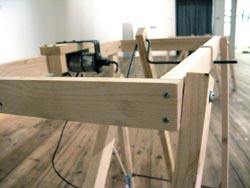 September 16
Sunday, 2:30 pm Workshop; 4:00 pm Performance
Philly Fringe Event
Monsters: A Workshop and Happening
Take an afternoon out to discover your inner monster at this audacious Philly Fringe event! Participate in the 2:30 pm DIY workshop where audience members collaborate with artist Douglas Repetto in assembling a herd of frolicking "foals"—small walking tables handmade from scrap wood and simple mechanical parts. Then at the 4:00 pm happening, the monstrous herd will be set free in the Penn Museum's majestic Chinese Rotunda, where an epic struggle between the forces of good and evil may or may not take place. Afterwards they are herded out into the Warden Garden, free to eat the grass and frolic in the fountains. After the event audience members are invited to adopt a deviant foal. Take-home foal-building plans are also available. Foal friends or foal foes? There's only one way to find out! Free with Museum admission ($12 adults; $8 children 6 to 17; $10 seniors; free for children 5 and under, and Penn Museum members.) Advance tickets recommended; workshop participation is on a first-come, first-served basis. Tickets are available online at www.livearts-fringe.org. For more information: 215.898.2680.
Penn's campus is a great place to explore the 2012 Philly Fringe Live Arts Festival: the Annenberg Center for the Performing Arts offers its own multimedia, interactive program September 20 and 21: red, black & GREEN: a blues, created by Marc Bamuthi Joseph of The Living Word Project. Details online! And on September 22, the Platt Student Performing Arts House hosts The Alternative Theatre Festival by iNtuitions Experimental Theatre. This eclectic performance of avant-garde and experimental theater is written, directed, and presented by Penn students. Read more online.
ABOUT THE PHILLY FRINGE:
The 16th-annual Philadelphia Live Arts Festival and Philly Fringe takes place from September 7–22, 2012.
The Philly Fringe is an unfiltered festival, where a platform is provided for new and established artists to present their work free of a selection process.  For some it's a once-a-year, or once-in-a-lifetime opportunity to create a show; for professional companies, it can be an opportunity to try something new. The Philly Fringe seeks to create a cityscape filled with theater, dance, music, and everything in between for audiences to enjoy; encourage artists to give expression to and develop their talents and artistic visions in total artistic freedom without any curatorial barriers in bringing that work to an audience; to help artists become successful independent producers; and ensure the growth and continued health of the local and regional performing arts community.  In 2011, over 200 Philly Fringe shows were self-produced by thousands of artists throughout the region.
Penn Museum (the University of Pennsylvania Museum of Archaeology and Anthropology), celebrating its 125th anniversary in 2012, is dedicated to the study and understanding of human history and diversity. Founded in 1887, the Museum has sent more than 400 archaeological and anthropological expeditions to all the inhabited continents of the world. With an active exhibition schedule and educational programming for children and adults, the Museum offers the public an opportunity to share in the ongoing discovery of humankind's collective heritage.
Penn Museum is located at 3260 South Street, Philadelphia, PA 19104 (on Penn's campus, across from Franklin Field). Public transportation to the Museum is available via SEPTA's Regional Rail Line at University City Station; the Market-Frankford Subway Line at 34th Street Station; trolley routes 11, 13, 34, and 36; and bus routes 12, 21, 30, 40, and 42. Museum hours are Tuesday and Thursday through Sunday, 10:00 am to 5:00 pm, and Wednesday, 10:00 am to 8:00 pm, with P.M. @ PENN MUSEUM evening programs offered select Wednesdays. Closed Mondays and holidays. Admission donation is $12 for adults; $10 for senior citizens (65 and above); $10 for U.S. Military; $8 for children (6 to 17) and full-time students with ID; free to Members, PennCard holders, and children 5 and younger; "pay-what-you-want" the last hour before closing. Hot and cold meals and light refreshments are offered to visitors with or without Museum admission in The Pepper Mill Café; the Museum Shop and Pyramid Shop for Children offer a wide selection of gifts, books, games, clothing and jewelry. Penn Museum can be found on the web at www.penn.museum. For general information call 215.898.4000. For group tour information call 215.746.8183.
Photo captions: Top— Willa Granger, of the Underground Shakespeare Company, plays the role of Cleopatra in Antony & Cleopatra: Infinite Lives, a Philly Fringe event at the Penn Museum, 8:00 pm, September 13 through 15 (Photo: Sam Riggs). Bottom— Artist Douglas Repetto brings a unique workshop and performance to the Penn Museum with "Monsters: A Workshop and Happening," a Philly Fringe event, September 16 at 2:30 pm. Here, one of Repetto's foals takes a stroll during the 2009 Shared Robotics exhibition at the Brandts Museum in Odense, Denmark (Photo: Douglas Repetto).