For the most updated information on programs offered at the Penn Museum, and for online pre-registration (optional or required for some programs) visit the Penn Museum Event Calendar.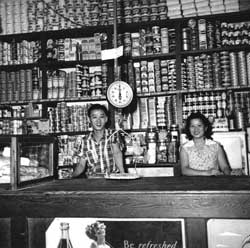 October 2
Tuesday, 6:00 pm
Live from the Archives!
The Chiney Shop (2012)
Penn Museum offers this U.S. premiere presentation of filmmaker/director Jeanette Kong's new documentary, The Chiney Shop. Drawing from the Penn Museum's unique 1930s footage of Jamaica, The Chiney Shop tells the story of Chinese shopkeepers all over Jamaica and their relationships to the communities of which they were a part. Jeanette Kong presents the film. The program concludes with a panel discussion on the Chinese diaspora in the West Indies, featuring Penn Anthropology Professor Dr. Deborah Thomas, organizer, with Dr. David Eng, Asian American Studies at Penn, and Dr. Anne Marie Lee-Loy of Ryerson University. Admission: Pay-what-you-want.
October 3
Wednesday, 6:00 pm
"Great Battles: Moments in Time that Changed History" Lecture Series
A Tale of Two City States: Quirigua's Victory over Copan in 738 CE
Dr. Robert Sharer, Curator Emeritus, American Section, and Director of the Early Copan Acropolis Program (1989–2003), presents this inaugural lecture in the Great Battles Series. Until recently scholars depicted the ancient Maya as a peaceful civilization devoid of warfare. This somewhat romantic notion has been overturned by evidence of a starker reality: during the Classic period (ca. 250–900 CE) an array of Maya kingdoms were engaged in a series of major wars that ravaged the heart of the Maya homeland. For much of this era the major kingdom of Copan appears to have escaped these conflicts. Everything changed in 738 CE, however, when Copan was dramatically defeated by its far smaller vassal, Quirigua. Series subscription: $40, general public; $15, Penn Museum members. Individual lecture with advance registration: $5, general public; $2, Penn Museum members. $10 at the door based on availability.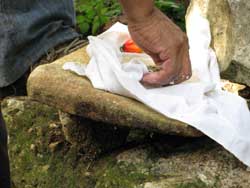 October 4
Thursday, 12:30 pm
Lunchtime Program
Tangible, Intangible, and Touristic: Heritage and Landscape Use in Neoliberal Yucatán
Maya communities of the Eastern Yucatán in Mexico and the roles they play in the preservation of Maya heritage are explored. Fernando Armstrong-Fumero, Assistant Professor of Anthropology, Smith College, and Julio Cesar Hoil Gutierrez, Ph.D. student of history at Centro de Investigaciones y Estudios Superiores en Antropologia Social (CIESAS) in Merida, Yucatán, Mexico, share their perspectives at this program sponsored by the Penn Cultural Heritage Center. Guests are encouraged to bring their own lunch. Free admission.

October 10
Wednesday, 6:00 pm
P.M. @ Penn Museum
2nd Wednesday Quizzo
Join forces with a Philadelphia Inquirer, Daily News, or Philly.com reporter as you test your knowledge and compete for prizes at Quizzo with Quiztine. The Pepper Mill Café, where the game is on, offers happy hour specials and appetizers until 7:30 pm.
October 11
Thursday, 6:00 pm
Loren Eiseley Leadership Giving Society Welcome Reception for New Director
Members of the Loren Eiseley Leadership Giving Society are invited to a private reception to meet the Museum's new Williams Director, Dr. Julian Siggers. RSVP for the event: 215.898.5093 or This email address is being protected from spambots. You need JavaScript enabled to view it. .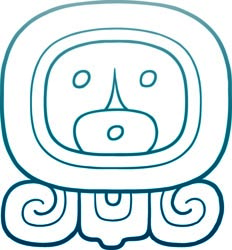 October 13
Saturday, 10:00 am - 5:00 pm
Center for Ancient Studies Symposium
The End of Time
Whether or not the end of time is predicted in the Maya calendar, many of the ancient world civilizations hosted a belief in a universal cataclysm—the Apocalypse, the Last Judgment, the coming of the Antichrist, the Kali Yuga, the Götterdämmerung, and so on. This year's Center for Ancient Studies annual symposium, in conjunction with the Penn Museum exhibition MAYA 2012: Lords of Time, explores what it means for a religion or civilization to foster a belief in the end of the world. Dr. Elaine Pagels, Professor of Religion, Princeton University, and author of Revelations: Visions, Prophecy, and Politics in the Book of Revelation (Viking Press, 2012), presents the keynote address. The symposium is free and open to the public.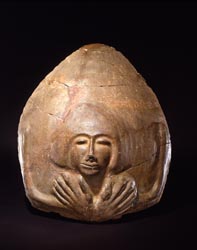 October 14
Sunday, 1:00 - 4:00 pm
Family Second Sunday Workshop
Spooky Sarcophagi
Be inspired by the sarcophagi (funerary vessels) from the Canaan and Israel Gallery as you mold a mini-sarcophagus to take home. Free with Museum admission.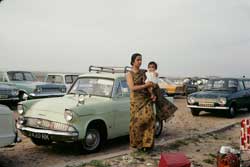 October 14
Sunday, 2:00 pm
Second Sunday Culture Films Series
I for India (2006)
On immigrating to the UK in 1965, Mr. Sandhya Suri, director of this quirky documentary, made his first purchase, a super 8 camera and reel-to-reel recorder for himself, and another set for his family back in India. At least once a month he filmed his family and recorded a soundtrack, then shipped them back home, receiving the same from India. I for India offers a unique record of a family's experience as outsiders to a larger society, and how this changes in the next generation. Dr. Amardeep Singh, English and Post-Colonial Literature, Lehigh University, facilitates a post-film discussion. The South Asia Center and Cinema Studies at Penn are cosponsors of this program. Free with Museum admission.
October 16
Tuesday, 6:00 pm
Members' Insider Evening
Mummy Conservation
Members are invited to learn about the Museum's new project to conserve its famous mummy collection. Dr. Jennifer Wegner, Associate Curator, Egyptian Section, and Lynn Grant, Head Conservator, will discuss the significance of the collection and the mummies being conserved, why these mummies were chosen for conservation, and what work will be done on them. Free for Museum members. RSVP for the event: 215.898.5093 or This email address is being protected from spambots. You need JavaScript enabled to view it. .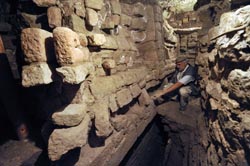 October 17
Wednesday, 6:00 pm
MAYA 2012 Lecture Series
Temples that Speak: Art and Architecture at Copan, Honduras
Honduran archaeologist Ricardo Agurcia Fasquelle, Executive Director of the Copan Association, offers a richly illustrated exploration of the extensive research carried out over the past twenty years on the Acropolis of the ancient Maya site of Copan. Mr. Agurcia speaks about his own discoveries of two extraordinarily well-preserved buildings that represent the only complete examples of Early Classic architecture and monumental art at the site. He gave them the field names "Rosalila" and "Oropendola." Within these two buildings were found magnificent royal tombs whose contents are well represented in the Museum's current exhibition, MAYA 2012: Lords of Time. Admission: $5; free for Penn Museum members.
October 20
Saturday, 1:00 - 4:00 pm
National Archaeology Day Celebration
Indiana Jones Day!
Celebrate National Archaeology Day at the Penn Museum. Explore the Museum through the eyes of Indiana Jones, Hollywood's famous archaeologist, with interactive dig sites, scavenger hunts, movies, games, and talks! Indiana Jones Day is cosponsored by the Philadelphia Chapter of the Archaeological Institute of America. Free with Museum admission.
October 24
Wednesday, 7:30 pm
Apocalypse Film Series: Double Feature
Shaun of the Dead (2004) and Night of the Living Dead (1968)
Did the Maya predict the end of the world in December 2012? Find out how to survive, or how not to survive, with a different apocalyptic scenario each month. Pick up skills on how to fight zombies at this deadly double feature, and dress for a zombie costume contest at intermission. Cash bar and snacks available. Free admission!
October 26-28
Friday and Saturday, 10:00 am - 5:00 pm; Sunday, 11:00 - 4:00 pm
TREASURES Jewelry Show and Sale
Penn Museum's Women's Committee celebrates its 75th Diamond Anniversary with a sparkling new TREASURES Jewelry Show and Sale! Sponsored by Tiffany & Co., this year's TREASURES is a curated shopping event focused entirely on jewelry and precious metals. The program's focus on jewelry is a perfect complement to the Museum's signature collections, which include rare and exquisite jewelry from the ancient Mesopotamian royal tombs of Ur, from ancient Egypt, from the Maya of Central America, the American Southwest, and from sites throughout Asia. For more details and to register, click here or call 215.898.9202.
October 27
Saturday, 11:00 am
Morning Lecture
Jewelry from the Penn Museum Collection
For 125 years, the Penn Museum has added jewelry to its collection of objects from all over the world. Jane Hickman, Ph.D., Editor of Expedition magazine and Special Assistant for Museum Programs, focuses on how various assemblages of jewelry came to be part of the Penn Museum Collection, and provides a closer look at some of them. Admission: Pay-what-you-want. For more information, call 215.898.2680.


The University of Pennsylvania Museum of Archaeology and Anthropology is dedicated to the study and understanding of human history and diversity. Founded in 1887, the Museum has sent more than 400 archaeological and anthropological expeditions to all the inhabited continents of the world. With an active exhibition schedule and educational programming for children and adults, the Museum offers the public an opportunity to share in the ongoing discovery of humankind's collective heritage.
Penn Museum is located at 3260 South Street, Philadelphia, PA 19104 (on Penn's campus, across from Franklin Field). Public transportation to the Museum is available via SEPTA's Regional Rail Line at University City Station; the Market-Frankford Subway Line at 34th Street Station; trolley routes 11, 13, 34, and 36; and bus routes 12, 21, 30, 40, and 42. Museum hours are Tuesday and Thursday through Sunday, 10:00 am to 5:00 pm, and Wednesday, 10:00 am to 8:00 pm, with P.M. @ PENN MUSEUM evening programs offered weekly. Closed Mondays and holidays. Admission is $12 for adults; $10 for senior citizens (65 and above) and military; $8 children (6 to 17) and full-time students with ID; free to Members, PennCard holders, and children 5 and younger; "pay-what-you-want" the last hour before closing. Penn Museum can be found on the web at www.penn.museum. For general information call 215.898.4000. For group tour information call 215.746.8183.