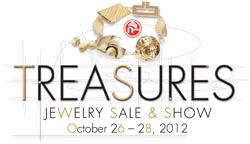 PHILADELPHIA (July 11, 2012) – Diamonds are a… museum's best friend.
As part of its 75th Anniversary this fall, the Women's Committee of the Penn Museum in Philadelphia is bringing back its signature fundraiser, TREASURES, Oct. 26–28. TREASURES originally began as a world cultures antiques show in 2005, and is now being relaunched with a focus on jewelry. The presenting sponsor of TREASURES is Tiffany & Co.
"As part of our Diamond Anniversary, the Women's Committee wanted to bring back some of our favorite events from years past – and nothing could be more fitting for the Penn Museum than a curated jewelry sale and show like TREASURES. The exhibitors will set up their jewelry in the Rotunda and Upper Egypt galleries, alongside rare and ancient artifacts from around the world," said Marguerite Goff of the Women's Committee.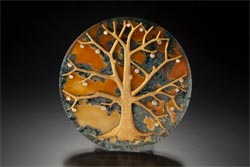 Over the last few months, the Women's Committee volunteers have carefully selected more than two-dozen designers and jewelers from across the country, putting together a unique combination of antique, vintage and high-end jewelry that will exhibit in Philadelphia for just three days. There will be items for every taste and at a variety of prices from designers and dealers such as Barbara Heinrich, J. Rudy Lewis, Sue Brown Antique Rings and Whitney Abrams.
The change in focus to all jewelry is a perfect complement to the Museum's signature collections, such as the rare Mesopotamian Ur artifacts on permanent display, and the River of Gold: Pre-Columbian Treasures from Sitio Conte (which has been traveling since 2008). Volunteer docents working with Dr. Jane Hickman have created special jewelry tours of the Museum's collections for groups during TREASURES weekend. Tours will include wonderful Etruscan pieces, Navajo necklaces and Mayan jade, along with jewelry from Africa.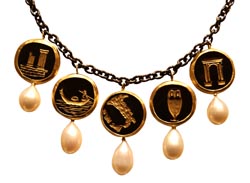 TREASURES begins with a preview gala on Thursday, Oct. 25 then runs Friday through Sunday, Oct. 28, coinciding with Penn's Homecoming Weekend. Tickets are $15 for the show or $25 for the show and MAYA 2012: Lords of Time special exhibition (both tickets also include regular museum admission). For an updated list of exhibitors and a schedule of events, go to wcpennmuseum.com or call 215.898-9202.
Tickets to the preview gala start at $175 and are also available by calling 215.898-9202.
The sale and show takes place at the Penn Museum, 3260 South Street, in Philadelphia's University City neighborhood. In addition to garage and on-street parking, the Museum is easily accessible via bus and regional rail.
Proceeds from TREASURES benefit the Penn Museum's educational and outreach programs.
# # #
SELECT EVENTS DURING TREASURES
OCT. 25
Thursday, 6:00 - 9:00 pm
Opening Night Preview
It's a magical evening underneath the soaring Rotunda! Be among the first to experience the all-new TREASURES as you meet and mingle with this year's exhibitors, friends and colleagues. $175 includes open bar and substantial hors d'oeuvres. To register, call 215-898-9202.
OCT. 26
Friday, 9:30 am
Breakfast with Tiffany & Co. Chairman and CEO Michael J. Kowalski
A rare chance to hear Tiffany & Co. chairman and CEO Michael Kowalski speak. Mr. Kowalski, Chairman of the Penn Museum Board of Overseers, joins us from New York for a gourmet breakfast and Q&A session.
OCT. 27
Saturday, 11:00 am
Jewelry from the Penn Museum Collection
Enjoy this talk, a perfect complement to the TREASURES Jewelry Show & Sale! For 125 years, the Penn Museum has added jewelry to its collection of objects from all over the world. Jane Hickman, Ph.D., Editor of Expedition magazine and Special Assistant for Museum Programs, focuses on how various assemblages of jewelry came to be part of the Penn Museum Collection, and provides a closer look at some of them. Admission: Pay-what-you-want.
OCT. 26–28
Friday, Saturday and Sunday
Afternoon Tea
Look for details on the Women's Committee website, wcpennmuseum.com.
OCT. 27–28
Saturday and Sunday by advance reservation only                          
Group Gallery Tours
TREASURES is a show that could only happen at the Penn Museum! Learn why in these guided tours that focus on jewelry from throughout time and around the world featured in the Museum's galleries. Available for groups of 10 or more.

MEDIA CONTACT:
More information, as well as images and logos, are available by emailing Matthew Vlahos Public Relations at This email address is being protected from spambots. You need JavaScript enabled to view it. .