For the most updated information on programs offered at the Penn Museum, and for online pre-registration (optional or required for some programs) visit the Museum's website: www.penn.museum/calendar.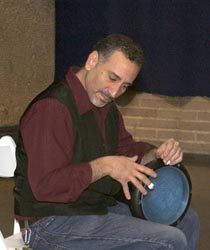 September 5–October 24
Wednesdays, 6:30 - 8:00 pm
Evening Program
Instructional Drum Circle
Come out and drum with Joseph Tayoun, internationally acclaimed Middle Eastern percussionist. Sessions include instruction of rhythms, technique, and a drum circle jam in the inspiring setting of the Museum's Egypt (Sphinx) gallery. A limited number of drums are provided; drummers are encouraged to bring their own drums. Dancers are welcome! Admission: $15 walk-in ($100 in advance for all eight sessions); $10 walk-in student/Penn Museum member rate ($70 in advance for eight sessions). For more information, call 215.898.2680.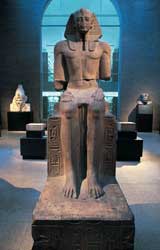 September 9
Sunday, 1:00 - 4:00 pm
Family Second Sunday Workshop
Pharaoh Fantasies
Kick off the new season's Family Second Sunday series as you become an instant Pharaoh. Create your own ancient Egyptian crown to wear. Free with Museum admission. For more information, call 215.898.4016.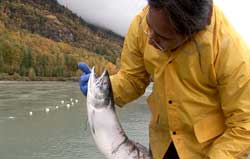 September 9
Sunday, 2:00 pm
Second Sunday Culture Films Series
Smokin' Fish (2011)
Alaskan Tlingit filmmaker Cory Mann is both the subject and the co-director of this film about retaining a traditional indigenous lifestyle in the Northwest—alongside a 21st century cyber business. The program concludes with a panel discussion about living a bicultural life in balance. This program is cosponsored by the Penn Center for Native American Studies, Greenfield Intercultural Center, Natives at Penn, and Penn Cinema Studies. Free with Museum admission. For more information, call 215.898.2680.

September 12
Wednesday, 6:00 pm
P.M. @ Penn Museum
2nd Wednesday Quizzo
Join forces with a Philadelphia Inquirer, Daily News, or Philly.com reporter as you test your knowledge and compete for prizes at Quizzo with Quiztine. The Pepper Mill Café, where the game is on, offers happy hour specials and appetizers until 7:30 pm. For more information, call 215.898.2680.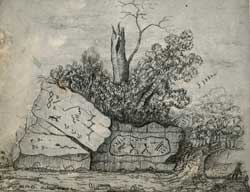 September 13
Thursday, 4:30 pm
Afternoon Lecture
American Monuments: Archaeology, Heritage, and Identity in the Antebellum United States
In the 19th century, mounds, burials, and artifacts became treated as American heritage tied to a national landscape. Dr. James Snead, California State University, Northridge, discusses how perspectives on these monuments created a vision of American antiquity. This free program is presented by the Penn Cultural Heritage Center at the Penn Museum. For more information, call 215.746.4475.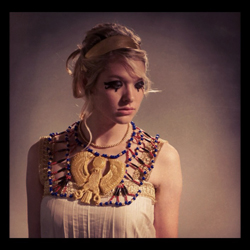 September 13–15
Thursday, Friday, Saturday, 8:00 pm
Philly Fringe Event
Underground Shakespeare Company Presents: "Antony & Cleopatra: Infinite Lives"

The Underground Shakespeare Company, Penn's only all-Shakespeare performance group, takes on the famous tragedy Antony and Cleopatra in this Philly Fringe production. Shakespeare's play is adapted by award-winning playwrights Pete Barry & J. Michael DeAngelis of The Porch Room, as they consider the tumultuous situation of contemporary Egypt, drawing parallels from Shakespeare's text to today's current events. The majestic backdrop of the Museum's Egypt (Sphinx) Gallery adds another layer to the performance. The event is sponsored by Penn's Rodin College House. Admission: $20, general public; $15, students with I.D. (non-Penn); $10, PennCard holders. General admission tickets are available online at www.livearts-fringe.org; student and PennCard holder tickets are available at the door. For more information, call 215.898.7402.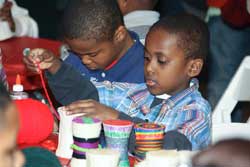 September 15
Saturday, 1:00 - 4:00 pm
Free Community Afternoon
Imagine Africa
Explore the vast continent of Africa through an afternoon of traditional and modern music, dance, and storytelling with local artists. Visit the Imagine Africa with the Penn Museum gallery project, where you can join the discussion about Africa, and tell us what you'd like to see in future Africa-focused exhibitions. Free admission! For more information, call 215.898.2680.

September 15
Saturday, 3:30 pm
Afternoon Lecture
The Early Middle Kingdom Tomb of Meketre's Estate Manager Wah
Dr. Catharine Roehrig, Curator of Egyptian Art, Metropolitan Museum of Art, speaks at this program, sponsored by the Pennsylvania Chapter of the American Research Center in Egypt (ARCE-PA). Admission: $8, general public; $5, Penn Museum members and PennCard holders; free for ARCE-PA members. For more information, visit www.arce-pa.org.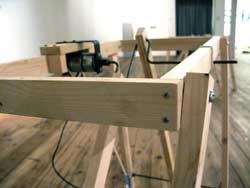 September 16
Sunday, 2:30 pm Workshop; 4:00 pm Performance
Philly Fringe Event
Monsters: A Workshop and Happening

Take an afternoon out to discover your inner monster at this audacious Philly Fringe event! Participate in the 2:30 pm DIY workshop where audience members collaborate with artist Douglas Repetto in assembling a herd of frolicking "foals"—small walking tables handmade from scrap wood and simple mechanical parts. Then at the 4:00 pm happening, the monstrous herd will be set free in the Penn Museum's majestic Chinese Rotunda, where an epic struggle between the forces of good and evil may or may not take place. Afterwards they are herded out into the Warden Garden, free to eat the grass and frolic in the fountains. After the event audience members are invited to adopt a deviant foal. Take-home foal-building plans are also available. Foal friends or foal foes? There's only one way to find out! Free with Museum admission ($12 adults; $8 children 6 to 17; $10 seniors; free for children 5 and under, and Penn Museum members.) Advance tickets recommended; workshop participation is on a first-come, first-served basis. Tickets available online at www.livearts-fringe.org. For more information: 215.898.2680.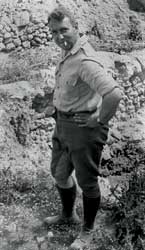 September 20
Thursday, 6:00 pm
Rodney Young Memorial Lecture
Classical Spies: Penn Archaeologists with the OSS in World War II Greece
Dr. Susan Heuck Allen, Visiting Scholar, Department of Classics, Brown University, RISD professor, and author of Classical Spies: American Archaeologists with the OSS in World War II Greece (University of Michigan Press, 2011), offers an insiders' account of archaeologists and espionage during World War II. She focuses in on Penn archaeologists in Greece and the eastern Mediterranean, where the spy network drew on scholars' personal contacts and knowledge of languages and terrain. Book-signing to follow. Admission: Pay-what-you-want. For more information, call 215.898.2680.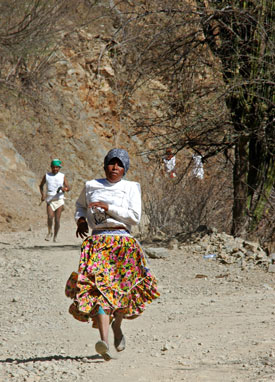 September 22
Saturday, 2:00 pm
Afternoon Program
Photographer Diana Molina and Filmmaker Sterling Noren
Diana Molina speaks about her experiences among the Taramuhara people, who are the focus of Molina's exhibition Run! Super-Athletes of the Sierra Madre, currently on view at the Penn Museum. Filmmaker Sterling Noren shares his video, Run Free! The Legend of Micah True, which tells the story behind the Copper Canyon Ultramarathon and its charismatic founder. Book-signing to follow. Free with Museum admission. For more information, call 215.898.2680.
September 26
Wednesday, 7:30 pm
Apocalypse Film Series
Terminator 2: Judgment Day (1991)
Did the Maya predict the end of the world in December 2012? Does the fate of humanity lie in the liquid metal hands of the Terminator? Find out how to survive the end of days, with a different apocalyptic scenario each month during this film series. In the first installment, pick up skills on how to outrun Skynet's T-1000 Terminator, and compete in a Terminator trivia contest at intermission! Cash bar and snacks available. Admission: Pay-what-you-want. For more information, call 215.898.2680.
The University of Pennsylvania Museum of Archaeology and Anthropology is dedicated to the study and understanding of human history and diversity. Founded in 1887, the Museum has sent more than 400 archaeological and anthropological expeditions to all the inhabited continents of the world. With an active exhibition schedule and educational programming for children and adults, the Museum offers the public an opportunity to share in the ongoing discovery of humankind's collective heritage.
Penn Museum is located at 3260 South Street, Philadelphia, PA 19104 (on Penn's campus, across from Franklin Field). Public transportation to the Museum is available via SEPTA's Regional Rail Line at University City Station; the Market-Frankford Subway Line at 34th Street Station; trolley routes 11, 13, 34, and 36; and bus routes 12, 21, 30, 40, and 42. Museum hours are Tuesday and Thursday through Sunday, 10:00 am to 5:00 pm, and Wednesday, 10:00 am to 8:00 pm, with P.M. @ PENN MUSEUM evening programs offered weekly. Closed Mondays and holidays. Admission is $12 for adults; $10 for senior citizens (65 and above) and military; $8 children (6 to 17) and full-time students with ID; free to Members, PennCard holders, and children 5 and younger; "pay-what-you-want" the last hour before closing. Penn Museum can be found on the web at www.penn.museum. For general information call 215.898.4000. For group tour information call 215.746.8183.
Photo captions (top to bottom): Joseph Tayoun teaches the art of percussion beneath the largest sphinx in the Western Hemisphere (Photo: Penn Museum); Ramses II watches over the Upper Egypt gallery (Photo: Penn Museum); an Alaskan fisherman inspects his catch (Image courtesy of Luke Griswold-Tergis and Cory Mann); a drawing of Native American "heiroglyphs," 1844 (Photo: Penn Museum Archives); Willa Granger as Cleopatra (Photo: Sam Riggs); activities for kids and families abound at Penn Museum's Imagine AfricaFree Community Day (Photo: Penn Museum); one of Douglas Repetto's foals takes a stroll during the 2009 Shared Robotics exhibition at the Brandts Museum in Odense, Denmark (Photo: Douglas Repetto); Loa Traxler in the Museum's Mesoamerican Gallery (Photo: Penn Museum); Rodney Young at the Agora, 1947 (Photo by Alison Frantz, film #184893); a photo from the exhibition Run! Super-Athletes of the Sierra Madre (Photo by Diana Molina).