Penn Museum and Metropolitan Museum of Art Agree to "Exchange of Prisoners"
As Part of Loan Agreement for Metropolitan Museum's "Dawn of Egyptian Art" Exhibition
Statue of Bound Captive on View at Penn Museum Beginning May 2
PHILADELPHIA, PA—When Penn Museum agreed to lend objects from its Egyptian collection to the Metropolitan Museum of Art for their new exhibition, The Dawn of Egyptian Art (April 10 through August 5, 2012), Penn Museum's Egyptian section curator made one special request—for a temporary "exchange of prisoners."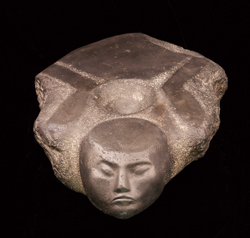 Metropolitan Museum's curator of the exhibition and University of Pennsylvania alumna Diana Craig Patch requested­­­­­­­­­­­­­­­ 10 objects from the Penn Museum, one of which is a spectacular stone door socket carved in the form of a captive, regularly on view in the Penn Museum's Upper Egyptian Gallery. With his body flattened to the ground and his hands bound behind, the figure on the door socket bears the unhappy likeness of a prisoner of Egypt under Pharaoh's domination. Once, part of a temple at the ancient cult site of Hierakonpolis, a heavy wooden door turned on a pivot that would have fit into the depression on the captive's back. The artifact dates to the first or second Egyptian dynasties—between 3000 and 2675 BCE.
A large photograph of the Penn Museum's captive was recently featured in a New York Times review of the Metropolitan Museum's new show, "a sublime, view shifting exhibition" according to art critic Roberta Smith.
While the Penn Museum's prisoner is in New York, the Met has lent the Museum a statue of a kneeling bound captive from their own collection—to go on display in the Upper Egyptian Gallery May 2 through August 5, 2012. This three dimensional bound figure kneels in subjugation with his arms restrained behind his back. This statue dates to Dynasty 6 of the Old Kingdom and was made during the reign of Pepi II (ca. 2246-2152 BCE), and it may have originally stood in the funerary complex of the king at the site of Saqqara. Damage seen on this statue is quite possibly the result of a ritual act of destruction, which may have been done for protection from enemies.
"This sculpture is a perfect temporary replacement for our door socket. While it is similar in theme, its form is more three dimensional, it is from a later period, and it was used in a different context—information that provides insight into how the ancient Egyptians viewed foreign captives," noted David Silverman, Curator in charge of the Egyptian Section.
In addition to the door socket, nine other ancient Egyptian objects from the Penn Museum are now on loan to the Met. Four of the them come from the site of Abydos, dating to the First Dynasty: a bowl inscribed for King Djet, a funerary stela of a dwarf, a pair of duck clappers, and a figurine of a kneeling man. A statuette in the shape of a baboon also dates to the First Dynasty, and comes from Hierakonpolis. Even older are a jar in the form of a bolti fish and a vessel in the shape of a frog, from predynastic Naqada and El-Mahasna, respectively. A prehistoric female figurine from Abadiyeh, and a figure of a man carved in ivory from Hierakonpolis complete the loan.
Penn Museum offers a day-long Bus Trip to the Metropolitan Museum of Art, with Curator David Silverman, to see "The Dawn of Egyptian Art" on Tuesday, May 15 ($60 general admission; $50 Penn Museum members). Tickets are on sale now from the Museum's website calendar.
Penn Museum (the University of Pennsylvania Museum of Archaeology and Anthropology), celebrating its 125th anniversary in 2012, is dedicated to the study and understanding of human history and diversity. Founded in 1887, the Museum has sent more than 400 archaeological and anthropological expeditions to all the inhabited continents of the world. With an active exhibition schedule and educational programming for children and adults, the Museum offers the public an opportunity to share in the ongoing discovery of humankind's collective heritage.
Penn Museum is located at 3260 South Street, Philadelphia, PA 19104 (on Penn's campus, across from Franklin Field). Public transportation to the Museum is available via SEPTA's Regional Rail Line at University City Station; the Market-Frankford Subway Line at 34th Street Station; trolley routes 11, 13, 34, and 36; and bus routes 12, 21, 30, 40, and 42. Museum hours are Tuesday and Thursday through Sunday, 10:00 am to 5:00 pm, and Wednesday, 10:00 am to 8:00 pm, with P.M. @ PENN MUSEUM evening programs offered select Wednesdays. Closed Mondays and holidays. Admission donation is $12 for adults; $10 for senior citizens (65 and above); $8 for U.S. Military; $8 for children (6 to 17) and full-time students with ID; free to Members, PennCard holders, and children 5 and younger; "pay-what-you-want" the last hour before closing. Hot and cold meals and light refreshments are offered to visitors with or without Museum admission in The Pepper Mill Café; the Museum Shop and Pyramid Shop for Children offer a wide selection of gifts, books, games, clothing and jewelry. Penn Museum can be found on the web at www.penn.museum. For general information call (215) 898-4000. For group tour information call (215) 746-8183.
Photo captions, top to bottom: Door socket, Archaic Temple, Hierakonpolis, 3000-2675 BCE (object #3959), photo: Penn Museum. 
Statue of a Kneeling Bound Captive (ca. 2246-2152), Limestone, Possibly from the Pyramid Complex of Pepi II at Saqqara, Metropolitan Museum of Art, New York, Fletcher Fund, 1947 (47.2), photo: Image copyright © The Metropolitan Museum of Art. Image source: Art Resource, NY.