Penn Museum Hosts "Brazilian Groove" Cultural Celebration
A Free Community Day Saturday, March 31
As Part of Ongoing Imagine Africa with the Penn Museum Gallery Project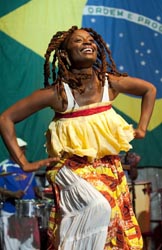 PHILADELPHIA, PA—Brazil's vibrant cultural and musical heritage take center stage during Brazilian Groove, a Free Community Day on Saturday, March 31, 10:00 am to 5:00 pm (with special programming from 1:00 to 4:00 pm) at the Penn Museum in Philadelphia.  Brazil is a country richly influenced by the African diaspora and this family-friendly event features Afro-Brazilian drumming and dance workshops, a demonstration of the energetic dance and martial art of Capoeira Angola, and a Brazilian-influenced African dance performance. Brazilian Groove is a featured program presented in conjunction with the Museum's ongoing Imagine Africa with the Penn Museum gallery project and in partnership with ODUNDE and the Brasil Cultural Center.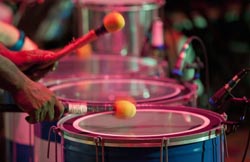 Special programming kicks off at 1:00 pm with an Afro-Brazilian drumming workshop led by percussionist and arts educator Alex Shaw of Alô Brasil. Guests are introduced to the powerful drumming tradition of bloco afro groups in Bahia, Brazil, as they are invited to join in with up to 30 traditional Brazilian instruments provided, including surdos, caixas, repiques and tamborins. At 2:00 pm, Orlando Haddad, music director of the Philadelphia-based Brazilian group Minas, talks about the history of Samba, Bossa Nova and Música Popular Brasileira, and performs a live demonstration of the styles.
Later, at 2:30, the focus turns to Brazilian dance in its many styles. Alex Shaw returns for an interactive Brazilian Samba Dance Workshop with the help of dance artist and educator Adrienne Hall-Cedeño. Here, guests can learn traditional orixá movements for the ijexá rhythm, as well as the basics of samba de roda (circle samba), to the beat of live drumming.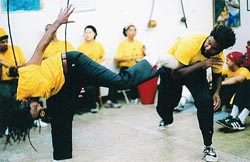 At 3:00, visitors can delight in a demonstration of Capoeira Angola, led by the International Capoeira Angola Foundation. Akin to a "dance fight," this unique art form combines dance movements, acrobatics, martial arts, music and more in an energetic display. At 3:30, the afternoon comes to a finale with a dance performance by ODUNDE 365, featuring over 30 young dancers ages 5-13. These youngsters demonstrate their own specialty, a style of African dance with a Brazilian flair.
Guests are given a look at contemporary Brazilian culture by the documentary film, Moro No Brasil, which focuses on folk and popular music in this South American nation and plays continuously during the event. And throughout the afternoon, children will have an opportunity to create their own tambourine at a craft station to take home.
The culture of Brazil, the world's fifth largest country, has been strongly affected by the African diaspora, with many modern Brazilians tracing their ancestry to the Atlantic slave trade. Today, their shared traditions and ancestry make Brazil a natural focal point in understanding Africa and its place in the international community.
With the Imagine Africa with the Penn Museum gallery project, which opened in September 2011, the Penn Museum has drawn upon its extraordinary African collection to present more than 50 objects framed around eight broad topics, from "Beauty" and "Strength," to "Healing," "Creating," and "The Divine." Through a variety of engagement opportunities, visitors are asked to provide feedback on the objects and content they see, and to discuss what would make an engaging exhibition—from their point of view. Throughout the year, the Museum is engaging—through the gallery installation, diverse public programming, and a rich website—in discussions with the regional community, as it develops long-range plans to re-envision its African gallery for a 21st century audience.
ODUNDE, founded in 1975, is a Philadelphia-based cultural organization that works to educate people about the African diaspora, through events such as the annual ODUNDE Street Festival, the largest African-American street festival on the east coast. The Brasil Cultural Center is a local group dedicated to the celebration of the arts and culture of Brazil in Philadelphia.
Imagine Africa with the Penn Museum is made possible with funding from the Pew Center for Arts and Heritage through the Heritage Philadelphia Program, and the PoGo Family Foundation.
Penn Museum (the University of Pennsylvania Museum of Archaeology and Anthropology), celebrating its 125th anniversary in 2012, is dedicated to the study and understanding of human history and diversity. Founded in 1887, the Museum has sent more than 400 archaeological and anthropological expeditions to all the inhabited continents of the world. With an active exhibition schedule and educational programming for children and adults, the Museum offers the public an opportunity to share in the ongoing discovery of humankind's collective heritage.
Penn Museum is located at 3260 South Street, Philadelphia, PA 19104 (on Penn's campus, across from Franklin Field). Public transportation to the Museum is available via SEPTA's Regional Rail Line at University City Station; the Market-Frankford Subway Line at 34th Street Station; trolley routes 11, 13, 34, and 36; and bus routes 12, 21, 30, 40, and 42. Museum hours are Tuesday and Thursday through Sunday, 10:00 am to 5:00 pm, and Wednesday, 10:00 am to 8:00 pm, with P.M. @ PENN MUSEUM evening programs offered select Wednesdays. Closed Mondays and holidays. Admission donation is $10 for adults; $7 for senior citizens (65 and above); $6 children (6 to 17) and full-time students with ID; free to Members, PennCard holders, and children 5 and younger; "pay-what-you-want" the last hour before closing. Hot and cold meals and light refreshments are offered to visitors with or without Museum admission in The Pepper Mill Café; the Museum Shop and Pyramid Shop for Children offer a wide selection of gifts, books, games, clothing and jewelry. Penn Museum can be found on the web at www.penn.museum. For general information call 215.898.4000. For group tour information call 215.746.8183.
Captions (top to bottom): Dance artist and educator Adrienne Hall-Cedeño leads a Brazilian Samba Dance Workshop during Brazilian Groove, a Free Community Afternoon on Saturday, March 31 at Penn Museum (photo by Mark Stehle). Guests can try their hand at the surdo, a traditional Brazilian drum, during a drumming workshop at Brazilian Groove, a Free Community Afternoon on Saturday, March 31 at Penn Museum (photo by Mark Stehle). Guests are treated to a live demonstration of Capoeira Angola by the International Capoeira Angola Foundation, at Brazilian Groove, a Free Community Afternoon on Saturday, March 31 at Penn Museum (photo courtesy Alex Shaw).