"Climate Crises in Human History" Offers Perspective on a Hot Topic
Afternoon Program Runs Saturday, November 19, 3:00 - 5:00 pm at the Penn Museum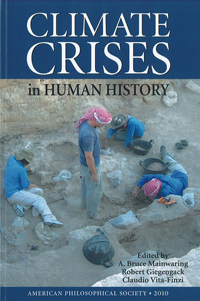 As scientists and other scholars study rapid climate changes and climate crises affecting different parts of the world today, relatively little discussion is being focused on climate crises faced by humans in the past. The ancient Maya, the Saharan ancestors of the ancient Egyptians, ancient Romans and medieval Europeans are among many cultures who have faced dramatic climate change, adapting or not adapting to changing conditions throughout the millennia. Can we learn from their strategies—exploring what proved successful, and what did not—as we face our own climate crisis in the 21st century?
"Climate Crises in Human History"—an afternoon program at the Penn Museum in Philadelphia Saturday, November 19, 3:00 to 5:00 pm—looks at select case studies of past climate change, documented in the archaeological and geological record, to consider that question. The program follows an international conference held at the Penn Museum in 2008, which culminated in a new book, Climate Crises in Human History, edited by A. Bruce Mainwaring, Robert Giegengack and Claudio Vita-Finzi, and published in association with the Transactions series of the American Philosophical Society.
Three presenters offer their perspectives on the new book, and their reflections on the role that such studies can provide: Graeme Barker, the Disney Professor of Archaeology, University of Cambridge; Joseph Farrell, Professor of Classical Studies, University of Pennsylvania, and Robert Giegengack, Emeritus Professor of Geology, University of Pennsylvania. Richard Hodges, the Williams Director of the Penn Museum introduces the program and speakers.
"The record of the geologic and archaeologic past has not been consulted as much as it might be for its potential contribution to the current very public, very rancorous, very political debate about anthropogenic climate change," noted Dr. Giegengack. "That debate has been based almost exclusively on the instrumental record of climate from the last 200 years.
Our hope is that this book—and the discussions it can generate—will provide a wider perspective to us as we consider climate crises today."
Admission to the public event is pay-what-you-want. Copies of Climate Crises in Human History will be available for purchase, and the editors will be available for signing.
The University of Pennsylvania Museum of Archaeology and Anthropology is dedicated to the study and understanding of human history and diversity. Founded in 1887, the Museum has sent more than 400 archaeological and anthropological expeditions to all the inhabited continents of the world. With an active exhibition schedule and educational programming for children and adults, the Museum offers the public an opportunity to share in the ongoing discovery of humankind's collective heritage.
Penn Museum is located at 3260 South Street, Philadelphia, PA 19104 (on Penn's campus, across from Franklin Field). Public transportation to the Museum is available via SEPTA's Regional Rail Line at University City Station; the Market-Frankford Subway Line at 34th Street Station; trolley routes 11, 13, 34, and 36; and bus routes 12, 21, 30, 40, and 42. Museum hours are Tuesday and Thursday through Sunday, 10:00 am to 5:00 pm, and Wednesday, 10:00 am to 8:00 pm, with P.M. @ PENN MUSEUM evening programs offered select Wednesdays. Closed Mondays and holidays. Admission donation is $10 for adults; $7 for senior citizens (65 and above); $6 children (6 to 17) and full-time students with ID; free to Members, PennCard holders, and children 5 and younger; "pay-what-you-want" the last hour before closing. Hot and cold meals and light refreshments are offered to visitors with or without Museum admission in The Pepper Mill Café; the Museum Shop and Pyramid Shop for Children offer a wide selection of gifts, books, games, clothing and jewelry. Penn Museum can be found on the web at www.penn.museum. For general information call 215.898.4000. For group tour information call 215.746.8183.