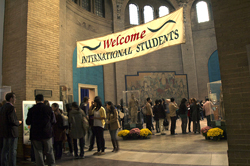 Philadelphia 2011
--Welcome! Swagatam! Willkomen! Emedi! International students, scholars, and professionals new to the Delaware Valley are invited to attend this year's 42nd annual
International Students Reception on Friday, October 21, 5:00 to 7:00 pm
. The Welcome Reception will be held in the Chinese Rotunda at the Penn Museum, 3260 South Street on the University of Pennsylvania campus in Philadelphia.
Every year the annual Welcome Reception, considered a national model amongst international educators, hosts hundreds of international guests from over 100 countries. Penn Museum's International Classroom program presents this free celebration to connect international guests with the local community and its leaders, and to introduce attendees to the multicultural community of Philadelphia.
The Honorable Michael A. Nutter, Mayor of Philadelphia, returns to this year's reception to address the audience with brief remarks. Also, New York City and Philadelphia consul officials from Turkey, India and Latvia will be in attendance to greet guests. The evening's entertainment, as diverse and international as the guest list, features performances by Arcadia University's Latin-style dance group Puro Ritmo, La Salle College's Neo-African Drums 'n Dance group, and Philadelphia's Mutya Philippine Dance Company.
Year after year, the festive affair takes place through the efforts of the Penn Museum, more than 70 volunteers, and more than 65 area co-sponsors including Temple University, Drexel University, University of the Sciences in Philadelphia, Philadelphia University, The Art Institute of Philadelphia, La Salle University, Widener University, Albright College, the Wistar Institute, and the Fulbright Association of Delaware Valley.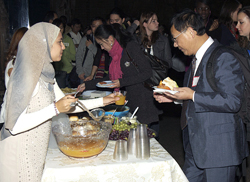 This year's Welcome Reception comes as the International Classroom program celebrates its 50th anniversary. Since its creation in 1961, several thousand international students have participated in International Classroom programs, offering a first-hand perspective on specific countries or regions.
International Classroom Manager of Outreach Prema Deshmukh sums up the program: "In today's multicultural society, International Classroom is more relevant than ever as learning about diversity, sensitivity to languages, and understanding different cultures has become an important part of curriculum in higher education. As our world becomes more interconnected, people need and want to learn about different cultures."
For more information about the International Students Reception, or to learn more about International Classroom at the University of Pennsylvania Museum of Archaeology and Anthropology, call Prema Deshmukh, at 215. 898.4065.
The University of Pennsylvania Museum of Archaeology and Anthropology is dedicated to the study and understanding of human history and diversity. Founded in 1887, the Museum has sent more than 400 archaeological and anthropological expeditions to all the inhabited continents of the world. With an active exhibition schedule and educational programming for children and adults, the Museum offers the public an opportunity to share in the ongoing discovery of humankind's collective heritage.
Penn Museum is located at 3260 South Street, Philadelphia, PA 19104 (on Penn's campus, across from Franklin Field). Public transportation to the Museum is available via SEPTA's Regional Rail Line at University City Station; the Market-Frankford Subway Line at 34th Street Station; trolley routes 11, 13, 34, and 36; and bus routes 12, 21, 30, 40, and 42. Museum hours are Tuesday and Thursday through Sunday, 10:00 am to 5:00 pm, and Wednesday, 10:00 am to 8:00 pm, with P.M. @ PENN MUSEUM evening programs offered select Wednesdays. Closed Mondays and holidays. Admission is $10 for adults; $7 for senior citizens (65 and above); $6 children (6 to 17) and full-time students with ID; free to Members, PennCard holders, and children 5 and younger; "pay-what-you-want" the last hour before closing. Hot and cold meals and light refreshments are offered to visitors with or without Museum admission in The Pepper Mill Café; the Museum Shop and Pyramid Shop for Children offer a wide selection of gifts, books, games, clothing and jewelry. Penn Museum can be found on the web at www.penn.museum. For general information call 215.898.4000. For group tour information call 215.746.8183.
Captions: (Top image): View of the 2010 International Reception in the Penn Museum's Chinese Rotunda. (Top, middle image): Mayor Michael Nutter and Penn Museum Director Richard Hodges (center) flanked by international students at the 2010 International Reception. (Bottom, middle image): Student volunteer serves a guest from a buffet of international foods. (Bottom image) International students from area colleges mingle as they enjoy the festivities. Photos: Penn Museum.