The Secret Cinema is known for screening classic films of all genres at various locations throughout Philadelphia for the past fifteen years--from B-films, to mega-budget Hollywood classics, to obscure shorts. Now, Jay Schwartz, Secret Cinema founder, has specially curated a series of films for the Penn Museum.
On the third Wednesday of the month in September, October, November, and January, Penn Museum welcomes audiences to view a mix of rare, culturally significant, and still powerful vintage films from the early '20s and '30s, as part of the PM @ Penn Museum fall/winter programming. Secret Cinema projects in 16mm film and never video, so audiences see firsthand the original, high standard film in which motion pictures were shot. Audiences will enjoy an introduction to the show from the Secret Cinema founder as well as complimentary popcorn. Programs are free with Museum admission.
Wednesday evening film line-up: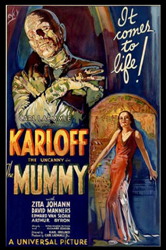 September 21, 6:00 pm
The Mummy (1932)
The dead will rise in this masterpiece of vintage cinema, featuring the iconic Boris Karloff as Im-Ho-Tep, a doomed high priest whose mummified remains are accidentally revived, freeing him to chase his lost love through the ages.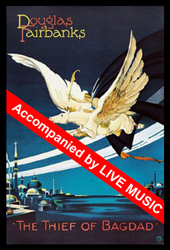 October 19, 6:00 pm
The Thief of Baghdad (1924)
Experience a special screening of The Thief of Baghdad, featuring live musical accompaniment by Don Kinnier. Douglas Fairbanks plays the ever-sunny Ahmed the Thief, who attempts to steal the heart of a beautiful princess in this opulent fantasy/adventure based on the Arabian Nights stories.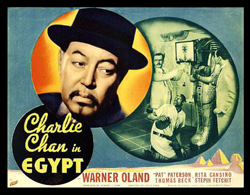 November 16, 6:00 pm
Charlie Chan in Egypt (1935)
Swedish-born actor Warner Oland stars in this evocative early entry in the long-lived Charlie Chan series, which finds the proverb-quoting Chinese sleuth traveling to Cairo (via airplane and mule). There he investigates missing ancient treasures and a murdered archaeologist whose body is discovered inside a sarcophagus. The film effectively combines mystery and horror genre elements, and its plot about stolen antiquities landing in European museums touches on the then little-discussed subject of museum ethics.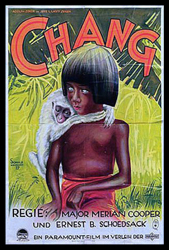 January 18, 6:00 pm
Chang: A Drama of the Wilderness (1927)
In Chang, legendary King Kong (1933) filmmakers Merian C. Cooper and Ernest B. Schoedsack create a violent, exotic, and cinematically advanced movie about the perils of jungle life for a Thai hunter named Kru and his family, living in a danger-filled Southeast Asian wilderness. The film combines travel documentary in an alluring, foreign locale with the drama of daily survival amongst wild tigers, leopards, snakes, and elephants. Chang is one of the earliest movies created in 1920's Hollywood depicting the drama, hardship, and enduring spirit of life as a pioneer.
The University of Pennsylvania Museum of Archaeology and Anthropology is dedicated to the study and understanding of human history and diversity. Founded in 1887, the Museum has sent more than 400 archaeological and anthropological expeditions to all the inhabited continents of the world. With an active exhibition schedule and educational programming for children and adults, the Museum offers the public an opportunity to share in the ongoing discovery of humankind's collective heritage.
Penn Museum is located at 3260 South Street, Philadelphia, PA 19104 (on Penn's campus, across from Franklin Field). Public transportation to the Museum is available via SEPTA's Regional Rail Line at University City Station; the Market-Frankford Subway Line at 34th Street Station; trolley routes 11, 13, 34, and 36; and bus routes 12, 21, 30, 40, and 42. Museum hours are Tuesday and Thursday through Sunday, 10:00 am to 5:00 pm, and Wednesday, 10:00 am to 8:00 pm, with P.M. @ PENN MUSEUM evening programs offered weekly. Closed Mondays and holidays. Admission is $10 for adults; $7 for senior citizens (65 and above); $6 children (6 to 17) and full-time students with ID; free to Members, PennCard holders, and children 5 and younger; "pay-what-you-want" the last hour before closing. Penn Museum can be found on the web at www.penn.museum. For general information call 215.898.4000. For group tour information call 215.746.8183.