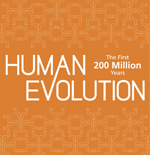 Human Evolution: The First 200 Million Years
Long-term Exhibition Now Open at the Penn Museum
PHILADELPHIA, PA   The ongoing story of human evolution—one that scientists trace back more than 200,000,000 years—is the subject of a long-term installation, Human Evolution: The First 200 Million Years, which opened at the Penn Museum in Philadelphia on September 18, 2011.
Human Evolution invites visitors to explore the process of evolution and its profound impact on humans. The interactive exhibition features a variety of multi-media programs, as well as more than 100 touchable casts of fossil bones from primate and human evolutionary records. Visitors have the opportunity to explore the actual fossil evidence of human evolution, to see how physical anthropologists and other scientists work to interpret the evidence, and to witness the outcome of evolutionary processes in our everyday lives. A complementary website offers an avenue for further exploration, for visitors and non-visitors alike: www.penn.museum/humanevolution.
Human Evolution is located in the Jacqueline W. and John C. Hover II Gallery on the second floor of the Penn Museum.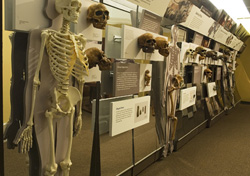 Providing visitors with a compact and engaging introduction to its subject, Human Evolution draws upon material from the Penn Museum's major traveling exhibition Surviving: The Body of Evidence, which opened in April 2008 with funding from the National Science Foundation. In particular, the exhibition employs casts created in the Museum's own Casting Laboratory.
"Human evolution is the critical piece of the story of humankind-it's a story that the Penn Museum is uniquely able to tell," noted Dr. Richard Hodges, Williams Director of the Penn Museum. "We are also fortunate to have cutting-edge physical anthropological and early human archaeological research being carried out at this Museum and the University. This new long-term exhibition gives us the opportunity to share some of that research on evolution with the wider public."
Dr. Janet Monge is the curator of Human Evolution. An active researcher and lecturer with more than 18 years experience teaching undergraduate and graduate students at the University of Pennsylvania, Bryn Mawr College, and Princeton University, Dr. Monge is Associate Curator of the Physical Anthropology Section at the Penn Museum and long-time Keeper of the Museum's Physical Anthropology collection.
Dr. Monge is also the Director of the Museum's Casting Laboratory. Begun by Dr. Alan Mann, Curator Emeritus of the Physical Anthropology Section at the Penn Museum (1969 to 2001) and co-curator of Surviving, the Penn Museum's extensive human fossil research cast collection was developed over several decades. Today it includes the most significant collection of human fossil molds and casts in the world. Casts from the collection, created from important original fossils excavated at sites on several continents, are used in Human Evolution and were reproduced by Lisa Gemmill.
The University of Pennsylvania Museum of Archaeology and Anthropology is dedicated to the study and understanding of human history and diversity. Founded in 1887, the Museum has sent more than 400 archaeological and anthropological expeditions to all the inhabited continents of the world. With an active exhibition schedule and educational programming for children and adults, the Museum offers the public an opportunity to share in the ongoing discovery of humankind's collective heritage.
Penn Museum is located at 3260 South Street, Philadelphia, PA 19104 (on Penn's campus, across from Franklin Field). Public transportation to the Museum is available via SEPTA's Regional Rail Line at University City Station; the Market-Frankford Subway Line at 34th Street Station; trolley routes 11, 13, 34, and 36; and bus routes 12, 21, 30, 40, and 42. Museum hours are Tuesday and Thursday through Sunday, 10:00 am to 5:00 pm, and Wednesday, 10:00 am to 8:00 pm, with P.M. @ PENN MUSEUM evening programs offered select Wednesdays. Closed Mondays and holidays. Admission donation is $10 for adults; $7 for senior citizens (65 and above); $6 children (6 to 17) and full-time students with ID; free to Members, PennCard holders, and children 5 and younger; "pay-what-you-want" the last hour before closing. Hot and cold meals and light refreshments are offered to visitors with or without Museum admission in The Pepper Mill Café; the Museum Shop and Pyramid Shop for Children offer a wide selection of gifts, books, games, clothing and jewelry. Penn Museum can be found on the web at www.penn.museum. For general information call (215) 898-4000. For group tour information call (215) 746-8183.
# # #