How Do You Imagine Africa?
Penn Museum Invites Community Perspectives
in New Year-Long Project
September 18, 2011 through January 2013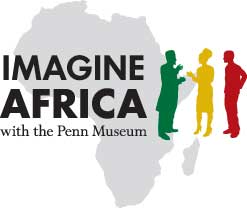 PHILADELPHIA, PA—How do you imagine Africa? Do you see it as the home of powerful nations? Do you think of intricately carved masks or fine art? Maybe you're interested in the peoples living in Africa today.
Imagine Africa with the Penn Museum, a twelve-month project investigating community perspectives, launches Sunday, September 18.
Drawing upon its extraordinary African collection, the Penn Museum will present more than 50 objects framed around eight broad topics. Through a variety of engagement opportunities, visitors will be asked to provide feedback on the objects and content they see, and to discuss what would make an engaging exhibition-from their point of view. Throughout the year, the Museum will engage-through a gallery installation, diverse public programming, and a rich website- in discussions with the regional community, as it begins long-range plans to re-envision its African gallery for a 21st century audience.
Collaborations with local community organizations will help produce a year of Africa-inspired public events. In addition, a range of interactive programs at area schools and community centers are part of the initiative.
Penn Museum was among the first American museums to begin collecting African art and artifacts; the Museum has about 20,000 objects in its African collection in addition to 42,000 ancient artifacts in the Egyptian collection. Most African collection objects were obtained between 1891 and 1930, hail from nearly every major cultural area of the African continent, and provide an unparalleled regional resource.
"There is no question we have one of the finest collections of African material in the country," noted Richard Hodges, Williams Director of the Penn Museum. "The question is-how do we make that collection, and our presentation of it, relevant to today's visitors, and particularly to the African and African American communities we serve in the region today?"
The Gallery Presentation
Central to Imagine Africa with the Penn Museum is an engaging gallery installation in the Sharpe Hallway gallery adjacent to the current African Gallery. Here, the Museum presents a selection of objects framed around eight broad topics: Beauty, Strength, Power, Healing, Fashion, Changing, Creating and the Divine. Text, multimedia, and interactive elements offer opportunities for more in-depth exploration of these topics, while various discussion methods allow visitors to express what would make an engaging exhibition-from their point of view. All feedback will be collected as the Museum plans a future re-installation of its African collection informed by both academic and community perspectives.
"The idea is to begin a discussion with our community," noted Kate Quinn, Director of Exhibitions. "We hope to present this material in such a way that the public can respond to it honestly, and tell us what they think."
Programming
Imagine Africa with the Penn Museum kicks off Sunday, September 18, with a gallery project Opening Celebration featuring African music, art, storytelling, dance, food and more, from 1 to 4 pm.
Other fall programs include an African pottery weekend workshop, October 1 and 2 and a Family Sunday walk-in program, "Imagine Creating," Sunday, October 9, 1 to 4 pm.
An African lecture series co-sponsored by Penn's African Studies Center kicks off Thursday, October 20, 6 pm with Dr. Tukufu Zuberi, Penn's Lasry Family Professor of Race Relations, who discusses the challenge of making a documentary in Africa, with "Africa and the World."
Wednesday, October 26, 5 to 8 pm, marks the first of three free Community Nights, featuring African music, dance, and family activities.
The full schedule of fall programs is here. Program brochures will be available at the Museum in September.
School and community groups interested in learning more about how they can help the Museum to "Imagine Africa" can call Jean Byrne, Director of Community Engagement, at (215) 898-4025.
Website
Imagine Africa with the Penn Museum will have a website featuring opportunities for discussion and sharing. Visitors to the website will be able to comment on exhibition themes, take polls, rate each others' answers, and watch and upload their own video responses to the discussion. They will also be able to find out about related programs scheduled throughout the initiative—and beyond. The website launches in September: www.penn.museum/imagineafrica.
Imagine Africa with the Penn Museum is made possible with funding from the Pew Center for Arts and Heritage through the Heritage Philadelphia Program, and the PoGo Family Foundation. The Philadelphia Tribune and WDAS radio are media sponsors.
Penn Museum (the University of Pennsylvania Museum of Archaeology and Anthropology) is dedicated to the study and understanding of human history and diversity. Founded in 1887, the Museum has sent more than 400 archaeological and anthropological expeditions to all the inhabited continents of the world. With an active exhibition schedule and educational programming for children and adults, the Museum offers the public an opportunity to share in the ongoing discovery of humankind's collective heritage.
Penn Museum is located at 3260 South Street, Philadelphia, PA 19104 (on Penn's campus, across from Franklin Field). Public transportation to the Museum is available via SEPTA's Regional Rail Line at University City Station; the Market-Frankford Subway Line at 34th Street Station; trolley routes 11, 13, 34, and 36; and bus routes 12, 21, 30, 40, and 42. Museum hours are Tuesday and Thursday through Sunday, 10:00 am to 5:00 pm, and Wednesday, 10:00 am to 8:00 pm, with P.M. @ PENN MUSEUM evening programs offered select Wednesdays. Closed Mondays and holidays. Admission donation is $10 for adults; $7 for senior citizens (65 and above); $6 children (6 to 17) and full-time students with ID; free to Members, PennCard holders, and children 5 and younger; "pay-what-you-want" the last hour before closing. Hot and cold meals and light refreshments are offered to visitors with or without Museum admission in The Pepper Mill Café; the Museum Shop and Pyramid Shop for Children offer a wide selection of gifts, books, games, clothing and jewelry. Penn Museum can be found on the web at www.penn.museum. For general information call (215) 898-4000. For group tour information call (215) 746-8183.