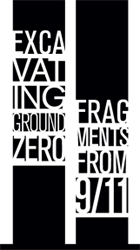 Excavating Ground Zero: Fragments from 9/11
August 20 through November 6, 2011

In the weeks, months, and years following the events of September 11, 2001, archaeologists and physical anthropologists excavated the site of the World Trade Center in New York City. Penn Museum's special display features 15 poignant objects recovered at the site of Ground Zero including: eye glasses, a computer keyboard, glass from the Twin Towers, and visitor badges. Visitors can observe a Twin Towers memorial sculpture and image projections from the day of the attacks. A focal point of the display is a wall where visitors can share memories of September 11. Remember where you were that morning as you view the display of recovered fragments from Ground Zero, organized in conjunction with The National September 11 Memorial Museum. (Penn Museum offers special related programs September 11 and October 12) 3rd Floor Galleries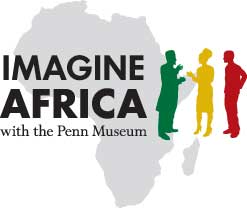 Imagine Africa with the Penn Museum
September 18, 2011 through August 2012
How do you imagine Africa? Do you see it as the home of powerful nations? Perhaps you think of intricately carved masks or fine art. Maybe you're interested in the peoples living in Africa today. Imagine Africa with the Penn Museum is a 12-month community engagement project investigating your perspectives. Drawing upon its extraordinary African collection, the Museum presents more than 50 objects framed around eight broad topics including Beauty, Power, and the Divine. Text and interactive elements offer opportunities for more in-depth exploration. Through a variety of methods, visitors are asked to provide feedback on the objects and content they see, and to discuss what would make an engaging exhibition-from their point of view. All feedback will be collected as the Museum plans a future re-installation of its African collection informed by both academic and community perspectives. Imagine Africa is made possible with funding from the Pew Center for Arts and Heritage through the Heritage Philadelphia Program, and the PoGo Family Foundation. Sharpe Hallway, 2nd floor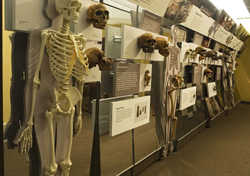 Human Evolution: The First 200 Million Years
Long-term exhibition opening September 18, 2011
Discover the process of evolution and its profound impact on humans in this highly interactive exhibition. In Human Evolution, an exhibition featuring highlights of the Museum's National Science Foundation-funded exhibition Surviving: The Body of Evidence (April 2008-May 2009), visitors have an opportunity to engage with a variety of multi-media programs, as well as view and touch more than 100 casts of fossil bones from the primate and human evolutionary records. Explore the first 200 million years of human evolution in this rich exploration of physical anthropology and its relationship to evolutionary science. Hover Gallery, 2nd floor
Vaults of Heaven: Visions of Byzantium
October 15, 2011 - February 12, 2012
Offering a glimpse into the complex and vivid world of the Byzantine Empire, this new exhibition presents large-scale contemporary photographs by well-known Turkish photographer Ahmet Ertug. The photographs highlight culturally significant UNESCO heritage sites in present-day Turkey with a focus on the Karanlik, Tokali and Merymana churches located in the dramatic Cappadocian region of central Anatolia. This exhibition was organized by the Kelsey Museum of Archaeology at the University of Michigan. The presentation of Vaults of Heaven at the Penn Museum is made possible with generous support from Sarah Zimmerman, the University of Pennsylvania's Center for Ancient Studies, and the Turkish Cultural Foundation. Merle-Smith Galleries, 1st floor
Run! Super-Athletes of the Sierra Madre
March 31 through September 30, 2012
"Raramuri," the Uto-Aztecan name for the Tarahumara people, means foot-runner, and the Raramuri are among the best long-distance runners in the world. The community of an estimated 60,000 people live within the dramatic canyons of the Sierra Madre in Chihuahua, Mexico, about 350 miles south of the U.S.-Mexico border, where they have maintained their lifestyle since the late 1600s. The strength, stamina and isolation they have maintained within a rugged terrain ensured their survival through the centuries. With a strong focus on the runners, this exhibition features contemporary color photographs of the Raramuri community by Texas-born photographer and journalist Diana Molina, who has documented the Sierra Madre and its people for more than a decade. Merle-Smith Galleries, 1st floor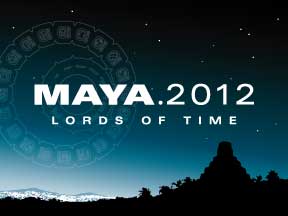 MAYA 2012: Lords of Time
Special Ticketed Exhibition
May 5, 2012 through January 2013
This new major exhibition confronts the current fascination with the year 2012, comparing predictions of a world-transforming apocalypse with their supposed origins in the ancient Maya civilization. MAYA 2012 leads visitors on a journey through the Maya's time-ordered universe, expressed through their intricate calendar systems, and the power wielded by their divine kings, the astounding "lords of time." Visitors explore the Maya world through interactive experiences and walk among sculptures and full-sized replicas of major monuments.
More than 100 remarkable objects including artifacts recently excavated by Penn Museum archaeologists from the ancient site of Copan, Honduras, help to tell the story, while contemporary Maya speak to their own heritage and concerns for the future. Kintner and Dietrich Galleries, 2nd floor
---
The University of Pennsylvania Museum of Archaeology and Anthropology is dedicated to the study and understanding of human history and diversity. Founded in 1887, the Museum has sent more than 400 archaeological and anthropological expeditions to all the inhabited continents of the world. With an active exhibition schedule and educational programming for children and adults, the Museum offers the public an opportunity to share in the ongoing discovery of humankind's collective heritage.
Penn Museum is located at 3260 South Street, Philadelphia, PA 19104 (on Penn's campus, across from Franklin Field). Public transportation to the Museum is available via SEPTA's Regional Rail Line at University City Station; the Market-Frankford Subway Line at 34th Street Station; trolley routes 11, 13, 34, and 36; and bus routes 12, 21, 30, 40, and 42. Museum hours are Tuesday and Thursday through Sunday, 10:00 am to 5:00 pm, and Wednesday, 10:00 am to 8:00 pm, with P.M. @ PENN MUSEUM evening programs offered select Wednesdays. Closed Mondays and holidays. Admission donation is $10 for adults; $7 for senior citizens (65 and above); $6 children (6 to 17) and full-time students with ID; free to Members, PennCard holders, and children 5 and younger; "pay-what-you-want" the last hour before closing. Hot and cold meals and light refreshments are offered to visitors with or without Museum admission in The Pepper Mill Café; the Museum Shop and Pyramid Shop for Children offer a wide selection of gifts, books, games, clothing and jewelry. Penn Museum can be found on the web at www.penn.museum. For general information call (215) 898-4000. For group tour information call (215) 746-8183.