PHILADELPHIA, PA 2011--The sounds of summer in West Philadelphia, on Penn's campus, just got sweeter! Penn Museum presents its second annual PM @ Penn Museum summer music series with a diverse line-up of outdoor performances taking place every Wednesday, June 22 through August 24, from 5:00 to 8:00 pm, in the Penn Museum's Warden Garden.
Ten musical groups offer styles that range from Irish folk to reggae, funky jam band to Mid-East fusion, and Afro-influenced world beat to Eastern-European folk-punk. For the after-work set, PM @ Penn Museum Summer Nights provides a change of scenery and a chance to listen to live music, explore the Warden Garden, sip drinks and enjoy light fare from the Pepper Mill Café's garden bar. In the event of rain, concerts move inside.
Museum galleries are open until 8:00 pm. General admission is just $5 (and includes Museum entry fee); free for PennCard holders and Museum members.
PM @ Penn Museum Summer Nights features an eclectic mix of artists: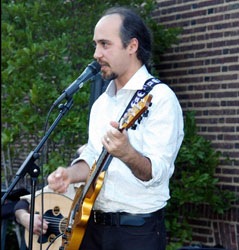 June 22 Barakka
Baris Kaya and his band, Barakka, fuse Middle Eastern, Turkish folk, and Western rock music together to create a large rock sound with traditional instruments and accents. www.myspace.com/bariskaya
June 29 Animus
Bill Koutsouros and his team of musicians create an exciting fusion of ancient and modern music using traditional elements of Greek, Turkish, Arabic, and Latin styles styles melded into percussive rock, funk, jazz, and blues music. www.animusmusic.com

July 6 Tres Compadres
This modern flamenco ensemble explores the boundaries of flamenco with fusion jazz and Latin rhythms. www.myspace.com/trescompadresband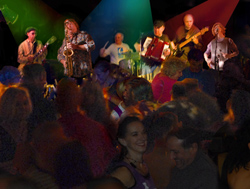 July 13 Zydeco-A-Go-Go
"Let the good times roll!" with this Philadelphia all-star group whose music blends Creole Zydeco and Cajun 2-Step into danceable, funky New Orleans-style music. www.zydecoagogo.com/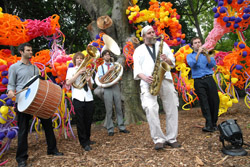 July 20 West Philadelphia Orchestra
Upwards of 14 musicians playing trumpets, baritone horns, saxophone, sousaphone, clarinets, violins, drums, and other instruments manifest an uplifting Eastern European folk sound tinged with jazz, punk, and soul. www.westphiladelphiaorchestra.com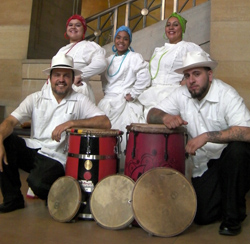 July 27 Bomplé
This drumming, singing, dance group, led by Alberto Pagan-Ramirez, presents rich and elegant Puerto Rican bomba music, dating back to Puerto Rico's colonial period, in the 1680s, and the energetic and contagious Puerto Rican urban music of plena. www.facebook.com/pages/Bompl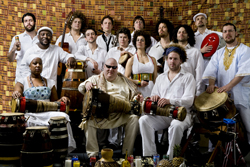 August 3 Leana Song
A drum and music ensemble specializing in Afro-Cuban and West African drumming combines traditional call-and-response patterned Yoruba songs with modern folk and jazz instruments and harmony. www.myspace.com/leanasong
August 10 Bohemian Sunrise
Bohemian Sunrise embraces Latin, Caribbean, reggae, jazz, and funky world beats to create rich, dance-inducing, jam band-worthy music. www.bohemiansunrise.com/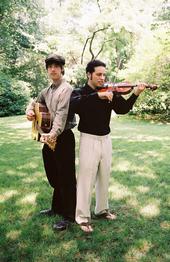 August 17 Bell Blake Duo
Minstrels Bill Bell (guitarist/pianist/vocalist) and Dennis Blake (fiddler/mandolinist) play traditional Celtic folk music, from lively jigs and reels to favorite Irish songs. www.myspace.com/bellblakeduo
August 24 Timi Tanzania Reggae Band
Reggae artist Timi Tanzania and his band bring Jamaican dub and reggae music to the Warden Garden for a last jammin' night of summer fun. www.myspace.com/timitanzania
Discount parking ($10; $8 if ticket is validated at Penn Museum admission desk) is available in Garage 7, adjacent to the Museum, after 5:00 pm. See public transportation options below.
The University of Pennsylvania Museum of Archaeology and Anthropology is dedicated to the study and understanding of human history and diversity. Founded in 1887, the Museum has sent more than 400 archaeological and anthropological expeditions to all the inhabited continents of the world. With an active exhibition schedule and educational programming for children and adults, the Museum offers the public an opportunity to share in the ongoing discovery of humankind's collective heritage.
Penn Museum is located at 3260 South Street, Philadelphia, PA 19104 (on Penn's campus, across from Franklin Field). Public transportation to the Museum is available via SEPTA Regional Rail Line at University City Station; the Market-Frankford Subway Line at 34th Street Station; trolley routes 11, 13, 34, and 36; and bus routes 12, 21, 30, 40, and 42. Museum hours are Tuesday and Thursday through Sunday, 10:00 am to 5:00 pm, and Wednesday, 10:00 am to 8:00 pm, with P.M. @ PENN MUSEUM evening programs offered select Wednesdays. The Museum is closed Mondays and holidays. Admission donation is $10 for adults; $7 for senior citizens (65 and above); $6 children (6 to 17) and full-time students with ID; free to Members, PennCard holders, and children 5 and younger; "pay-what-you-want" the last hour before closing. Hot and cold meals and light refreshments are offered to visitors with or without Museum admission in The Pepper Mill Café; the Museum Shop and Pyramid Shop for Children offer a wide selection of gifts, books, games, clothing and jewelry. Penn Museum can be found on the web at www.penn.museum. For general information call (215) 898-4000. For group tour information call (215) 746-8183.