PHILADELPHIA--Penn Museum celebrates the final days of its landmark exhibition from China, Secrets of the Silk Road, with an event for all ages: Along the Silk Road on Saturday, March 26th from 11:00 am to 4:00 pm. This PECO World Culture Day brings Silk Road cultures vividly to life with music and dance performances, a tea tasting and talk, dance and craft workshops, lectures by acclaimed writers and scholars, children's activities, a self-guided Silk Road tour, and a grand finale dance performance. The celebration is free with Museum admission donation ($10 general admission; $7 senior citizens [65+]; $6 students [with ID] and children [6 to 17]; free for children under 6, members, and PennCard holders). Visitors who wish to see Secrets of the Silk Road, open with artifacts from China through March 28 only, can buy advance, special timed tickets which include entry to the Museum and the special event (online: www.penn.museum/silkroad or by phone: (877) 77-CLICK). Visitors may purchase tickets at the Museum that day, while supplies last.
Victor Mair, Penn professor of Chinese Language and Literature, Curatorial Consultant for Secrets of the Silk Road, and author of The True History of Tea (2009), presents a lively talk on the history of tea--one of the world's favorite beverages--for visitors at 11:00 am. Throughout the day, visitors can experience tea tasting at the Pepper Mill Café's tea booth featuring specialty Chinese and Indian teas.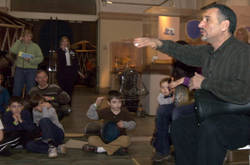 Joe Tayoun, accomplished Middle Eastern percussionist, gives two interactive drumming workshops exploring Arabic, Persian, Turkish, Armenian, Greek, Israeli, and Armenian drumming traditions, at 11:30 am and 1:30 pm. Visitors can use demonstration drums to learn a mix of Silk Road rhythms.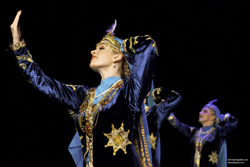 A rich line-up of dance performances run throughout the day! Bellyqueen Dance Theater founder and internationally-renowned dancer Kaeshi Chai teaches a Silk Road dance fusion workshop at 12:30 pm. Pulling from traditional and folkloric dances from China, Turkey, Egypt, and Saudi Arabia, Kaeshi teaches foundation moves from these multicultural styles. The award-winning Silk Road Dance Company ®, founded in 1995 by Dr. Laurel Victoria Gray, performs traditional dances from various Silk Road cultures at 1:00 and 3:00 pm. The Company's diverse repertoire, authentic costumes, and graceful choreographies have enchanted audiences throughout the US and abroad. Six to ten-year-old Chinese for Families students perform traditional dances for Chinese New Year and from the Xinjiang Autonomous Region of China at 2:30 pm. Chinese for Families is a multicultural Chinese language school offering Mandarin language and dance classes.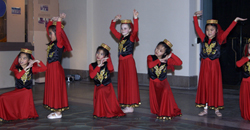 Intriguing lectures and interactive presentations are scheduled throughout the day. At 1:00 pm, Dr. Stephen R. Phillips, Research Assistant to the Curator-in-Charge of the Egyptian Section, explores mummies from the mountains of Peru to the desserts of Egypt, including the mummies of the Tarim Basin featured in Secrets of the Silk Road.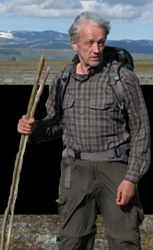 A highlight of the afternoon is a 2:30 pm conversation with Colin Thubron, renowned British travel writer and author of many books, including Shadow of the Silk Road (2006) and To a Mountain in Tibet (2011). Mr. Thurbron takes visitors on a magic carpet ride along the most storied of ancient trade routes, as he describes his 7000-mile-journey from China through Central Asia and across the Middle East to Turkey. Joining the conversation are Dr. Richard Hodges, Penn Museum Williams Director, and Dr. James English, Penn Humanities Forum Director. The program is co-sponsored by the Penn Humanities Forum.
Activities for children and families abound in the Museum's Chinese Rotunda as International speakers from the Penn Museum's International Classroom Program consider ancient traditions along the Silk Road and their impact on modern cultures, from 12:00 to 2:00 pm. Visitors can experience aspects of modern-day cultures at tables where they can receive a henna tattoo, learn about the northernmost Indian state of Ladakh, wrap a silk sari, blend spices to create a curry powder, write in Arabic, or learn Chinese calligraphy characters. These activities are co-sponsored by the Middle East Center, East Asian Center, and South Asia Center of the University of Pennsylvania.
From 11:00 am to 3:00 pm, "Cartifacts" are in the galleries featuring a variety of Roman and Egyptian reproductions which visitors can touch and handle. Cartifact facilitators are present to discuss the varied objects. Families can enjoy numerous crafts including "design-your-own" eyeshades (just like the pair in Secrets) and take a turn at Turkish scarf marbling with artist Richard Aldorasi.
The Museum offers a special Silk Road Highlights tour through multiple galleries, including the Egyptian galleries, the ancient Mediterranean World galleries, Buddhism and the Chinese Rotunda.
The Museum Shop and the Pyramid Shop for Children offer a colorful selection of Silk Road related arts, crafts, games, and books just for the celebration. The Pepper Mill Café features Silk Road-inspired lunch entrees from Sri Lanka including curried beef with cinnamon and lemongrass, spicy roasted chicken in a pancake wrap, and barley, lentil, and tahini soup. Kid-friendly foods are also available.
Secrets of the Silk Road, a landmark exhibition from China, features more than 100 recently discovered artifacts, some more than 3,800 years old, including extraordinarily preserved clothing, textiles, and food, gold jewelry and coins, figurines, burial goods and personal items. The exhibition tells a tale of long-forgotten cultures along the world's most legendary trading route.
Based in Philadelphia, PECO, Penn Museum's World Culture Days sponsor, is an electric and natural gas utility subsidiary of Exelon Corporation (NYSE: EXC). PECO serves 1.6 million electric and 486,000 natural gas customers in southeastern Pennsylvania and employs about 2,400 people in the region. PECO delivered 84.3 billion cubic feet of natural gas and 38.1 billion kilowatt-hours (kWh) of electricity in 2009. Founded in 1881, PECO is one of the Greater Philadelphia Region's most active corporate citizens, providing leadership, volunteer and financial support to numerous arts and culture, education, environmental, economic development, and community programs and organizations.
The University of Pennsylvania Museum of Archaeology and Anthropology is dedicated to the study and understanding of human history and diversity. Founded in 1887, the Museum has sent more than 400 archaeological and anthropological expeditions to all the inhabited continents of the world. With an active exhibition schedule and educational programming for children and adults, the Museum offers the public an opportunity to share in the ongoing discovery of humankind's collective heritage.
Penn Museum is located at 3260 South Street, Philadelphia, PA 19104 (on Penn's campus, across from Franklin Field). Public transportation to the Museum is available via SEPTA's Regional Rail Line at University City Station; the Market-Frankford Subway Line at 34th Street Station; trolley routes 11, 13, 34 and 36; and bus routes 12, 21, 30, 40 and 42. Museum hours are Tuesday and Thursday through Sunday, 10:00 am to 5:00 pm, and Wednesday, 10:00 am to 8:00 pm, with P.M. @ PENN MUSEUM evening programs offered weekly. Closed Mondays and holidays. Admission donation is $10 for adults; $7 for senior citizens (65 and above); $6 children (6 to 17) and full-time students with ID; free to Members, PennCard holders, and children 5 and younger; "pay-what-you-want" the last hour before closing. Hot and cold meals and light refreshments are available to visitors with or without Museum admission in The Pepper Mill Café; the Museum Shop and Pyramid Shop for Children offer a wide selection of gifts, books, games, clothing, and jewelry. Penn Museum can be found on the web at www.penn.museum. For general information call (215) 898-4000. For group tour information call (215) 746-8183.
Photo captions: Top right: The acclaimed Silk Road Dance Company presents traditional dances from the Middle East and Central Asia during Penn Museum's Along the Silk Road event. (Courtesy of the Silk Road Dance Company.) Top left: Musician Joe Tayoun performs drumming workshops as part of the many activities at Penn Museum's Along the Silk Road event. Middle Right: The Silk Road Dance Company performs a classical Uzbek dance Saturday, March 26 during Along the Silk Road. (Photo: John G. Walter.) Bottom left: Chinese For Families dancers present Central Asian dances. (Photo: Anne Montgomery.) Bottom right: Colin Thurbron photographed during travel on the Silk Routes. He lectures at Penn Museum's Along the Silk Road event. (Courtesy of Colin Thurbron.)