Opening Weekend Celebration Features Camels, Oasis Tent, Special Activities for Secrets of the Silk Road, Landmark Exhibition from China at the Penn Museum Saturday and Sunday, February 5 and 6, 2011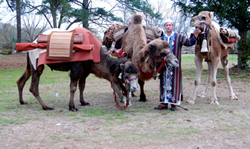 Look out for camels—and a lot of hoopla at 3260 South Street in Philadelphia—as the Penn Museum kicks off the exclusive East Coast premiere of Secrets of the Silk Road, the landmark exhibition from China!
A host of special sights, sounds, and activities are in store for Penn Museum visitors at the grand opening weekend of Secrets of the Silk Road, Saturday and Sunday, February 5 and 6, from 10:00 am opening to 5:00 pm closing.
Outside, two Bactrian camels (at ease in blistering heat-or freezing cold!) circle the Penn Museum, stopping for guest encounters and hourly presentations about life along the ancient routes, from 11:00 am to 3:00 pm.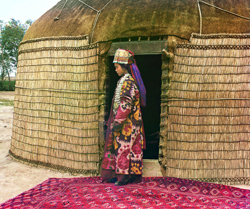 More surprises are in store. Visitors can see, and enter, one of two yurts—portable, wood lattice-framed dwellings traditionally used by Central Asian nomads.
The following activities are all free with Silk Road exhibition (includes Museum) or Museum-only admission: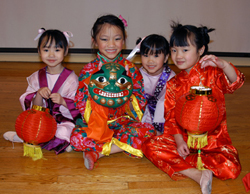 Performances and craft demonstrations keep the day lively and diverse. Saturday only, Michele Belluomini of Blue Deer Storytelling tells traditional tales from Silk Road lands at 11:00 am and 2:00 pm. Young dancers from Chinese For Families present a short program of Central Asian dance at 1:00 pm. Throughout the weekend, Joseph Tayoun offers Silk Road hand drumming demonstrations at 10:30 am, 12:30 pm, and 3:30 pm. Also both days, Classical Asian musician Kurt Jung performs on the traditional Chinese zither, at 11:30 am and again at 1:30 pm.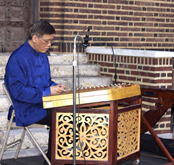 Guests can enjoy several art activities. Henna is a popular plant dye used to create body tattoos throughout India and other regions of the Silk Road, and guests can get a demonstration henna tattoo, first come first served, between noon and 2:00 pm. One of the most intriguing pieces in the Secrets of the Silk Road exhibition is called a "Bronze Eyeshade"—an ingenious precursor to our modern sunglasses—and is dated to the 7th to 9th centuries. Guests of all ages can create a pair of Silk Road sunglasses of their own to take home with them as a memento of the exhibition, throughout the day.
In addition to the free activities, visitors can indulge in an afternoon tea, and sweets, for purchase at a The Pepper Mill Café cart especially for the weekend celebration. A variety of specialty teas will be available including China Chrysanthemum, Tranquility Mao Feng, Keemun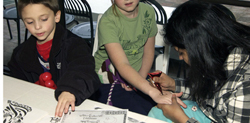 Hairpoint First Grade (one of the finest teas of China!), and Makaibari Green Long Leaf. Sweets, inspired by recipes from all across the Silk Road, will include tempting items like Baklava from Iran, Asian Classics such as Saffron Rice Pudding, Sri Lankan Spiced Coconut Cake or even Afghan Elephant Ears. The café cart will also offer a pungent selection of popular Silk Road spices including cinnamon, peppercorn, ginger, turmeric, and cardamom.
At a Pepper Mill Café craft table, children of every age may design their own teacup with paints, glitters, and beads. With every purchase of a teacup, guests receive a sample of gourmet tea!
Two interactive programs, available weekends throughout the exhibition and free with museum admission, launch this weekend as well: Mummies: Through Time, Across Continents (Saturdays, 11:00 am, 1:00 pm, 3:00 pm and Sundays, 1:00 pm, 3:00 pm), and Explore the Silk Road (Saturdays and Sundays, Noon to 2:00 pm).
In Mummies: Through Time, Across Continents, a 30-minute presentation, Museum staff explore the wide range of mummies unearthed by archaeologists, from the earliest remains to more contemporary examples.
In Explore the Silk Road, speakers from the Penn Museum's International Classroom Program consider ancient traditions along the Silk Road and their impact on modern cultures, with an interactive presentation that brings aspects of modern-day cultures vividly to life. Experiences may include demonstrations on how to make Chinese dumplings and paper cuttings, or wrap a sari and blend curry powder, or design a Turkish porcelain tile inspired by the Museum's collection. Speakers, and their countries, including India, China, and Turkey, change daily. These programs are co-sponsored by the Middle East Center, East Asian Center, and South Asia Center of the University of Pennsylvania.
Before or after exploring Secrets of the Silk Road, visitors may follow a 12-stop, self-guided tour, "Silk Road Highlights," continuing the adventure with Silk Road connections in other galleries of the Penn Museum. The wide-ranging tour includes stops in the African, Chinese, Buddhism, Canaan and ancient Israel, ancient Mediterranean, Islamic Near East, and ancient Egyptian galleries.
Opening Celebration Weekend Ticket Information for Saturday, February 5, and Sunday, February 6, 10:00 am to 5:00 pm:

Opening celebration festivities and Secrets of the Silk Road special admission timed tickets (includes admission to the rest of the Museum). Order timed exhibition tickets online at www.penn.museum/silkroad, by calling (877) 77-CLICK, or at the Museum, subject to availability.
* Adult: $22.50
* Senior (65+)/Military: $18.50
* Students (full-time with ID)/Children (6 to 17 years): $16.50
* Special PennCard rate, $12.50, is available for PennCard holders by visiting any Penn Museum admissions desk during regular Museum hours.

Opening celebration festivities and Museum general admission (does not include admission into Secrets of the Silk Road exhibition), at the door.
* $10 for adults
* $7 for senior citizens (65 and above)
* $6 children (6 to 17) and full-time students with ID
* free to Members, PennCard holders, and children 5 and younger
The University of Pennsylvania Museum of Archaeology and Anthropology is dedicated to the study and understanding of human history and diversity. Founded in 1887, the Museum has sent more than 400 archaeological and anthropological expeditions to all the inhabited continents of the world. With an active exhibition schedule and educational programming for children and adults, the Museum offers the public an opportunity to share in the ongoing discovery of humankind's collective heritage.
Penn Museum is located at 3260 South Street, Philadelphia, PA 19104 (on Penn's campus, across from Franklin Field). Public transportation to the Museum is available via SEPTA's Regional Rail Line at University City Station; the Market-Frankford Subway Line at 34th Street Station; trolley routes 11, 13, 34, and 36; and bus routes 12, 21, 30, 40, and 42. Museum hours are Tuesday and Thursday through Sunday, 10:00 am to 5:00 pm, and Wednesday, 10:00 am to 8:00 pm, with P.M. @ PENN MUSEUM evening programs offered select Wednesdays. Closed Mondays and holidays. Hot and cold meals and light refreshments are offered to visitors with or without Museum admission in The Pepper Mill Café; the Museum Shop and Pyramid Shop for Children offer a wide selection of gifts, books, games, clothing and jewelry. Penn Museum can be found on the web at www.penn.museum. For general information call (215)898-4000. For group tour information call (215)746-8183.
Photos: Top, left: These camels make their rounds about the Penn Museum during Silk Road Opening Celebration Weekend and visitors can learn more about the life and duties of camels on the Silk Road. Top, right: Visitors to Penn Museum's Secrets of the Silk Road Opening Weekend Celebration can step into Penn Museum's modern adaptation of a yurt, the ancient shelter used by Central Asian nomads. This photo depicts a Turkmen woman standing at the entrance to a yurt in Turkestan. Middle, left: Young dancers from the Chinese for Families language school perform two dances at the Penn Museum's Secrets of the Silk Road Opening Weekend Celebration on Saturday, February 5, at 1:00 pm. Photo: Anne Martin-Montgomery. Bottom, right: Kurt Jung performs on the guzheng (Chinese zither), during Penn Museum's Secrets of the Silk Road Opening Weekend Celebration. Photo: Penn Museum. Bottom, left: Visitors to Penn Museum's Secrets of the Silk Road Opening Weekend Celebration can experience the art of henna hand decoration (first come, first served).