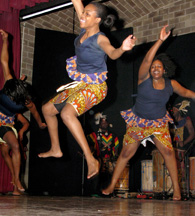 WINTER 2010
--Penn Museum invites families to an afternoon exploration of the rich cultures of Africa and the African diaspora. The
22nd
annual
Celebration of African Cultures
features music and dance, storytelling, arts and crafts, games, cuisine, and more on Saturday, January 22, from 1:00 to 4:00 pm throughout the galleries of the University of Pennsylvania Museum of Archaeology and Anthropology. A PECO World Culture Day, the Celebration is FREE with Museum admission donation ($10 for adults; $7 for seniors [65+]; $6 for full-time students [with ID] and children [6-17]; free for Museum members, children under 6, and PennCard holders).
A blend of acclaimed local participants include evocative storyteller Momma Sandi, vocalist and storyteller Queen Nur, the Neo-African Drum and Dance group of La Salle College, and the Women's Sekere Ensemble. The University of Pennsylvania dance group African Rhythms offers the grand finale performance.
Throughout the day visitors can learn to play the traditional "board" game mancala, learn about daily life in the Republic of Senegal, create artwork inspired by traditional African art at family crafts tables, and shop for African-inspired items at the Museum's Main Shop and Pyramid shop for children.
Momma Sandi
weaves traditional and original folk tales imbuing universal truths rooted in African-American history. A member of the National Association of African American Storytellers, Momma Sandi performs at 1:00 pm.
The Neo-African Drum and Dance troupe uses a dramatic start to their performance with seated drummers rhythmically playing as the dancers begin their energetic and fluid movements. La Salle's Neo-African Drum and Dance troupe offers a sampling of traditional and modern African drumming and dancing at 1:30 pm.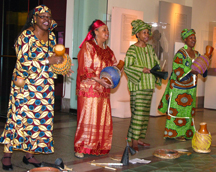 The Women's Sekere Ensemble, three female percussionists led by Omomola Iyabunmi, introduces visitors to the rhythms and tones of the sekere, a traditional Nigerian percussion instrument made from intricately beaded gourds. They perform at 1:30 pm.
At 2:00 pm Stories on Tour with Queen Nur features Queen Nur and friends in a rousing performance of songs and games from African American folklore and tradition. Audiences learn and sing traditional folk songs including Field Hollers, Street Cries, Work Songs, Games, and a touch of the Blues. The audience is welcome to bring harmonicas to accompany old 'tyme' instruments such as spoons, washboards, and one-string base buckets. Vocalist Sarai Abdul-Malik and percussionist Dwight James join Queen Nur with a blend of storytelling and drumming which transports guests from Philadelphia to West Africa, to the George Sea Islands, and back again.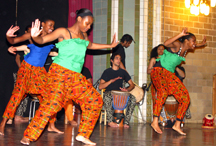 At 3:30 pm, University of Pennsylvania's African Rhythms student dance troupe performs a diverse mix of dances from West Africa, the Caribbean, and South America.
Throughout the afternoon families can create their own African-inspired masks, and make and learn to play the African game of mancala. Dame Diene, a native of Senegal and speaker for the Museum's International Classroom program, presents his country through photographs, maps, and traditional art and handicrafts. There's a taste of Africa included as the Pepper Mill Cafe serves up African-inspired menu items, as well as traditional fare. The Museum's Shops offer a wide variety of African masks, arts, crafts, games, jewelry, books, and more.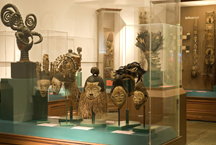 Visitors can tour Penn Museum's African Gallery featuring more than 300 objects from cultures throughout the continent, including dramatic masks, gold weights, a wide range of objects used for everyday living, and a variety of musical instruments. The Museum also includes Ancient Egyptian galleries with Egyptian mummies, a 12-ton red granite Sphinx (the third largest Sphinx in the world) and architectural elements from the Palace of the Pharaoh Merenptah, all ca. 1200 BCE, as well as statuary, tomb materials, and every day items from 5,000 years of Egyptian culture.
Based in Philadelphia, PECO is an electric and natural gas utility subsidiary of Exelon Corporation (NYSE: EXC). PECO serves 1.6 million electric and 486,000 natural gas customers in southeastern Pennsylvania and employs about 2,400 people in the region. PECO delivered 84.3 billion cubic feet of natural gas and 38.1 billion kilowatt-hours (kWh) of electricity in 2009. Founded in 1881, PECO is one of the Greater Philadelphia Region's most active corporate citizens, providing leadership, volunteer and financial support to numerous arts and culture, education, environmental, economic development, and community programs and organizations.
The University of Pennsylvania Museum of Archaeology and Anthropology is dedicated to the study and understanding of human history and diversity. Founded in 1887, the Museum has sent more than 400 archaeological and anthropological expeditions to all the inhabited continents of the world. With an active exhibition schedule and educational programming for children and adults, the Museum offers the public an opportunity to share in the ongoing discovery of humankind's collective heritage.
Penn Museum is located at 3260 South Street, Philadelphia, PA 19104 (on Penn's campus, across from Franklin Field). Public transportation to the Museum is available via SEPTA's Regional Rail Line at University City Station; the Market-Frankford Subway Line at 34th Street Station; trolley routes 11, 13, 34, and 36; and bus routes 12, 21, 30, 40, and 42. Museum hours are Tuesday and Thursday through Sunday, 10:00 am to 5:00 pm, and Wednesday, 10:00 am to 8:00 pm, with P.M. @ PENN MUSEUM evening programs offered select Wednesdays. Closed Mondays and holidays. Admission donation is $10 for adults; $7 for senior citizens (65 and above); $6 children (6 to 17) and full-time students with ID; free to Members, PennCard holders, and children 5 and younger; "pay-what-you-want" the last hour before closing. Hot and cold meals and light refreshments are offered to visitors with or without Museum admission in The Pepper Mill Café; the Museum Shop and Pyramid Shop for Children offer a wide selection of gifts, books, games, clothing and jewelry. Penn Museum can be found on the web at www.penn.museum. For general information call (215)898-4000. For group tour information call (215)746-8183.
SCHEDULE OF EVENTS AT A GLANCE
1:00 - 1:30pm Storytelling with Momma Sandi
1:30 - 2:00 pm Women's Sekere Ensemble
1:30 - 2:15 pm Neo-African Drum and Dance troupe
2:00 - 2:45 pm Holla, Shout and Turnabout with Queen Nur
2:30 - 3:00 pm Storytelling with Momma Sandi
3:00 - 3:30 pm Women's Sekere Ensemble
3:30 - 4:00 pm African Rhythms Dance Finale
Ongoing
Mancala: make and play
Create-your-own African masks
Republic of Senegal International Speaker
Museum Shops
In the Pepper Mill Café - 1:00 to 3:30
African and international menu items for purchase