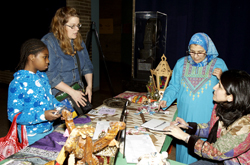 PHILADELPHIA, November 2010--Grab a "Passport" and experience the spirit of the holiday season on Sunday, December 5th, 1:00 to 4:00 pm, at the University of Pennsylvania Museum of Archaeology and Anthropology's 15th annual Peace around the World family afternoon. All visitors receive Museum "passports" with itineraries to visit seven countries via seven international speakers and explore holiday traditions from around the world. The day also features a Middle Eastern drumming workshop, Balinese dancing, Chinese lion dancing, storytelling, face painting, balloon art, international family crafts, free treats for children, and more!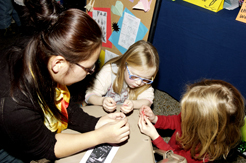 Peace around the World, a PECO World Culture Day, is co-sponsored by the Museum's Women's Committee, Penn's Middle East Center, Center for East Asian Studies, South Asian Center and African Studies Center, and the Graduate School of Education; the Bharatiya Cultural Center, the Bharatiya Vidayalaya of Montgomeryville, Pennsylvania, Chinmaya Mission Harleysville and Canada Dry. The event is free with Museum admission donation ($10 general admission; $7 senior citizens [65+]; $6 students [with ID] and children [6 to 17]; free for children under 6, members, and PennCard holders). Visitors who bring a new, unwrapped toy donation receive $2 off the price of Museum admission (one discount admission per toy).
Guests pick up their "passports" when they enter the Penn Museum, before "departing" on their world tour. International Classroom program presenters in different galleries stamp visitors' passports after sharing aspects of their country's holiday festivals, history, and culture. Passports stamped with four or more countries receive a small world-traveler memento.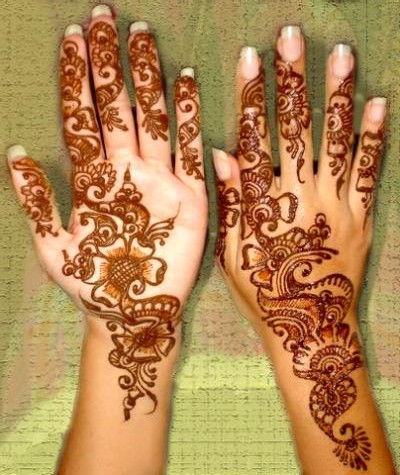 Muqaddas Ijaz, from Pakistan, is currently a college student at Camden Community College. She narrates enjoyable vignettes of her country with maps and photos. Muqaddas also gives an introduction to the Pakistani language, a glimpse of historical roots and places, and demonstrates the art of mehendi, also known as henna, on attendees.
Noga Golan is from Tel Aviv, Israel, and is currently a Wharton Business School student. Noga brings tastes from the Holy Land for visitors to try and discusses Hannukah through a mix of stories and items such as dreidels and a Menorah. Noga also recounts her experience in the Israeli Defense Forces, and highlights Tel Aviv, a UNESCO World Cultural Heritage site, known for its important Bauhaus architecture and as a popular, cosmopolitan beach destination.
Originally from Hebron, Palestine, Ayman Waraneh was an archaeologist in Jordan and the West Bank and is currently a graduate student at the University of the Arts. Ayman shares his experiences excavating at Ain Ghazal, a Neolithic site in North-Western Jordan, and the archaeological ruin of Jericho, situated in the West Bank. Also, Ayman plays the flute for visitors, displays traditional Palestinian clothing, and discusses the celebration Eid Al-Fitr.
Native Peruvians Carmen Violeta Vincente and Jason Holloway discuss Peru through their display of ceramic craft items, textiles, and unique wares from Peru's three geographic regions. Visitors learn about the wide range of food, culture, and art of Peru's jungle region, mountians, and coast. Alongside the display is a hands-on craft table with children's activities.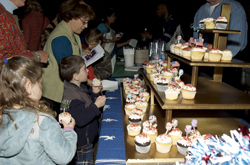 Sun Mao, a Penn student originally from China, shares the festivities of the Chinese New Year. Sun's table brings China's diverse culture to visitors through photos, music, and food.
Gozde Senel Ayaz, Turkey native and a graduate student at Drexel University, shares Turkey's rich culture, heritage, religion, and traditions. Ms. Ayaz focuses on legendary hero and father, Mustafa Kemal, who revolutionized Turkey's culture and policies and eternalized his political view with the motto "peace at home, peace around the world."
Prema Deshmukh, Penn Museum International Classroom Coordinator, originally from Hirehonnihali, India, introduces guests to Diwali, the Festival of Lights. During Diwali, lights are lit to celebrate the victory of good over evil and welcome Lakshmi, the goddess of wealth and prosperity.
Guests can listen to live telling of stories by Blue Deer Storytelling. At 1:30 pm and 3:00 pm, Michele Belluomini recounts four great tales for children including a humorous story about building bridges (literally and figuratively), a moral tale about a king who spills honey, a comic tale of chameleons, and a Lenape Indian story.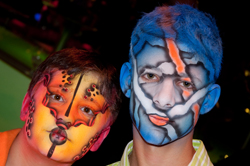 In-between traveling to these different "countries," visitors can enjoy Peanutbutter's face painting troupe and balloon creations by Family Fun balloon artists. Music and dance resonates throughout the Museum with Balinese dance performances and a workshop on Middle Eastern Hand drumming.
Students from the Penn Lions Club entertain visitors with a dramatic and traditional lion dance performance.
Also, attendees are encouraged to "paint" a colorful silk scarf in Richard Aldorasi's Ebru demonstration on the Turkish art of "cloud painting." Visitors have the chance to create a personalized silk scarf, which they can give as a holiday gift. In the Chinese Rotunda, young visitors can refuel between activities with a free cupcake and soda and create holiday craft gifts such as unity wreaths.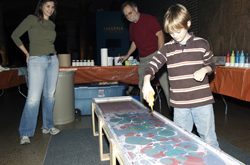 The Pepper Mill Café gets into the spirit, offering a 10% discount on a variety of hot entrees and holiday desserts available for purchase. The Museum Shop and the Pyramid Shop for Children offer an international shopping experience, featuring holiday gifts that are fair trade and globally responsible, ecologically sustainable and "green."
International Classroom is an innovative program within the Penn Museum, providing international and multicultural education for a variety of ages using a broad range of presentations, lectures, and workshops. Since its inception in 1961, several thousand international students have participated in International Classroom programs, offering a first-hand perspective on specific countries or regions. Committed to cultural enrichment and diversity, International Classroom established the International Reception as a model among international educators. For more information about the International Students Reception, or to learn more about International Classroom at the University of Pennsylvania Museum of Archaeology and Anthropology, call Prema Deshmukh, at (215) 898-4065.
The University of Pennsylvania Museum of Archaeology and Anthropology is dedicated to the study and understanding of human history and diversity. Founded in 1887, the Museum has sent more than 400 archaeological and anthropological expeditions to all the inhabited continents of the world. With an active exhibition schedule and educational programming for children and adults, the Museum offers the public an opportunity to share in the ongoing discovery of humankind's collective heritage.
Penn Museum is located at 3260 South Street, Philadelphia, PA 19104 (on Penn's campus, across from Franklin Field). Public transportation to the Museum is available via SEPTA's Regional Rail Line at University City Station; the Market-Frankford Subway Line at 34th Street Station; trolley routes 11, 13, 34 and 36; and bus routes 12, 21, 30, 40 and 42. Museum hours are Tuesday and Thursday through Sunday, 10:00 am to 5:00 pm, and Wednesday, 10:00 am to 8:00 pm, with P.M. @ PENN MUSEUM evening programs offered weekly. Closed Mondays and holidays. Admission donation is $10 for adults; $7 for senior citizens (65 and above); $6 children (6 to 17) and full-time students with ID; free to Members, PennCard holders, and children 5 and younger; "pay-what-you-want" the last hour before closing. Hot and cold meals and light refreshments are available to visitors with or without Museum admission in The Pepper Mill Café; the Museum Shop and Pyramid Shop for Children offer a wide selection of gifts, books, games, clothing, and jewelry. Penn Museum can be found on the web at www.penn.museum. For general information call (215)898-4000.