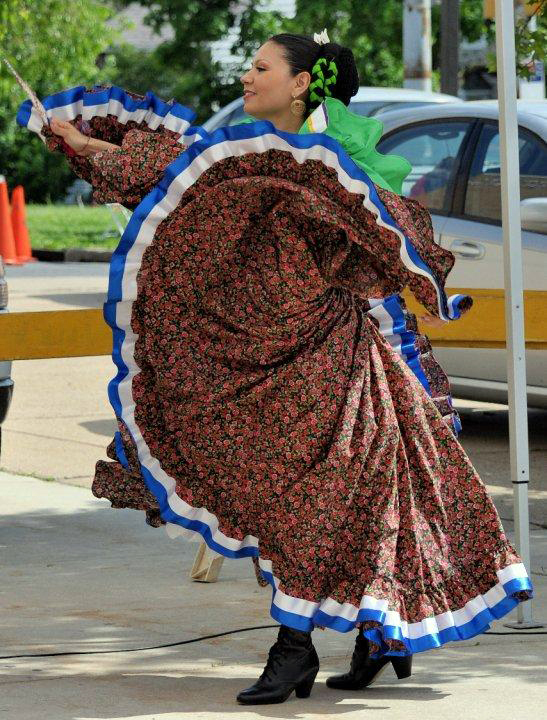 PHILADELPHIA 2010--
A Mariachi band, pre-Columbian and folkloric dancing, storytelling, a Mexican "mercado" and children's games, the making of public mural art, and Mexican food--it all comes together when the University of Pennsylvania Museum of Archaeology and Anthropology presents
¡VIVA MEXICO!
, an afternoon celebration for the whole family on
Sunday, November 7, 1:00 to 4:00 pm
.

¡VIVA MEXICO! a PECO World Culture Day, is co-sponsored with Philadelphia's Mexican Cultural Center and the Consulate of Mexico. This event is free with Museum admission donation ($10 general admission; $7 senior citizens [65+]; $6 students [with ID] and children [6 to 17]; free for children under 6, members, and PennCard holders).
At 1:00, singer Pedro Villaseñor, with band Mariachi Maya Internacional, a six-member ensemble of violins, guitars, and trumpets, electrifies audiences in the Lower Egyptian Gallery with two lively sets of Mexican folk music and classic mariachi, a music genre that originated in Western Mexico.
Guests can listen to live telling of two magical stories by Blue Deer Storytelling. At 1:30 pm, Michele Belluomini recounts a spiritual tale from the Huichol Indians of Central-West Mexico in "The Legend of God's Eye." At 2:30 pm, Ms. Belluomini recites the tragic Aztec love story of the "Sleeping Woman of the Snows," which tells how the two volcanic mountains near Mexico City came to be.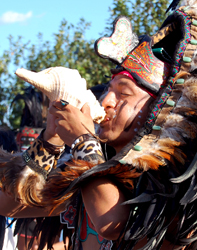 At 2:00 pm, the Aztec dance troupe Cenzontli Cuicatl, meaning "The Song of the Mockingbird," performs pre-Columbian Aztec dancing rich in symbolism. The elaborately costumed troupe, wearing feathered headdresses, colorful embroidered tunics, and animal skins, plays a variety of pre-Columbian instruments such as drums, conch shell trumpets, foot rattles, and flutes. Cenzontli Cuicatl explores dance ceremonies which evolved over the centuries to communicate with spirits in pre-Columbian rituals.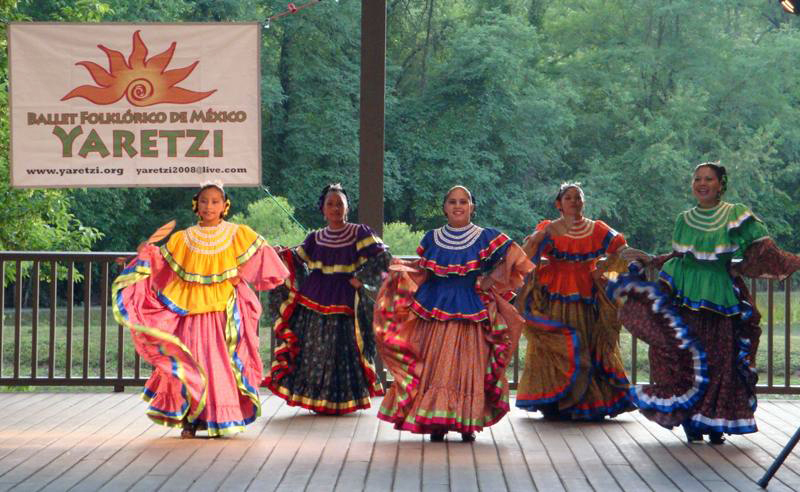 Folkloric dancing is unique to each Mexican state and features dance costumes individual to each region represented. At 3:15 pm, Yaretzi, a folkloric ballet troupe, performs dances representative of five states including Jalisco, Veracruz, Nayarit, Chiapas, and Tamaulipas. The clown Piripitin entertains between the dances.
Throughout the day visitors are invited to help create public art with Mexican muralist Cesar Viveros. Mexican murals became a powerful art form after the Mexican Revolution (1910-1920) and prominent artists such as Diego Rivera and Jose Orozco have made large-scale paintings. In the spirit of the upcoming Centennial Celebration of the Mexican Revolution, on November 20th, this year's mural theme is "Heroes of the Mexican Revolution." Throughout the day, Cesar teaches and paints along with children and families.
A Mexican mercado lets families engage with many aspects of Mexico: at craft tables visitors can make Mexican instruments such as castanets and maracas; local artisans discuss handicrafts and folk art; students from the Mex@PENN program at the University of Pennsylvania host a table of traditional Mexican games such as Loteria, similar to Bingo; and clown Payaso Piripitin and artist Neftali Veliz paint children's faces in traditional Mexican designs.
Explore the ancient history of Mexico, and neighboring countries, by touring Penn Museum's Central American Gallery featuring more than 200 artifacts, some dating back 3,500 years, and obtained through the Museum's own field excavations.
The Museum Shop and the Pyramid Shop for Children highlights Mexico with a colorful selection of arts, crafts, games, and books. The Pepper Mill Café features several fresh Mexican lunch entrees and kid-friendly foods.
Based in Philadelphia, PECO, a sponsor of the Museum's World Culture Day series, is an electric and natural gas utility subsidiary of Exelon Corporation (NYSE: EXC). PECO serves 1.6 million electric and 486,000 natural gas customers in southeastern Pennsylvania and employs about 2,400 people in the region. PECO delivered 84.3 billion cubic feet of natural gas and 38.1 billion kilowatt-hours (kWh) of electricity in 2009. Founded in 1881, PECO is one of the Greater Philadelphia Region's most active corporate citizens, providing leadership, volunteer and financial support to numerous arts and culture, education, environmental, economic development, and community programs and organizations.
The Mexican Cultural Center is a non profit organization dedicated to promoting understanding an awareness of the cultural and artistic diversity of Mexico and its influence in the Delaware Valley and the U.S.
The University of Pennsylvania Museum of Archaeology and Anthropology is dedicated to the study and understanding of human history and diversity. Founded in 1887, the Museum has sent more than 400 archaeological and anthropological expeditions to all the inhabited continents of the world. With an active exhibition schedule and educational programming for children and adults, the Museum offers the public an opportunity to share in the ongoing discovery of humankind's collective heritage.

Penn Museum is located at 3260 South Street, Philadelphia, PA 19104 (on Penn's campus, across from Franklin Field). Public transportation to the Museum is available via SEPTA's Regional Rail Line at University City Station; the Market-Frankford Subway Line at 34th Street Station; trolley routes 11, 13, 34 and 36; and bus routes 12, 21, 30, 40 and 42. Museum hours are Tuesday and Thursday through Sunday, 10:00 am to 5:00 pm, and Wednesday, 10:00 am to 8:00 pm, with P.M. @ PENN MUSEUM evening programs offered weekly. Closed Mondays and holidays. Admission donation is $10 for adults; $7 for senior citizens (65 and above); $6 children (6 to 17) and full-time students with ID; free to Members, PennCard holders, and children 5 and younger; "pay-what-you-want" the last hour before closing. Hot and cold meals and light refreshments are available to visitors with or without Museum admission in The Pepper Mill Café; the Museum Shop and Pyramid Shop for Children offer a wide selection of gifts, books, games, clothing, and jewelry. Penn Museum can be found on the web at www.penn.museum. For general information call (215) 898-4000. For group tour information call (215) 746-8183.