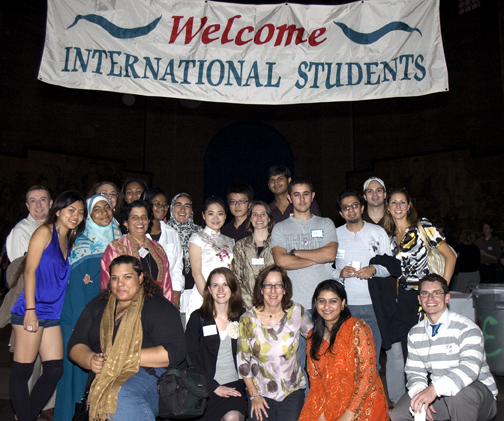 Philadelphia 2010—Welcome! Swagatam! Willkomen! Emedi!
International students, scholars, and professionals new to the Delaware Valley are invited to attend this year's 41st annual International Students Reception on Friday, October 22, 5:00 to 7:00 pm. The welcome reception is held in the majestic Chinese Rotunda at the Penn Museum, 3260 South Street on the University of Pennsylvania campus in Philadelphia.

Penn Museum Williams Director Richard Hodges sums up the reception experience, "Each year this event reminds me of the great vibrancy and cultural diversity of this region and its tremendous network of educational institutions. It is truly a privilege to watch students from more than 100 countries come together, sample foods from around the globe and make friends, forming the new links in a global community right here in our own richly diverse Museum, surrounded by artifacts from ancient world cultures."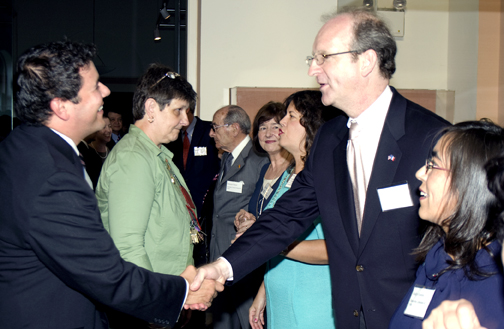 Every year hundreds of international guests from over 100 countries have the opportunity to meet and network with others. Penn Museum's International Classroom Program hosts this free event to connect international guests with the local community and its leaders and to introduce attendees to the multicultural community of Philadelphia. Year after year the event takes place through the efforts of the Penn Museum, more than
70
volunteers, and more than
65
area co-sponsors including the University of Pennsylvania, Temple University, Drexel University, University of the Sciences in Philadelphia, Philadelphia University, The Art Institute of Philadelphia, La Salle University, Widener University, Allbright College, the Wistar Institute, and the Fulbright Association of Delaware Valley.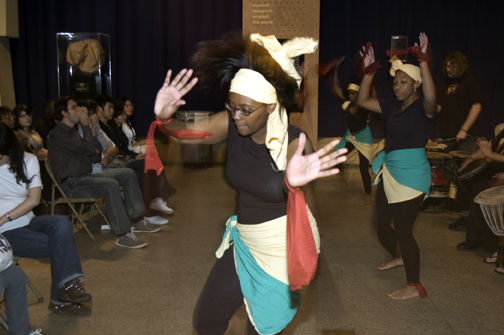 This year guests will be greeted by the New York City and Philadelphia consul officials from India, Germany, Spain, Switzerland, Korea, Italy, and Chile, and representatives from the City of Philadelphia and the State of Pennsylvania. High school students from Philadelphia High School for Girls and West Catholic High School give their time throughout the Reception and International Classroom volunteer Nada Miller donates her cooking expertise to make 40 pounds of hummus, not to mention an array of ethnic delicacies. The evening's entertainment, as diverse and international as the guest list, features performances by Penn's multicultural fusion dance group Hype, the Penn Chinese Dance Club, and La Salle College's Neo-African Drums 'n Dance group.
International Classroom
is an innovative program within the Penn Museum, providing international and multicultural education for a variety of ages using a broad range of presentations, lectures, and workshops. Since its inception in 1961, several thousand international students have participated in International Classroom programs, offering a first-hand perspective on specific countries or regions. Committed to cultural enrichment and diversity, International Classroom established the International Reception as a model among international educators.
For more information about the International Students Reception, or to learn more about International Classroom at the University of Pennsylvania Museum of Archaeology and Anthropology, call Prema Deshmukh, at (215)898-4065.
The
University of Pennsylvania Museum of Archaeology and Anthropology
is dedicated to the study and understanding of human history and diversity. Founded in 1887, the Museum has sent more than 400 archaeological and anthropological expeditions to all the inhabited continents of the world. With an active exhibition schedule and educational programming for children and adults, the Museum offers the public an opportunity to share in the ongoing discovery of humankind's collective heritage.
Penn Museum
is located at 3260 South Street, Philadelphia, PA 19104 (on Penn's campus, across from Franklin Field). Public transportation to the Museum is available via SEPTA's Regional Rail Line at University City Station; the Market-Frankford Subway Line at 34th Street Station; trolley routes 11, 13, 34 and 36; and bus routes 12, 21, 30, 40 and 42. Museum hours are Tuesday and Thursday through Sunday, 10:00 am to 5:00 pm, and Wednesday, 10:00 am to 8:00 pm, with P.M. @ PENN MUSEUM evening programs offered weekly. Closed Mondays and holidays. Admission donation is $10 for adults; $7 for senior citizens (65 and above); $6 children (6 to 17) and full-time students with ID; free to members, PennCard holders, and children 5 and younger; "pay-what-you-want" the last hour before closing. Hot and cold meals and light refreshments are offered visitors with or without Museum admission in The Pepper Mill Café; the Museum Shop and Pyramid Shop for Children offer a wide selection of gifts, books, games, clothing and jewelry. Penn Museum can be found on the web at www.penn.museum. For general information call (215)898-4000. For group tour information call (215)746-8183.
Top left photo: International students from Penn Museum's 2009 Reception gather for a photo in the Chinese Rotunda. Middle right photo: International Reception attendees for this year's 41st celebration will be greeted by dignitaries, city and state representatives, and Museum administrators, and business people from Philadelphia and beyond. Bottom left photo: Dancers from La Salle College's Neo-African Drums 'n Dance group return to perform at this year's 41st Annual International Reception on October 22, from 5:00 to 7:00 pm.