Project includes refurbished galleries, a state-of-the-art suite of conservation, research, and teaching labs, and restoration of the historic Widener Lecture Hall
OCTOBER 4, 2010—Richard Hodges, Williams Director of the University of Pennsylvania Museum of Archaeology and Anthropology, is pleased to announce the start of construction on a major renovation of the West Wing of the Museum's original 1899 building.
The first phase of renovation will include refurbishment of the Wing's public galleries—where a landmark exhibition from China, Secrets of the Silk Road, will open February 5, 2011—and the creation of a teaching laboratory for ceramic petrography. Later phases will add the creation of a state-of-the-art suite of conservation labs and workspaces, several additional teaching and research labs, and the restoration of the historic and architecturally unique Widener Lecture Hall, which will return to its original function as a beautiful public event space after several decades of use as a behind-the-scenes preparation area for exhibitions. The addition of climate control throughout the Wing, together with replacement of the windows with historically accurate but airtight and energy efficient versions, will significantly enhance the Penn Museum visitor experience and provide greater protection and stability for the artifacts on display.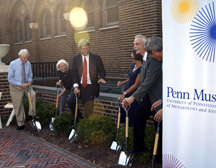 The West Wing Renovation Project is designed by Samuel Anderson Architects of New York City, noted for their work in museums and libraries with a specialty in conservation labs, with mechanical design by McClure Engineering of St. Louis, MO; structural engineering by Severud Associates of New York City; lighting design by Jeffrey Nash Lighting Design of New York City; and project management by the University of Pennsylvania's Facilities and Real Estate Services. The Project is made possible with leadership support from A. Bruce and Margaret Mainwaring and Dr. Charles K. Williams, II, and with generous additional support from Barbara and Michael J. Kowalski, the Frederick J. Manning family, Diane von Schlegell Levy and Robert M. Levy, and the 1956 Otto Haas Charitable Trust.
"The significance of adding climate control to an entire wing of our building cannot be overestimated," said Dr. Hodges. "Not only will it make it possible for us to exhibit extraordinary objects such as Secrets of the Silk Road's 3,800-year-old Tarim mummy in the conditions they deserve, but it will provide a huge difference in visitor comfort, making our goal to have the Penn Museum become a major destination all the more achievable. Our West Wing Project came together on a very short timeline, which would never have been met without remarkable loyalty and support from the donors and exceptional skill, hard work, and creativity from the project team. They have truly enabled us to make history at the Penn Museum, and we are more grateful to them than we can say."
Dr. Hodges also noted that this is not the first time the Mainwarings or Dr. Williams have been the lead donors for a Penn Museum capital project. Mr. and Mrs. Mainwaring provided leadership support for the Museum's newest wing, now named in their honor, which was opened in 2002 and provides state-of-the-art climate and humidity controlled storage for approximately 60,000 of the most delicate objects in the Museum's collection. Dr. Williams underwrote the creation of a large space, known informally as the "Big Dig," beneath the Warden Garden in 2004, designed to eventually house large air handlers that would be connected by ducts to each wing of the Museum, thus to provide climate control.
Project architect Samuel M. Anderson emphasized that the current West Wing Project would not be possible without the "Big Dig," where the air handling units providing climate control to the Wing will be housed. He explained that the largest ducts will be placed under the floor, so as not to interfere with the architecture of the historic building. The plan also includes upgrading windows (the new windows will look like the old, but be airtight and energy efficient) and removing non-historic grates over the windows while restoring the original ironwork. Future improvements to the conservation suite will include expansion to allow more people to work and train; separate laboratories for specialist tasks, including matting and packing, brazing and mount-making, and photography, as well as a shielded X-ray room, and the addition of hoods that will vent to the old chimneys. The expansion of the conservation team and the restoration of a leading conservation internship program is a top priority of the Museum's "Destination 2012," part of Penn's Making History Campaign; this expansion is already underway in part thanks to additional support from the 1956 Otto Haas Charitable Trust to fund a third conservator position and two interns.
Over one hundred years after the opening of the Penn Museum's grand original building, designed by noted architect Wilson Eyre, its soon to be refurbished West Wing is where so many of the Museum's various functions come together: public galleries, an historic lecture theater, research and conservation laboratories, the departments of publications, exhibitions and IT, and the Kowalski Digital Media Center which facilitates newly accessible online collections.
Samuel Anderson Architects is a full service architectural practice based in New York City with an extensive portfolio that includes successful institutional, commercial and residential projects involving highly specialized programs, stringent site and environmental requirements, and challenging logistics. Since 1993, the firm has accomplished a wide variety of built work. SAA's projects for the Harvard University Art Museums and the Morgan Library have received awards and acclaim in Architectural Record and other journals. Recent work includes projects for the Whitney Museum, the Museum of Modern Art, the Harvard University Libraries, the Colonial Williamsburg Foundation, and the Allen Memorial Art Museum at Oberlin College, Ohio.
The University of Pennsylvania Museum of Archaeology and Anthropology is dedicated to the study and understanding of human history and diversity. Founded in 1887, the Museum has sent more than 400 archaeological and anthropological expeditions to all the inhabited continents of the world. With an active exhibition schedule and educational programming for children and adults, the Museum offers the public an opportunity to share in the ongoing discovery of humankind's collective heritage.
Secrets of the Silk Road will run from February 5, 2011 to June 5, 2011 at the Penn Museum. Featuring the most amazingly preserved mummies ever found, and rare artifacts never before seen in the West, this landmark exhibition tells a tale of long-forgotten cultures along the world's most legendary trading route. More than 150 objects will be on view, including gold jewelry and coins, figurines, clothing, tools, personal items, burial goods, and even perfectly preserved food. Individual tickets are available for purchase online: www.penn.museum/silkroad. Group tickets are available now by calling (215)746-8183, or by email at This email address is being protected from spambots. You need JavaScript enabled to view it. .
Penn Museum is located at 3260 South Street, Philadelphia, PA 19104 (on Penn's campus, across from Franklin Field). Public transportation to the museum is available via SEPTA's Regional Rail Line at University City Station; the Market-Frankford Subway Line at 34th Street Station; trolley routes 11, 13, 34 and 36; and bus routes 12, 21, 30, 40 and 42. Museum hours are Tuesday and Thursday through Sunday, 10:00 am to 5:00 pm, and Wednesday, 10:00 am to 8:00 pm, with P.M. @ PENN MUSEUM evening programs. Offered weekly. Closed Mondays and holidays. Admission donation is $10 for adults; $7 for senior citizens (65 and above); $6 children (6 to 17) and full-time students with ID; free to Members, PennCard holders, and children 5 and younger; "pay-what-you-want" the last hour before closing. Hot and cold meals and light refreshments are offered visitors with or without Museum admission in The Pepper Mill Café; the Museum Shop and Pyramid Shop for Children offer a wide selection of gifts, books, games, clothing and jewelry. Penn Museum can be found on the web at www.penn.museum. For general information call (215) 898-4000. For group tour information call (215) 746-8183.
Photo caption: At the ceremonial "groundbreaking" for the West Wing Renovation Project held in the Warden Garden on September 1, Williams Director Richard Hodges (center) jokes with project architect Samuel Anderson (second from right) and lead project supporters and current and former University Trustees (left to right) A. Bruce Mainwaring, Peggy Mainwaring, Janet Haas and Michael J. Kowalski.