Silk Road Programming Kicks into High Gear Beginning this Fall
PHILADELPHIA, PA September 15, 2010--Individual tickets go on sale today for Secrets of the Silk Road--a landmark exhibition from China making its only East Coast stop at the University of Pennsylvania Museum of Archaeology and Anthropology (Penn Museum) in Philadelphia February 5 through June 5, 2011. Timed tickets can be purchased online at www.penn.museum/silkroad or by phone: (877)77-CLICK. Discounted group tickets are available by phone: (215)746-8183, or by email: This email address is being protected from spambots. You need JavaScript enabled to view it. . Penn Museum members at the Individual level and above may order free tickets (numbers depend upon membership level): www.penn.museum/become-a-member.html.
Gearing up to present this once-in-a-lifetime exhibition, Penn Museum offers related advance programming, from a "Great Adventures Along the Silk Road" evening lecture series, to P.M. @ PENN MUSEUM evening activities that highlight the rich cultural traditions of the vast region once known as the "Silk Road."
A Landmark Exhibition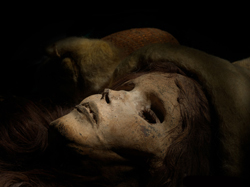 The first East Coast appearance of the 3,800 year old "Beauty of Xiaohe," one of two strikingly well preserved mummies and their associated artifacts traveling from China, makes Secrets of the Silk Road an exhibition that reaches back well beyond the historic period of the Silk Road-to tell a tale of long-forgotten peoples and cultures along the world's legendary trading route. Tall in stature and fair in complexion, the "Beauty" was excavated in 2003. She is one of hundreds of spectacularly preserved mummies, many with surprisingly Eastern European and Mediterranean features, buried in the harsh desert sands of the vast Tarim Basin of Central Asia, in the Far Western Xinjiang Uyghur Autonomous Region of China.
The "Beauty of Xiaohe," along with a bundled baby mummy ca 8th century BCE, and the complete trappings of "Yingpan Man," a six-foot six-inch mummy, ca 3rd-4th century AD-as well as a wide range of objects, 700 to 3,800 years old, from the same region, are featured in the exhibition. Objects include well-preserved clothing, textiles, jewelry, gem-encrusted gold vessels, wood and bone implements, coins and documents-even preserved foods including wonton and flower-shaped desserts. The collection reflects the wide extent of the Silk Road trade and cultural interchange.
"This traveling exhibition of materials from half way around the world is opening new doors-providing visitors with an unparalleled opportunity to come face to face, literally, with life in East Central Asia, both before and after the formation of the fabled Silk Routes," noted Victor Mair, University of Pennsylvania scholar, and curatorial consultant and catalog editor for the exhibition.
Organized by the Bowers Museum, Santa Ana, California in association with the Archaeological Institute of Xinjiang and the Urumqi Museum, Secrets of the Silk Road began its U.S. tour at the Bowers Museum (March 27 to July 25) before traveling to the Houston Museum of Natural Sciences, where it is on view through January 2, 2011.
The Penn Museum presentation of this exhibition is made possible with support from Lois and Robert M. Baylis, the Commonwealth of Pennsylvania, Alexandra Schoenberg and Eric J. Schoenberg, Ph.D., Host Hotels and Resorts,  Annette Merle-Smith, and Subaru of America, Inc.
Fall Programs: Gearing Up
"Great Adventures Along the Silk Road," a monthly, Wednesday evening lecture series, kicks off October 6 with "Great Sites on the Silk Road," an illustrated talk by Penn Museum Asian Art curator Nancy Steinhardt. Armchair adventurers can sign up for one, several, or all nine programs (Series: $40; free for members and full-time college students with advance registration. Individual tickets, $5 in advance; $10 at the door). Many P.M. @ PENN MUSEUM Wednesday evening programs, including concerts, in-the-gallery "classes," and Quizzo, all free with Museum admission, and with happy hour drink specials for purchase, take a Silk Road spin. "Religions of the Silk Road" a look at how Buddhism, Judaism, Christianity and Islam traveled and intermingled along the Silk Road, is the topic of a Saturday November 13 afternoon program featuring University of Pennsylvania experts. ($20 general admission; $10 Museum members) The complete calendar is online: www.penn.museum/calendar.
Secrets of the Silk Road offers teachers a rare opportunity to introduce this region of the world, and world history, into the classroom in a dramatic and tangible way, and the exhibition and related programming will provide interactive learning opportunities for all ages. Teacher programs, including a Thursday, November 4 Educators' Evening, 4:30 to 6:30 pm, are available through the Museum's Community Engagement Office: (215)898-4015. Teacher materials will be available online starting December 15.
Penn Museum (www.penn.museum), located at 3260 South Street on the University of Pennsylvania campus in Philadelphia, is dedicated to the study and understanding of human history and diversity. Founded in 1887, Penn Museum has sent more than 400 archaeological and anthropological expeditions worldwide. Three gallery floors feature materials from ancient Egypt, Mesopotamia, Asia, Central America, and the Mediterranean World, as well as traditional materials from Africa and the Americas. The number for general information: (215)898-4000.

TICKET AND TOUR INFORMATION for Secrets of the Silk Road:
Tickets: www.penn.museum/silkroad
General admission timed tickets (admission to the rest of the Museum) for individuals are available beginning September 15.
· Adult: $22.50
· Senior (65+)/Military: $18.50
· Students (full-time with ID)/Children (6 to 17 years): $16.50
· PennCard Rate: $12.50 (available for PennCard holders by visiting any Penn Museum admission desk during regular Museum hours)
Exhibition audio tours are available in English and Mandarin at the Museum ($2.00).
Museum hours during the Secrets of the Silk Road exhibition are Tuesday, 10:00 am to 5:00 pm, Wednesday, 10:00 am to 8:00 pm, and Thursday through Sunday, 10:00 am to 5:00 pm. Open holiday Mondays (February 21; May 30). Fridays, 5:00 to 8:00 pm, Secrets of the Silk Road is also open (when the rest of the Museum is closed.)
Discounted group timed tickets for groups of 15 or more (includes exhibition audio tour, admission to the rest of the Museum) are available now:
· Adult: $17.50
· Senior (65+)/Military/Students (full-time with ID): $15
· Children (6 to 17 years): $12
Call or email about extended group hours, tailored package options (including speakers or hands on activities, rates vary), and reservations.
Email This email address is being protected from spambots. You need JavaScript enabled to view it. or (215)746-8183.
Photo: Head view of "The Beauty of Xiaohe," female mummy, ca 1800-1500 BC. Excavated from Xiaohe (Little River) Cemetery 5, Charqilik (Ruoqiang) County, Xinjiang Uygur Autonomous Region, China. © Wang Da-Gang