Penn Museum Offers Armchair Adventure
With Blog of Archaeological and Ethnobotanical Expedition to Africa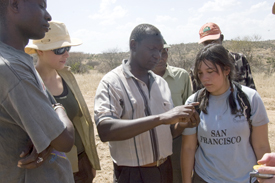 April 26, 2010--Dr. Kathleen Ryan, Consulting Scholar of the African Section, University of Pennsylvania Museum of Archaeology and Anthropology, is on her way to a new field season of the Laikipia Archaeological Project in North Central Kenya, and to her ethnobotanical project among the Maasai in southern Maasailand, close to Mount Kilimanjaroñ -with a team that will be photo-documenting and blogging about the experience:
Digging Kenya on the Laikipia Plateau: http://penn.museum/blog/kenya/
The research team, led by Dr. Ryan, includes Kenyan archaeologists Dr. Mulu Muia, Paul Watene, Simon Katisya, and Chris Kirwa, and archaeological mapping and surveying consultant Dr. William Fitts. They plan to excavate settlements from 2000 - 3000 BCE on the Laikipia Plateau in north central Kenya, overlooking the Rift Valley, as part of the ongoing Laikipia Archaeological Project.
Amy Ellsworth, Penn Museum's Digital Media Developer, will blog and film, while photographer Jennifer Chiappardi documents the expedition, scheduled to run through May 13, 2010.
The team will also travel south to Maasailand where Dr. Ryan has been engaged in ethnobotanical research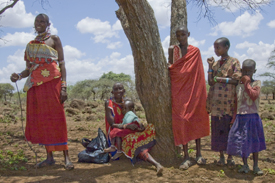 and education since 1993. The transmittal of local knowledge about the environment, and the use of traditional medicines, has tended to be sidelined as most Maasai children now attend formal schooling. In an effort to preserve local knowledge and pass it on to this and future generations, she organized two field schools (in 1999 and 2000) at Maasai Girls School in Rombo, focusing on the environment and identification of plants in southern Maasailand. During the current trip she and her team will document translator Paul Kunoni and local Maasai elders describing traditional medicinal uses of various plants for both humans and animals.
The Laikipia Archaeological Project (http://www.penn.museum/research-african-section/413-the-arrival-and-expansion-of-pastoralist-economies-on-the-laikipia-plateau.html) focuses on the more recent period of transition from the Later Stone Age (LSA) to the Pastoral Neolithic (PN) 4,000 to 5,000 years ago, when the first cattle herding groups entered Laikipia and interacted with the indigenous hunter-gatherers. Until recent decades, surprisingly little research had been conducted on the origins and spread of cattle herding in Africa. Although cattle domestication is believed to have occurred in Africa roughly 9,000 years ago, cattle pastoralism in East Africa began several millennia later, between 4,000 and 5,000 years ago, when the first cattle herding groups moved south into what is now Kenya. This period of transition-when indigenous hunter-gatherers and cattle herders first interacted in Laikipia-is the main focus of the investigations.
The team also plans to visit the Sheldrick Elephant Orphanage, where they will "adopt" an elephant for the Penn Museum.
Photos, top to bottom:
Dr. Mulu Muia explains the significance of different types of pottery to two Penn graduate seniors during the excavation season of the Laikipia Archaeological Project in northern Kenya in March 2009. Photo credit. Jennifer Chiappardi.

Maasai family members, including Dr. Kathleen Ryan's honorary "co-wife" and granddaughter (seated). An older daughter of the family stands by (left). The story of Dr. Ryan's work, and relationships among the Maasai, is recounted on the expedition blog, Digging Kenya on the Laikipia Plateau, http://penn.museum/blog/kenya/ (Maasai Mama).