Underwater Archaeologist George Bass Tells Story of 1,000-Year-Old Shipwreck Recovery and Conservation Efforts on Three Ton Collection of Medieval Glass at Penn Museum's Annual Petersen Lecture Friday, March 26, 7:00 PM
Bass to be Awarded Drexel Medal for Archaeological Achievement at Program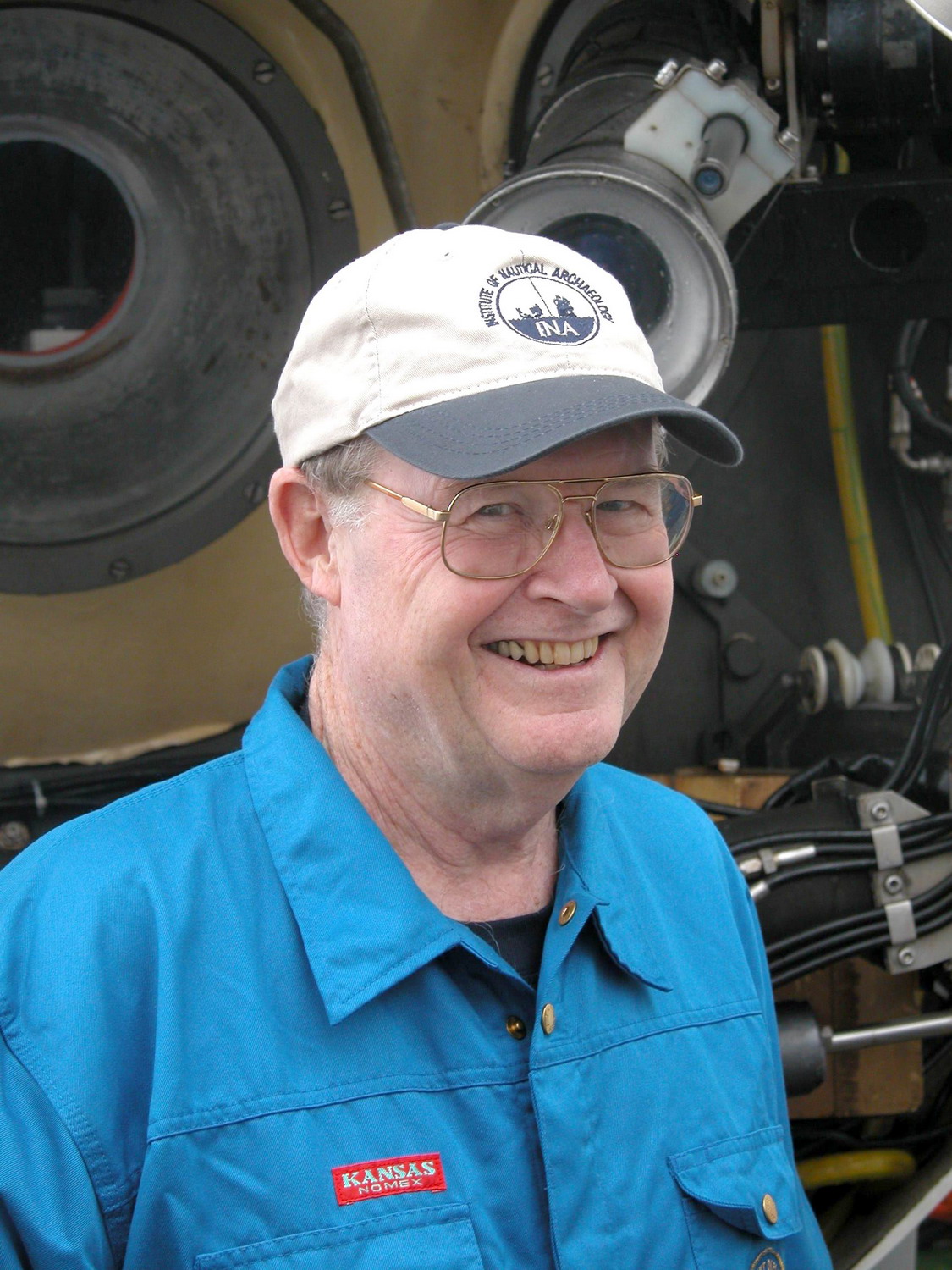 Underwater archaeologist George Fletcher Bass, Professor Emeritus, Nautical Archaeology Program, Texas A&M University, and former curator, Penn Museum Mediterranean Section, offers the Museum's annual Petersen Lecture, The Million Piece Jigsaw Puzzle: Excavating a Cargo of Medieval Glass, Friday, March 26, at 7:00 pm. The evening public lecture kicks off a day-long Saturday conference, open to scholars and the interested public and sponsored by Penn Museum's Cultural Heritage Center, exploring legal and ethical issues around underwater cultural heritage.
Prior to his Petersen talk, Dr. Bass will be awarded the Museum's Lucy Wharton Drexel Medal honoring exceptional achievement in excavation or publication of archaeological work. Dr. Bass is the 30th recipient of the award, established in 1889 and given by the Museum Director in consultation with past medal recipients and archaeological curators of the museum.
"Starting with his auspicious years at Penn and the Penn Museum, Dr. Bass forged a new sub-discipline-nautical archaeology-and an extraordinary career, showing the world how much valuable history can be scientifically retrieved from the sea," noted Richard Hodges, the Williams Director of the Penn Museum. "It is with great joy that we welcome him back, to share a story of his latest accomplishments-and to receive this well-deserved honor."
The Friday evening program is pay-what-you-want. A reception with a cash bar follows; the reception is free for Museum members at the Fellows level and above; $15 general admission.
For the Petersen Lecture, Dr. Bass tells the story of the late 1970s underwater excavation, carried out by his Institute of Nautical Archaeology, of a 1,000-year-old shipwreck off the coast of Turkey. The vessel had a cargo of three tons of broken glass meant to be recycled. Over two decades, conservators worked year round to piece the glass-the largest collection of medieval Islamic glass in existence-back together. The results were published in 2009.
No stranger to the University of Pennsylvania, Dr. Bass came to Penn in 1959 to pursue a doctoral degree in classical archaeology. Soon after his arrival in Philadelphia, he was asked by his department chairman if he would learn to dive in order to excavate a Late Bronze Age shipwreck reported by journalist Peter Throckmorton off the Turkish coast. After taking six diving lessons at a local YMCA, he left for Turkey, where he directed the excavation of the wreck, about a hundred feet deep off Cape Gelidonya. It was the first ancient wreck excavated in its entirety on the seabed, and the first shipwreck excavation directed and published by a diving archaeologist.
Dr. Bass received his PhD at Penn in 1964, staying on as professor until 1972, when he founded the American Institute of Nautical Archaeology (now the Institute of Nautical Archaeology, an international organization that has research on four continents). While at Penn, he developed techniques for underwater research while excavating Byzantine, Late Roman and Ottoman shipwrecks off the coast of Turkey: a submersible decompression chamber without surface support; a method of mapping wrecks by stereo-photogrammetry; and a two-person submersible, the Asherah. In 1967 his team was the first to locate an ancient wreck with side-scan sonar, a 280-foot-deep site inspected from Asherah.
Recipient of numerous other awards, including, in 1986, the Archaeological Institute of America's Gold Medal for Distinguished Archaeological Achievement, Dr. Bass has written or edited ten book and more than one hundred articles.
Distinguished past recipients of the Drexel Medal have included W. M. Flinders Petrie, in 1903, for his work in Egypt; Sir Leonard Woolley, in 1955, for his work in the Near East; Gordon Randolph Willey, in 1981, for his work on the ancient Maya; Lord Colin Renfrew, internationally renowned for his contributions to archaeological theory and science, in 2003; and most recently, Ian Hodder, Director of the Catalhoyuk Archaeological Project in Central Turkey, for his contribution to archaeological site place-making and public engagement.
The relatively new field of underwater archaeology has spawned ethical and legal questions about cultural heritage ownership, and Penn Museum's Cultural Heritage Center sponsors a scholarly symposium Saturday, March 27, 9 am to 6 pm, Who Owns Underwater Cultural Heritage? Perspectives on Archaeological Law and
Ethics in the Mediterranean. Archaeologists working in territorial and international waters discuss which legal and ethical standards direct our collective responsibility as stewards of world cultural heritage. Program attendees discuss the guidelines for archaeological practice as outlined in the 2001 United Nations Educational, Scientific, and Cultural Organization (UNESCO) Convention on the Protection of Underwater Cultural Heritage, which took effect in 2009. A participant's list and pre-registration for the pay-what-you-want event is available on the Penn Museum event calendar.
The University of Pennsylvania Museum of Archaeology and Anthropology is dedicated to the study and understanding of human history and diversity. Founded in 1887, the Museum has sent more than 400 archaeological and anthropological expeditions to all the inhabited continents of the world. With an active exhibition schedule and educational programming for children and adults, the Museum offers the public an opportunity to share in the ongoing discovery of humankind's collective heritage.
Penn Museum is located at 3260 South Street, Philadelphia, PA 19104 (on Penn's campus, across from Franklin Field and adjacent to SEPTA's University City Regional Rail station serving the R1, R2, and R3 lines). Museum hours are Tuesday through Saturday, 10:00 am to 4:30 pm, Sunday 1:00 to 5:00 pm. Closed Mondays and holidays. Admission donation is $10 for adults; $7 for senior citizens (65 and above); $6 children (6 to 17) and full-time students with ID; free to Members, Penncard holders, and children 5 and younger; "pay-what-you-want" after 3:30 pm Tuesday through Saturday, and after 4:00 pm Sunday. Penn Museum can be found on the web at www.penn.museum. For general information call (215) 898-4000.
Photograph: George Bass before dive to Titanic, 2003, by David Concannon.