TIGER
1914, 1926, 1938, 1950, 1962, 1974, 1986, 1998, 2010
The Tiger sign symbolizes character traits such as bravery, competitiveness and unpredictability. Tigers are extremely generous, intelligent and charming, but can be stubborn if they realize they are not in charge.
- from The Chinese Zodiac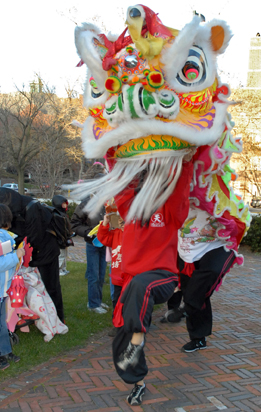 PHILADELPHIA -Roar into the New Year with the power and courage of a Tiger! The University of Pennsylvania Museum of Archaeology and Anthropology presents the 29th annual Chinese New Year Celebration, in the honor of the Year of the Tiger, Saturday, January 23, 2010, 11:00 am to 4:00 pm! Music and dance performances, healing and martial arts demonstrations, games, workshops, children's activities, and much more - topped off with the traditional Chinese Lion Dance grand finale - are all part of the spectacular day-long celebration. The celebration is free with Museum admission donation ($10 general admission; $7 seniors; $6 students with ID and children [6-17]; free for children under 6, Museum members and PennCard holders).
Music, dance and special performances bring the sights, sounds, and wonders of China to the Museum galleries and auditoriums. Students from Chinese for Families, a multicultural Chinese language school offering Mandarin, martial arts, and dance classes, perform traditional Chinese dances, a martial arts demonstration, an original play, and present a Chinese New Year movie in Rainey Auditorium from 11:30 am until 12:00 pm. Then, Chinese for Families hosts a Tiger Craft Workshop in the Mosaic Gallery where children can try their hands at creating traditional tiger hats. The symbolism and power of the hats are thought to protect children from evil spirits.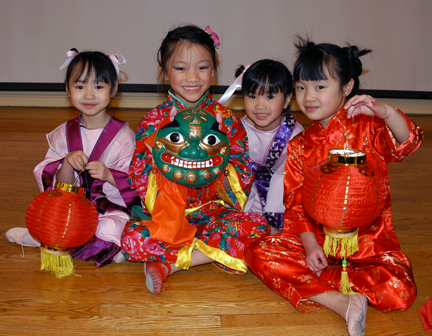 Plum Flower Dance Company, a community dance club from Newtown, PA, performs dances such as the Mongolian Folk Dance, Han People Folk Dance, and the Flower Drum Dance, incorporating drums, ribbons, and silk fans, at 1:00 pm in the Harrison Auditorium.
New to the Museum's celebrations is the award-winning Yangyi Guzheng Academy student ensemble from Central New Jersey. Yang Yi, Academy founder and acclaimed guzheng soloist, presents the ensemble of six students in a performance of traditional Chinese folk music, at 3:30 pm in the Rainey Auditorium. The guzheng, a 21-stringed instrument (similar to a zither), creates a dreamlike, resonating sound that enhances many of the festivities and traditions tied to Chinese history.
Kurt Jung offers two presentations on the differences between Eastern and Western musical instruments, comparing the erhu (bowed string instrument) to the violin, the gu-zheng (Chinese zither) to the harp, and the ruan (lute-like plucked string instrument) to the Western-style guitar. The 11:30 am program is recommended for interested adults, and the 2:30 pm program is designed for families with children. The presentations take place in the Lower Egyptian Gallery.
Visitors curious about the health benefits of Tai Chi can stop by the Lower Egyptian Gallery to see Master John Chen, Ba'Z Tai Chi & Kung Fu Studio, demonstrate Tai Chi from 1:00 to 1:40 pm - and gain a state of relaxation while leaving their stress behind.
Acupuncturist Eva Zeller gives a lecture on "A Brief History of Chinese Medicine" at 11:00 am. Ms. Zeller, who works at Acupuncture Medical Practice in Center City, Philadelphia, weaves fun tales into the history behind the development of Chinese medicine. She discusses table herbs, scorpions, earthworms, and stone needles, and their place in eastern medicine! Between 11:00 am and 3:30 pm, head to the Chinese Rotunda, where Ms. Zeller and staff from the Acupuncture Medical Practice perform tongue and pulse evaluations, two basic Chinese health diagnostic techniques.
Members of Cheung's Hung Gar Kung Fu Academy offer an exhilarating Kung Fu demonstration at 3:00 pm in the Harrison Auditorium. Then, at 3:45 pm, lion dancers and drummers from Cheung's Academy wind their way from Harrison Auditorium to the Warden Garden, closing the Museum's New Year celebration with a traditional lion dance to chase away evil and usher in a year of good luck.
Chinese food-decorative and edible-is always a featured part of the festivities. Chef Joe Poon returns to the Museum to give his ever-popular afternoon vegetable carving demonstration from 2:00 to 4:00 pm in the Upper Egyptian Gallery, when he quickly and skillfully turns modest vegetables into flowers, birds, and fanciful scenes.
Activities for children and families abound. Visitors can learn more about Chinese New Year traditions, including the Chinese zodiac and its legend, how the New Year is celebrated in China, and customary New Year decorations, at a workshop run by Ting Ting Jin, Bilingual Counseling Assistant at the McCall School, in the second floor Nevil classroom, 11:00 am to 3:00 pm.
Onlei Annie Jung, a Chinese brush painting and calligraphy instructor at the Perkins Center for the Arts, joins the festivities to teach visitors some basic brush strokes for painting and writing Chinese characters at a workshop held in Classroom 2 from 11:00 am to 1:00 pm, and 2:30 to 3:45 pm. Also, OCA Greater Philadelphia will delight audiences young and old with renditions of Traditional Chinese stories in Upper Egypt at 11:00 am and 1:00 pm.
The Chinese Rotunda houses the Chinese Art Marketplace, the site for demonstrations by area artists, including paper cutting and Chinese calligraphy. Marketplace activities take place from 11:00 am to 3:30 pm, and surround the Rotunda's 19th century crystal ball - believed to have been owned by the last Dowager Empress, a Chinese ruler in the late 1800s.
The Museum's two shops, the Museum Shop and the Pyramid Shop for Children, spotlight the Chinese New Year celebration with a colorful selection of Chinese arts, crafts, games, and books. As always, the Museum Cafe features several Chinese lunch entrees and kid-friendly foods.
The University of Pennsylvania Museum of Archaeology and Anthropology is dedicated to the study and understanding of human history and diversity. Founded in 1887, the Museum has sent more than 400 archaeological and anthropological expeditions to all the inhabited continents of the world. With an active exhibition schedule and educational programming for children and adults, the Museum offers the public an opportunity to share in the ongoing discovery of humankind's collective heritage.

Penn Museum is open Tuesday through Saturday, 10 am to 4:30 pm; Sundays 1 to 5 pm; closed Mondays, holidays, and summer Sundays from Memorial Day weekend through Labor Day weekend. Requested admission donation is $10 for adults; $7 for senior citizens (65+); $6 children (6-17) and full-time students with ID; FREE for children under 6, Members, and PennCard holders; "pay-what-you-want" after 3:30 pm Tuesday through Saturday, and after 4:00 pm Sunday. For general information, call (215) 898-4000. For a current calendar of events, call (215) 898-4890. For membership information, call (215) 898-5093.
Penn Museum is located at 3260 South Street, Philadelphia, PA 19104 (on Penn's campus, across from Franklin Field and adjacent to SEPTA's University City Regional Rail station serving the R1, R2 and R3 lines). Penn Museum can be found on the web at www.penn.museum.
CHINESE NEW YEAR CELEBRATION 2010 SCHEDULE
11:00-11:30 - Traditional Chinese Storytelling - Upper Egypt
11:00-1:00 - Calligraphy Class - Classroom 2
11:00-3:00 - Chinese New Year Workshop - Nevil Classroom
11:00-11:45 - A Brief History of Chinese Medicine Lecture - TBD
11:30-12:00 - Eastern vs. Western Musical Instruments (Families) - Lower Egypt
11:30-12:30 - Chinese for Families Dance Performance - Rainey Auditorium
1:00-2:00 - Chinese for Families Tiger Craft Workshop - Mosaic
1:00-2:00 - Plum Flower Dance Company - Harrison Auditorium
1:00-1:40 - Tai Chi Demonstration - Lower Egypt
2:00-2:30 - Joe Poon Vegetable Carving Demo - Upper Egyptian Gallery
3:30-3:50 - Guzheng Performance - Classroom 2
2:00-2:30 - Traditional Chinese Storytelling - Upper Egypt
2:30-3:15 - Eastern vs. Western Musical Instruments - Lower Egypt
2:30-3:45 - Calligraphy Class - Classroom 2
3:00-3:45 - Kung Fu Demonstration - Harrison Auditorium
3:45-4:00 - Lion Dance Finale - Warden Garden
4:00-4:30 - Joe Poon Vegetable Carving Demo - Upper Egyptian Gallery
All Day Events, 11:00-3:30
Chinese Rotunda
Chinese Art Marketplace
Museum Shop and Pyramid Shop
Membership Information
Museum Café
Chinese food (other foods available)