Secrets of the Silk Road was open from February 5, 2011 through June 5, 2011.
---
Secrets of the Silk Road explores the history of the vast desert landscape of the Tarim Basin, located in Western China, and the mystery of the peoples who lived there. Located at the crossroads between East and West, oasis towns within the Tarim Basin were key way stations for anyone traveling on the legendary Silk Road. Extraordinarily well-preserved human remains found at these sites reveal ancient people of unknown descent. Caucasian in appearance, these mummies challenge long-held beliefs about the history of the area, and early human migration. The material excavated suggests the area was active for thousands of years, with diverse languages, lifestyles, religions, and cultures present. This exhibition provides a chance to investigate this captivating material to begin to uncover some of the secrets of the Silk Road. Read the press release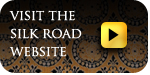 Follow Jeremy Pine, PhD candidate at the University of Pennsylvania Department of Anthropology, as he blogs from China, Kazakhstan, Kyrgyzstan, and Uzbekistan. Jeremy's research explores the political and social connections along the contemporary Silk Road that enable average people access to goods to provide for their families. Read the blog
---
The Silk Road Symposium was held at the Penn Museum in March 2011. Watch videos of selected presentations on our YouTube channel.
---
---
---
---
February 18 - June 5, 2011